Some things are worth making space for! If creating your own private hydrotherapy oasis in your backyard is something you have always dreamed of, but you don't have a lot of room, this article is for you. Read on for ten of the top hot tub design ideas for small spaces and decks!
10 Hot Tub Design Ideas for Small Spaces 
In this busy world with so many distractions competing for our attention, creating a quiet spot at home to unwind is so important. When you add the many health benefits of hydrotherapy, you take that time to enjoy much more than just relaxation. Adding the soothing warm water and the therapeutic jets, your muscles can loosen, your blood pressure can be lowered, and your stress can melt away.
Finding the hot tub shape that fits best in your space
Hot tubs come in a variety of shapes and sizes. The shape you choose will depend on your space requirements and how you will use your tub. For smaller spaces, you can start with the best Creative Energy 2- to 4-person hot tubs. For ideas about where to put it, read, "Where should I put my hot tub."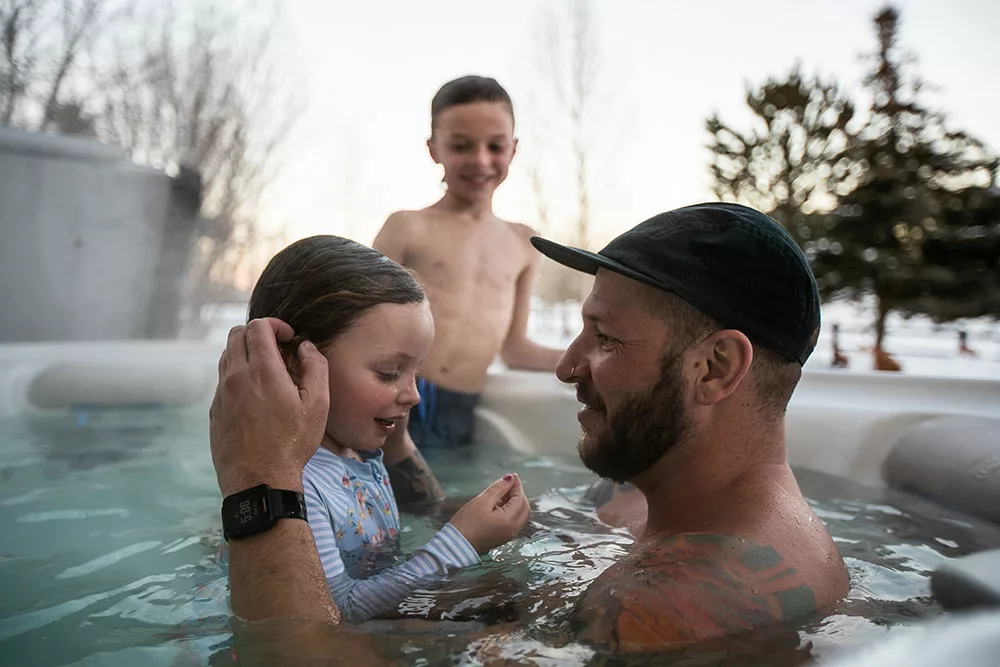 Rounded triangle tubs, for example, are a great fit for smaller corner spaces while still providing room for several people to sit and enjoy the jets. If you need room for squirmy kids or doing exercises in the therapeutic spa water, like popular blogger Johnny Action (pictured above), you may need a bit more elbow room, however.
1. A Triangular Hot Tub is Perfect for Corners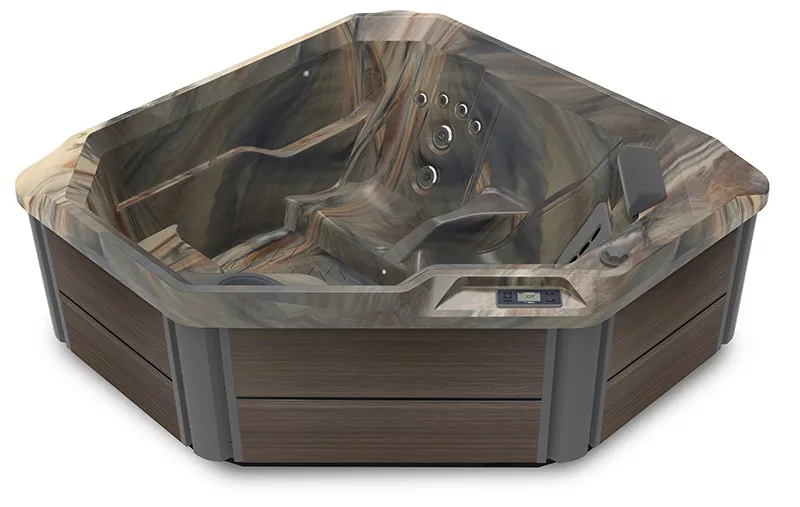 The Hot Spot® Collection TX spa is a rounded triangle shaped hot tub, great for two people, that fits well in the corner of a deck, balcony, or patio, with a footprint of just 6' x 6'.   
2. A Square Hot Tub is Great for Four People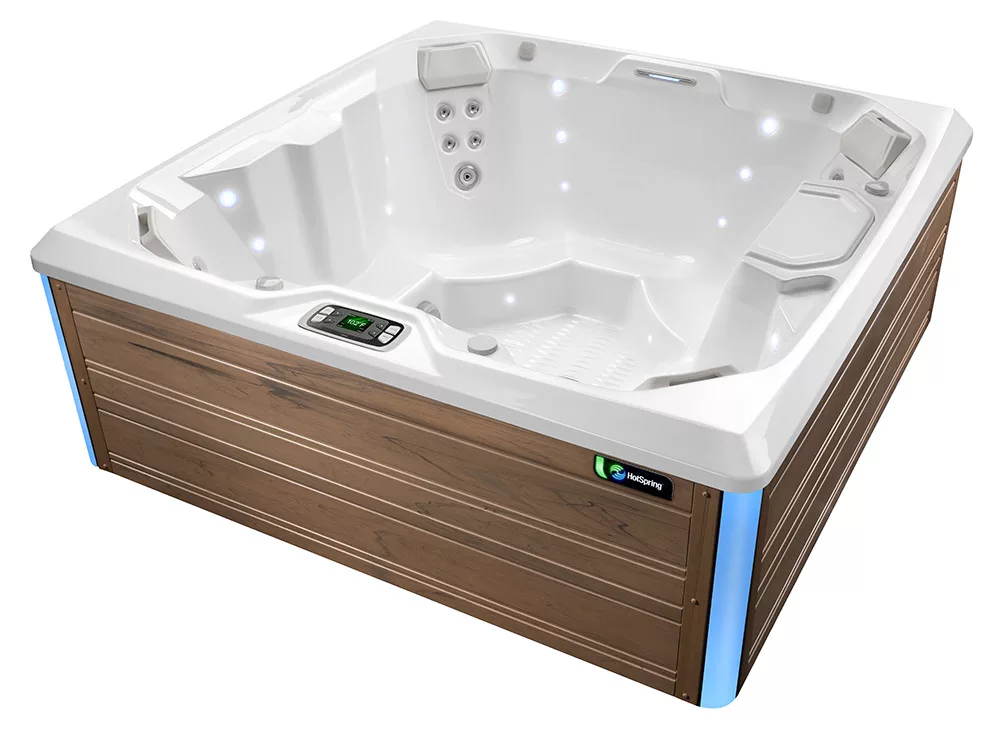 The Limelight® Collection Beam™ spa adds just eight more inches (6' 8" x 6' 8" x 33") but seats 4.
3. A Rectangular Hot Tub Works Well in a Narrow Space
If 7' x 5' 5" rectangle works for your space, you can choose from the Highlife® Collection Jetsetter® spa or Jetsetter LX spa, for comfortable room for 4 people.  
Small Backyard Designs for Hot Tubs
Once you determine your must-haves with regard to features and understand your space limitations, you can narrow your list of spa options. The next consideration is design and aesthetics. You'll also want to consider how the hot tub will integrate with the existing patio furniture, landscaping, etc.
One thing to think about is what the focal point will be in the space. Is the hot tub the star attraction? Or will it be tucked in a corner? Will it be part of the action, or will it have its own private alcove?
4. Make Your Spa the Centerpiece with a Spa Deck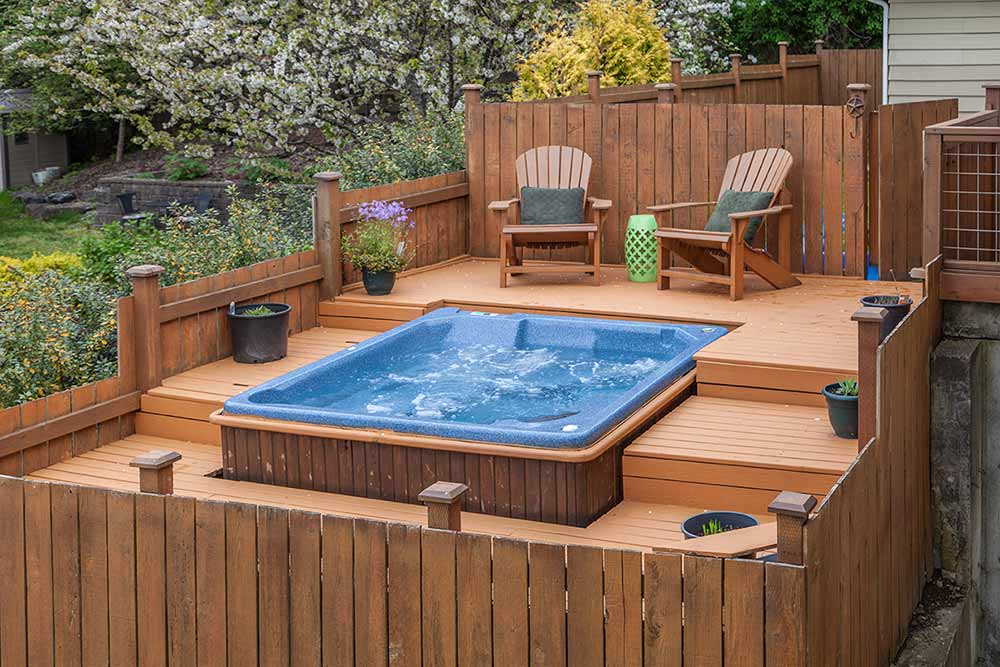 If you already have a one, you can have your spa installed on your deck, making it the center of activity. With a deck integration, the hot tub can become the star attraction, while leaving plenty of room for patio furniture or plants, and you won't need extra space for steps. When building the deck, you can include a high fence on one side as needed for privacy and use materials and colors that compliment your home and existing landscaping.   
5. Create a Cozy Spa Corner, Surrounded by Nature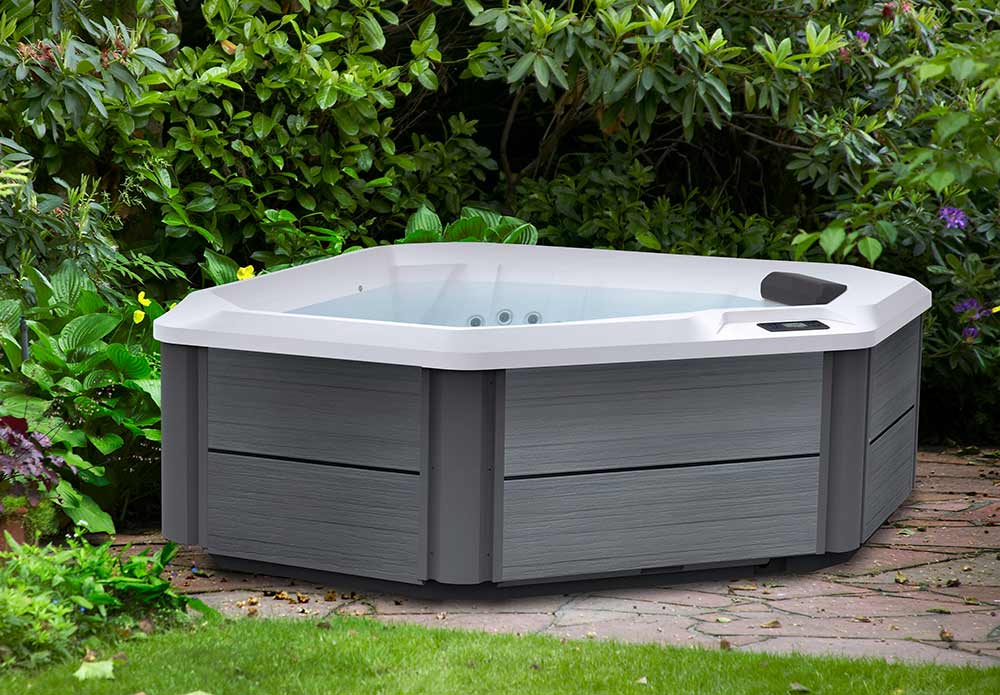 Your yard might have the perfect corner to create a little partially hidden paradise. Fragrant flowering plants like jasmine, lavender, and rosemary can even add a little aromatherapy. You may want to avoid messy plants that will drop pollen and petals into the water while you're soaking, however.
Creating privacy without sacrificing space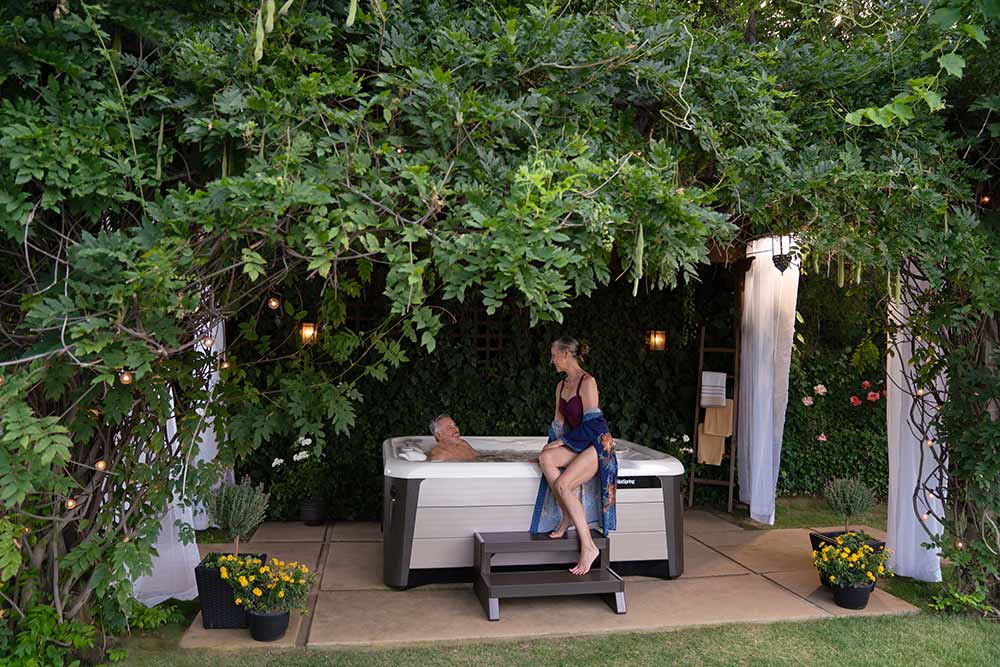 For most people trying to relax and unwind with a nice hot tub soak, privacy is important. However, when your space is already limited, privacy may need to be created in a minimalist way. Here are a few ideas to easily create privacy for increased enjoyment of your hot tub hydrotherapy.
6. Spa Cover
This idea requires no additional purchase, as you'll already need a spa cover to protect your spa when not in use. When the cover is off, whether you have a lifter or not, it will stand up higher than your spa, providing some privacy while you're soaking.
7. Movable privacy screen
A simple privacy screen can live flush with the spa and be slid aside easily from inside the spa or before getting in. These can be especially useful, if you want to add privacy by separating your hot tub area from a dining or seating area.
8. Privacy Curtains
Curtains are a great option, as shown in the photo above. All you need is something to attach the rod to, so your footprint is virtually unchanged. Luxury, all-cotton shower curtains or muslin are great options for easy care and durability.
9. Trees and Landscaping
Even in a small yard, you might have a cozy spot near a fence with a tree. It may be a matter of installing the spa where the natural barriers already exist. Or you may be able to install a narrow planter with a trellis for a climbing plant. Imagine the smell of jasmine or honeysuckle wafting your way while you luxuriate.
10. Gazebo
In some yards, you may need privacy from a neighbor's second story window, or from a lane above and parallel to your yard. If you need privacy from people at a greater height, a gazebo can be a good option. You can have one built, or find them prebuilt at large home improvement stores. In the meantime, you can use a pop-up event canopy in the summer, when the weather is easier on them, until you find or build your gazebo.
Visit Creative Energy to Find the Perfect Hot Tub for Your Space 
Adding a spa to your home is a gift that you can give to yourself and your family, guaranteeing years of relaxation and therapeutic benefits. The professionals at Creative Energy will partner with you every step of the way, from helping you determine viable placement options and spa sizes, to seamless delivery and installation.
Visit any of our Bay Area showrooms in San Rafael, San Mateo, or Concord today. You can even reserve a private soak to test out your favorite hot tub models. Our helpful staff looks forward to helping you find your perfect backyard oasis!