The Best Hot Tubs for Comfort in Small Spaces
Have you been thinking about a hot tub, but aren't sure you have the room for one? If you have limited suitable space, the footprint of your tub matters. Not sure what makes a location suitable? Read Where is the Best Place to Put My Hot Tub.
Once you know the area you have to work with, you can determine the best size for your needs. Think about all the ways you'll use your hot tub and how many people might use it at the same time.
These smaller tubs provide the comfort, hydrotherapy, and luxury of larger hot tubs, without needing as much room–or as much water.
The Best 2-Person Hot Tubs
If you're looking for a two-person hot tub, you don't want to miss out on any of the features commonly found in larger models. And you don't have to.
Hot Spring Hotspot TX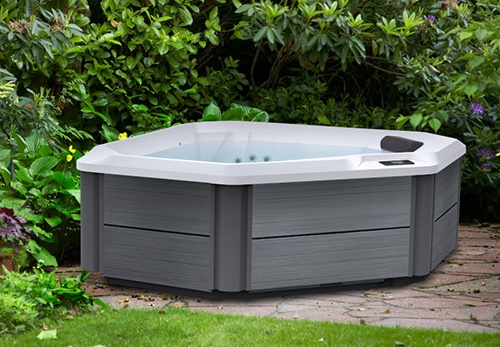 Perfect for a small porch or deck, the Hotspot TX is the perfect hot tub for two people. For 2022, home improvement guru Bob Villa named the Hotspot TX the Best for Small Spaces. This model features 10 therapeutic jets to ease those muscular tight spots and a Moto-Massage® jet for those stubborn muscles that need extra attention.
This spa also features a Bluetooth sound system, and an optional TV and Sound System for ultimate relaxation and entertainment. Enjoy the therapeutic and soothing benefits of this easy-maintenance tub alone, with your beloved, or with a friend.
The Best 3-Person Hot Tubs
For a little extra leg room, for two people, or for enjoying with two other housemates or friends, a 3-person tub may be the perfect option. Plus, an optional salt water system may be added to any Hot Springs hot tub for even more added benefits!
Hotspot SX
This Hotspot SX model provides the same functionality and value as its larger counterparts while taking up less room and using less water and energy. This 3-person hot tub comes with the same options as the 2-person TX, but with 17 jets to provide therapeutic massage to your back, neck, shoulders, and calves.
Highlife Jetsetter LX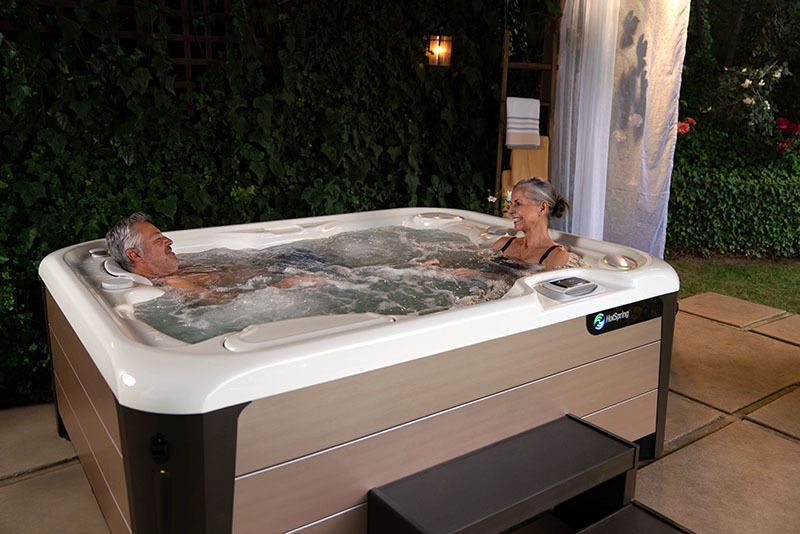 The Highlife Jetsetter LX comfortably seats up to three adults, and features 14 jets for soothing muscles and relieving tension. In fact, Bob Villa named this one the most therapeutic. This model also comes with a Bluetooth sound system, plus a four-zone lighting system that must be seen in action.
The Best 4-Person Hot Tubs
Four-person hot tubs are great for two couples to relax after dinner, for a family of four to spend time together away from all the electronic distractions, or for couples or a family of three to have a bit more room. With a 4-person hot tub, the number of ways to enjoy your hot tub increases.
Limelight Beam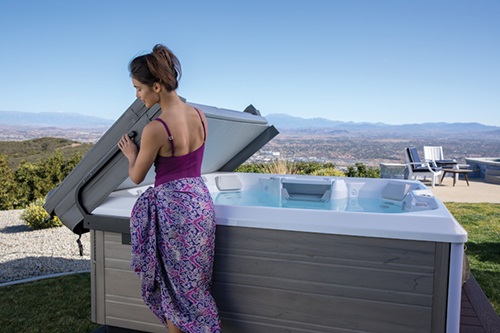 The Beam hot tub with 19 jets provides comfort for four people, without taking up a lot of space. Each corner seat features a different hydrotherapy option and the large footwell adds to this compact spa's roomy interior. This little gem comes with a Vidro Waterfall, which sends a constant, beautiful fan of water to the spa's center.
Highlife Triumph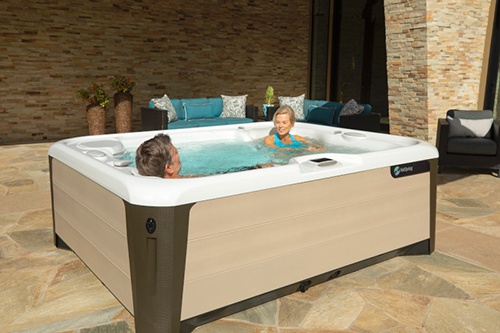 The Triumph spa features a beautiful, double-lounge design that comfortably fits up to four people. Two people can enjoy the spacious bench area, which also doubles as a unique cooldown ledge. Twenty-seven adjustable jets provide outstanding hydrotherapy for your back, calves, and feet. It also includes the Hot Springs exclusive Moto-Massage DX jet that moves up and down for added relief to sore back muscles. 
Find the Perfect Hot Tub for Your Home and Lifestyle
Becoming a hot tub owner can turn your porch, patio, deck, or any other smaller outdoor space into both a health spa and a personal oasis. No matter your therapeutic needs, household size, or your lifestyle, there is a Hot Springs spa that is perfect for you.
Creative Energy has been the Bay Area's leading hot tub provider for over 40 years. Our team is dedicated to helping customers find the perfect hot tub for their needs at affordable prices. Ready to find the best hot tub for your home and lifestyle? Visit one of our Bay Area showrooms in San Rafael, San Mateo, and Concord, or contact our hot tub experts online today with any questions.