There's no better way to level up your daily routine than with a refreshing swim. However, what can you do if you don't have a pool, or your backyard is too small to have one? Well, you're in luck— a swim spa is an excellent alternative. With a compact design, swim spas have a much smaller footprint than traditional swimming pools, which means they're great for small spaces! That said, you are probably wondering "how much space do I need for a swim spa?", and we're here to tell you! In this guide, we list the best swim spas for small spaces and explain exactly how much space you will need for them!
Swim Spas Are Great for Small Spaces
Swim spas combine the best benefits of both swimming pools and hot tubs into one amazing package. They're built to be compact, but they also give you plenty of room to swim, exercise, and relax— which is possible even in tight spaces!
The table below lists all our Endless Pools Swim Spas and their dimensions from smallest to largest:
The Best Swim Spas for Small Backyards
At Creative Energy, we have a large selection of Endless Pool Swim Spas available in various sizes to choose from. Here are some of the best swim spas for small backyards, so you can find the perfect model for your home, lifestyle, and budget.
RECSPORT™ R200 Swim Spa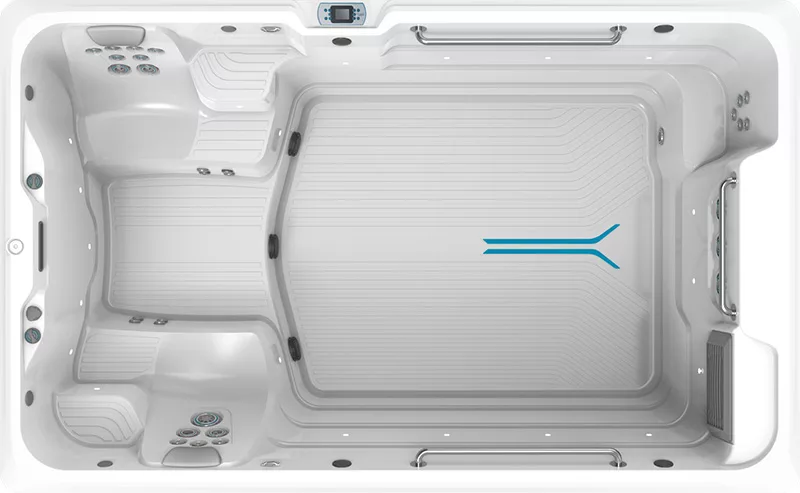 The RECSPORT™ R200 Swim Spa is an excellent choice for small backyards. Take your swim or relaxation routine to the next level with the R200 swim spas adjustable current and swim jet system. Even though this is the smallest swim spa model available it's not missing any of the amazing features or benefits, with five ergonomic bucket seats, 27 jets, and a 30"-deep reef!
RECSPORT R200 Swim Spa Features:
12′ L x 50″ H x 89″ W
3 Round Swim Jets
1 Illuminated Waterfall
Water purification: CD Ozone
R500 Swim Spa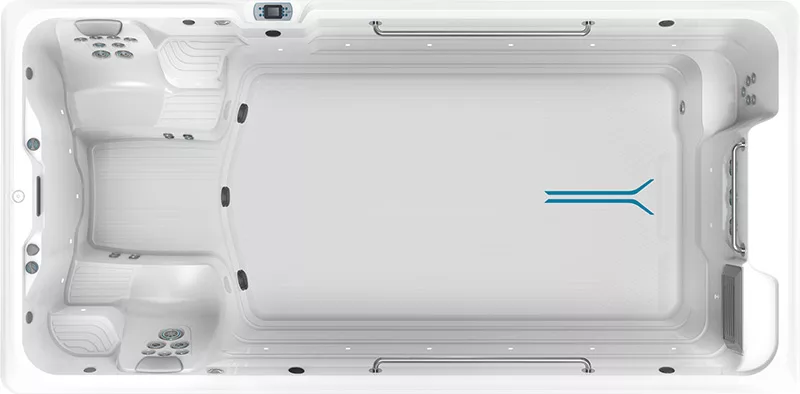 The R500 Swim Spa is another great option for small backyards. This swim spa is 15 feet long to give you plenty of space for maximum fun and comfort, while also being compact enough to fit in most small backyards. This one is also equipped with jets, an adjustable current, and ergonomic seating.
R500 Swim Spa Features:
15′ L x 50″ H x 89″ W
3 Round Swim Jets
1 Illuminated Waterfall
Water purification: CD Ozone
E500 Swim Spa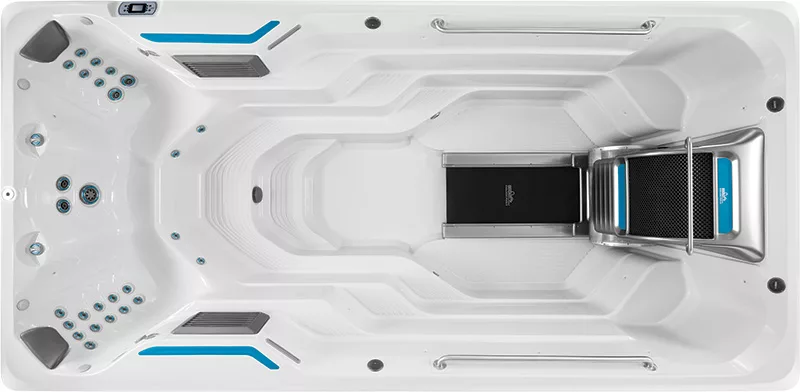 The E500 Swim Spa is our 15' Endless Pools Fitness System, designed with function and comfort in mind. This swim spa is equipped with state-of-the-art current technology that provides excellent resistance, which is great for core engagement. The E500 is 89" wide and features ergonomically engineered seats to give you relaxation benefits after your workout.
E500 Swim Spa Features:
15′ L x 58″ H x 89″ W
Endless Pools® Original Current
2 illuminated waterfalls
Optional underwater treadmill
Water purification: UVC + CD Ozone
E550 Swim Spa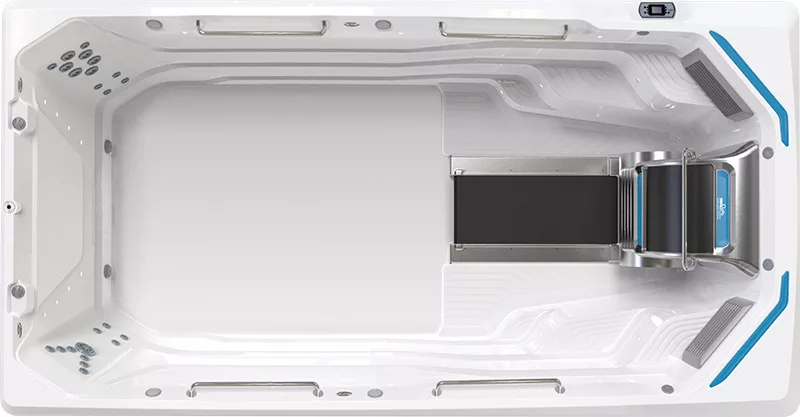 Another great swim spa for small backyards is the E550 Swim Spa. Equipped with an optional underwater treadmill and the Endless Pools Swim Machine, this spa is sure to help you achieve the low-impact workout of your dreams. This is the most spacious of the small swim spa options, but it's also compact enough to fit in small spaces.
E550 Swim Spa Features:
15′ L x 58″ H x 94″ W
Endless Pools Swim Machine Current
Optional underwater treadmill
Water purification: UVC + CD Ozone
The Benefits of Swim Spas for Small Spaces
If you don't have the space or budget for a swimming pool, you're in luck! Swim spas are a favorite alternative for traditional pools, thanks to their compact size. Read on to learn about some of the biggest benefits of owning a swim spa even if your space is limited!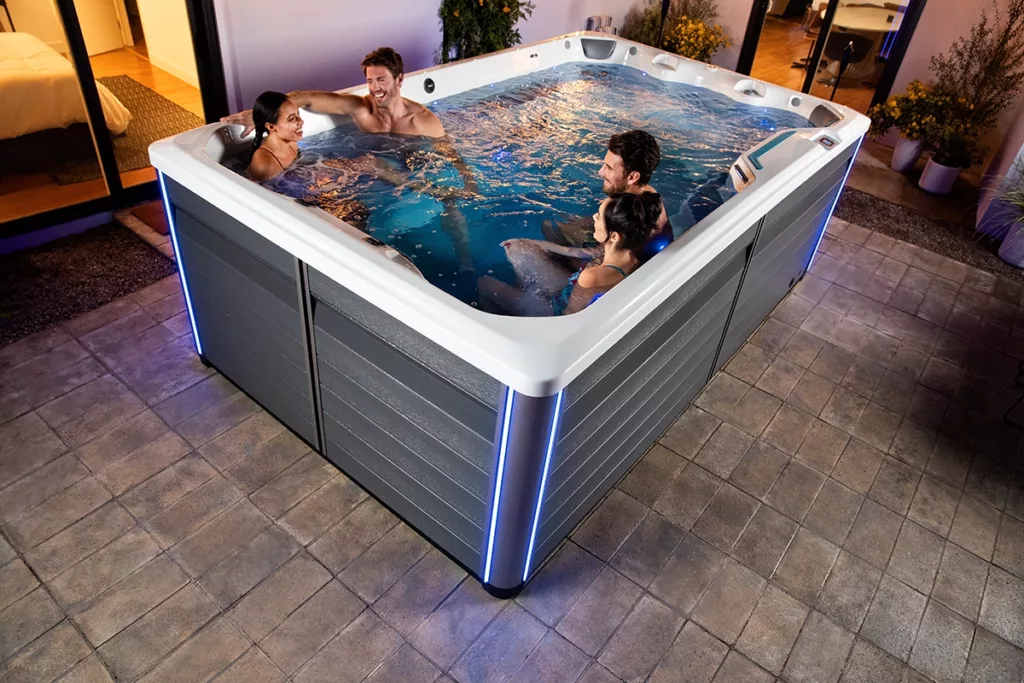 Save On Space
Swim spas combine all the benefits of a traditional swimming pool and a luxury hot tub into one compact package. Just like a pool, swim spas can also be installed fully above ground, partially above ground, or fully in-ground, but require much less space!
Eco Friendly
Another benefit of swim spas is that they're a more eco-friendly option than a traditional pool, and require much less water and power. They also come with their own water purification systems, which means they require less chemicals to keep clean—a benefit for both you and the environment.
Year-Round Use
With easy-to-use temperature controls, swim spas are perfectly equipped for year-round use. Even when it's too cold for swimming pools, you can adjust the temperature in a swim spa with the touch of a button and your water will be the perfect temperature in minutes.
Luxury
One of the most desirable benefits of swim spas for small spaces is the luxury they bring. Hydrotherapy and therapeutic massage jets provide a number of health and relaxation benefits including pain relief, reduced stress, and more.
Recreation
Another advantage of swim spas is the fun they provide for the whole family, year-round. Everyday entertainment with friends and family is easy with the recreational benefits a swim spa provides. Everything from teaching beginners how to swim, to playing all your favorite songs on the Bluetooth sound system at your next backyard party, swim spas can do it all!
Fitness
All our swim spa models come equipped with adjustable swim currents and optional aquatic workout equipment to suit any low-impact, full-body exercising routine.
Get a Free Backyard Consultation and Full-Service Swim Spa Delivery and Installation
Swim Spas are compact enough to be installed almost anywhere without compromising on luxury! As the Bay Area's #1 Swim Spa dealer with over 40+ years in business, we're confident we can help you find the best swim spa for your home, lifestyle, and budget. Try one out for yourself with a test soak at any of our showrooms! We also offer free backyard consultations to help ensure an easy and fast delivery and installation process. The Creative Energy team will also provide full-service delivery and installation so all you have to do is sit back, sink in, and relax!
Contact us online today or visit any of our Bay Area showrooms in Concord, San Rafael, or San Mateo to meet with one of our Swim Spa Experts!
Get Full Service Delivery and Installation from Creative Energy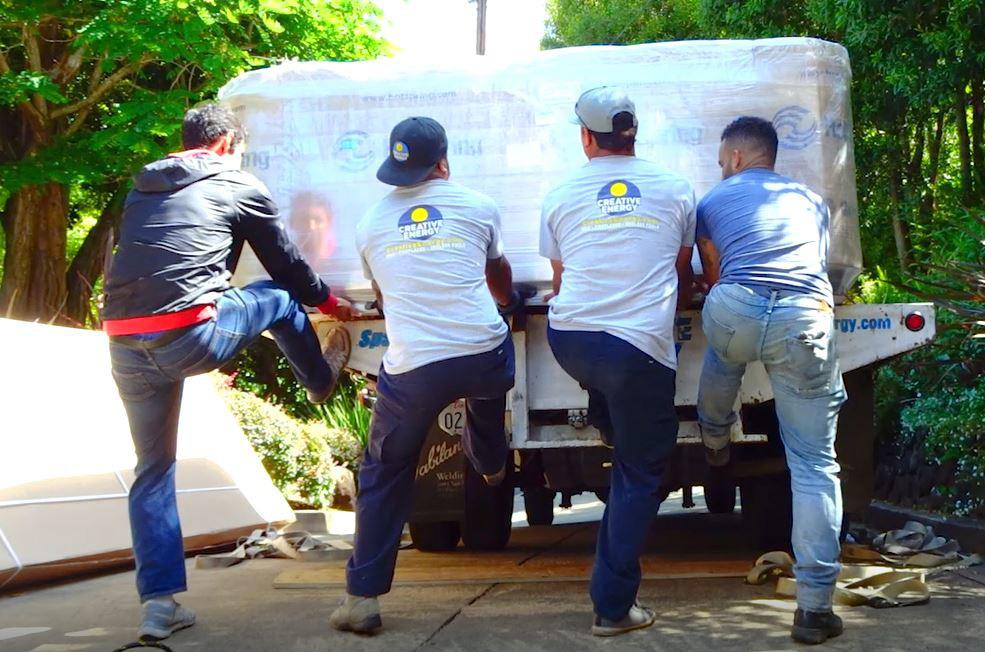 At Creative Energy, we provide white glove delivery and installation. Your spa will be fully installed and set-up, with no mess will be left behind.