Are you longing for the soothing warmth and relaxation of a hot tub but prefer the convenience and privacy of indoor spaces? Then you've also probably found yourself wondering, "Can I install a hot tub inside?" Great news! The answer is yes—and we're here to tell you everything you need to know about indoor hot tubs.
Indoor Hot Tubs: Pros and Cons
Now that we've established how possible it is to get an indoor hot tub installed, you might be wondering what the advantages are. Here are the pros and cons of having a hot tub installed inside:
Pros:
Easy access
Ultimate privacy
Limited wear and tear
Safety from weather damage
Controlled environment allows for improved safety
Cons:
Indoor floors can be slippery
Some construction may be required Installation can be difficult (but we're here to help!)
7 Considerations for Indoor Hot Tubs
Whether you're looking for ultimate privacy or simply want to create a luxurious retreat without even having to step outside, installing a hot tub indoors offers a multitude of benefits. From considerations and planning to practical tips and expert advice, read to learn everything you need to know about installing a hot tub inside.
1. Flooring
One of the first things you should think about before installing an indoor hot tub is your flooring. Once you've decided on the perfect spot for your new spa, you will also need to prepare the area and ensure you have the best flooring for an indoor hot tub. We recommend a non-slip tile with matte finish for the safest approach. However, you can also get ceramic tile or sheet vinyl. Concrete is also an option.
For safety reasons, we advise against having carpet or sleek floors in the room where your indoor hot tub will be. We also suggest adding soft rubber tile beneath the area where your hot tub should go, which will protect the surface of the floor that your spa will sit on.
2. Drainage
Drainage is a key aspect of owning any hot tub and will need extra consideration when installing it indoors. The frequency with which you drain and refill your hot tub will depend, in part, on how much it's used. Eventually, hot tub water gets saturated with contaminates from lotions, perspiration, and other substances, and will need a fresh start. To avoid the hassle, you can always have one of our experienced technicians handle the cleaning process for you, but having effective drainage access is still going to be required.
Letting the water out is as simple as using the valve on the bottom of your hot tub. However, you'll need to have drainage options built into your floor, to accommodate routine cleaning, maintenance, and any water that may spill out during use.
3. Water
If you're thinking about getting an indoor hot tub installed, it's important to think about how you'll be filling up your spa with water. Your hot tub should have close access to a garden hose or some form of indoor faucet you can attach a hose to. Strategic water access is a crucial aspect of indoor hot tub installation, but with the right approach, you can have your new spa installed worry-free.
4. Ventilation
Hot tubs produce a lot of steam, which can add moisture to the air, so another important factor to consider is ventilation. If this moisture doesn't have a place to go, it can create problems like mold and other factors that can lead to low air quality. This can also cause detrimental damage to your walls and floors, which is both a safety hazard and an unwanted cost. Luckily, the right ventilation solution can help your indoor hot tub setup function smoothly, without the moisture damage.
One of the most reliable ways to implement a ventilation strategy is by opening windows to give the moisture somewhere to go, and to use a dehumidifier or a fan at the same time. A dehumidifier functions by removing excess water from the air, which helps regulate moisture levels. A fan will provide necessary air circulation to keep things flowing the way they should.
5. Electrical
Prior to installation, you will need to make sure the area your indoor hot tub is going is equipped with sufficient power. Power requirements for indoor hot tubs vary by model, but the Creative Energy technicians will be able to test your electrical system to ensure it will function optimally.
6. Access
Another thing to consider when installing an indoor hot tub is access, both for users as well as maintenance technicians. Your hot tub should obviously be easily accessible for you and your guests to enjoy, but you will also want to ensure that the internal mechanisms can be easily accessed for routine maintenance as well. You will want to measure out your space to ensure it has at least 3 feet of room on all sides.
7. Water Care
Water care is an additional thing you should think about when getting an indoor hot tub installed. You should consider what type of water treatment option works best for you. Whether you're choosing chlorine or saltwater, Creative Energy has you covered. We offer a broad selection of water care products and maintenance service options to keep your hot tub clean and functional. 
We highly recommend the FreshWater salt system, which provide several advantages. With less chemicals and benefits like keeping your hot tub water clean, clear, and sanitized for up to a full year, the FreshWater salt system is ideal for both body and budget. You can visit any of our Bay Area showrooms or browse models on our website to find a hot tub that meets your needs. Get an Indoor Hot Tub Installed with Creative Energy. 
Find the Best Indoor Hot Tub for Your Home at Creative Energy
The perfect hot tub awaits you here at Creative Energy. Achieve your indoor spa dreams with ease by using our full delivery and installation services. We also offer free pre-delivery consultations to make sure you're all set to receive your new hot tub. Reach out to schedule a test soak or request a free quote.
Get Full Service Delivery and Installation from Creative Energy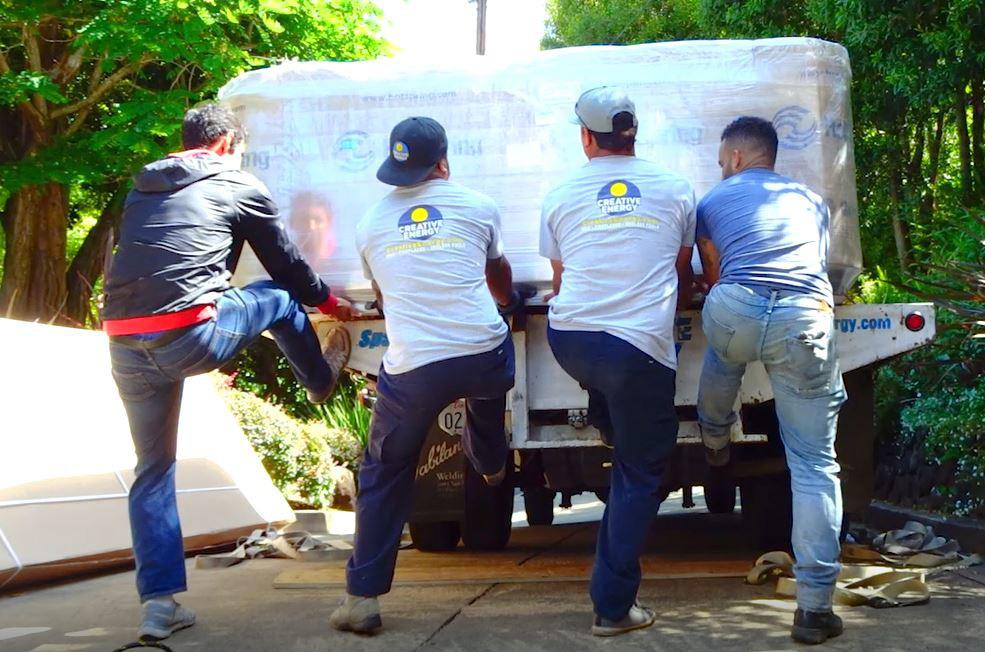 At Creative Energy, we provide white glove delivery and installation. Your spa will be fully installed and set-up, with no mess will be left behind.