Swim spas are an easy way to combine the best of fitness and relaxation right in your own backyard. Plus, there are tons of ways to customize your spa to level up your experience. Read on for our list of some of the best swim spa accessories for exercise and safety!
The Best Swim Spa Accessories for Exercise
One of the best parts of having a swim spa is the endless opportunities it can bring to your fitness routine. Aquatic fitness allows you to expand upon the benefits you get from land-based workouts by reducing gravity's impact on your muscles, bones, and joints. So you can achieve a full-body, low-impact workout with hydrotherapy benefits all in your swim spa.
Did you know you can equip your swim spa with aquatic workout equipment that can enhance your exercises? Here are some of the best swim spa exercise accessories to maximize your at home workouts!
Endless Pools Fit@Home® App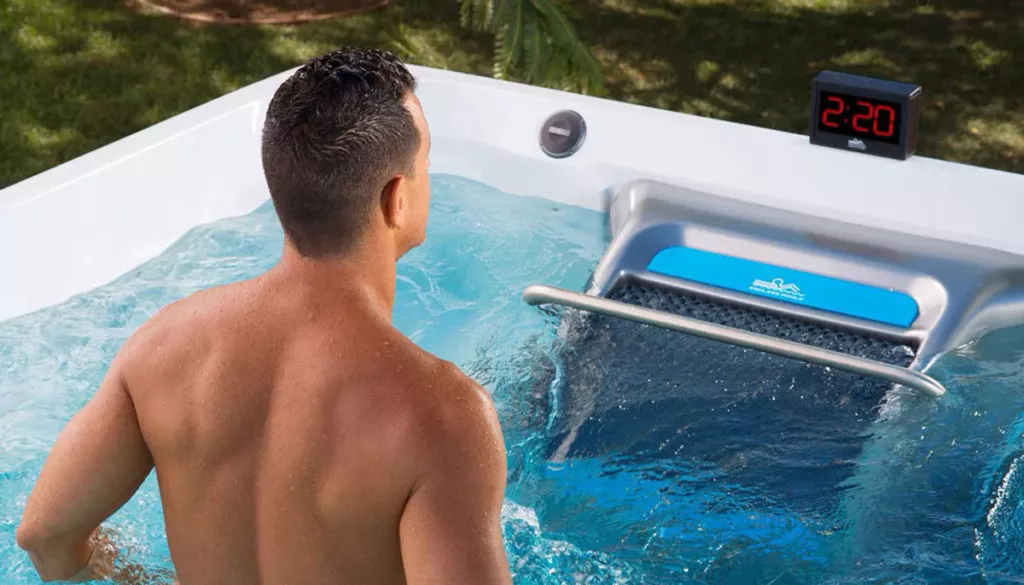 The Endless Pools Fit@Home® App is your best friend when it comes to smarter aquatic workouts in a swim spa. Compatible with swim spa pace displays, smartphones, and tablets, this app is designed to help you maximize all the fitness features a swim spa has to offer. It allows you to control basic functions, adjust treadmill settings, and manage your favorite workout routines for a completely customizable fitness experience. If the app sounds like an accessory you'd like, let us know and we'll make sure your swim spa comes equipped with built-in Wi-Fi compatibility.
Underwater Treadmill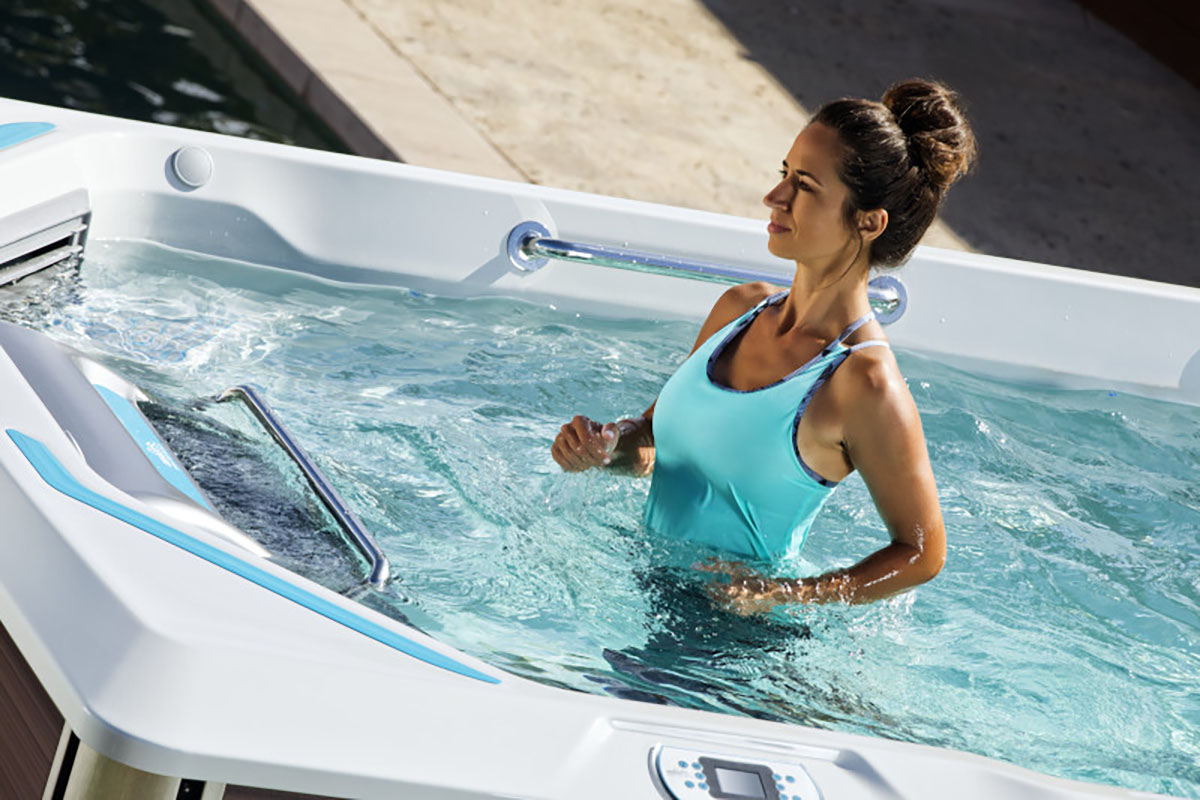 Adding an underwater treadmill to your swim spa lets you experience the total-body fitness benefits of an intense run, with minimal joint impact and can even decrease muscle soreness. Cardio exercises provide opportunities for improved heart health, boosted moods, and increased endurance. With aquatic cardio, you can enjoy these benefits in a comfortable, gravity-reduced environment that relieves pressure from your joints and bones. This swim spa treadmill comes with adjustable speed settings, allowing you to select anywhere from 0.5 – 5.5 MPH—and it's even compatible with the Endless Pools Fit@Home® App!
Swim Mirror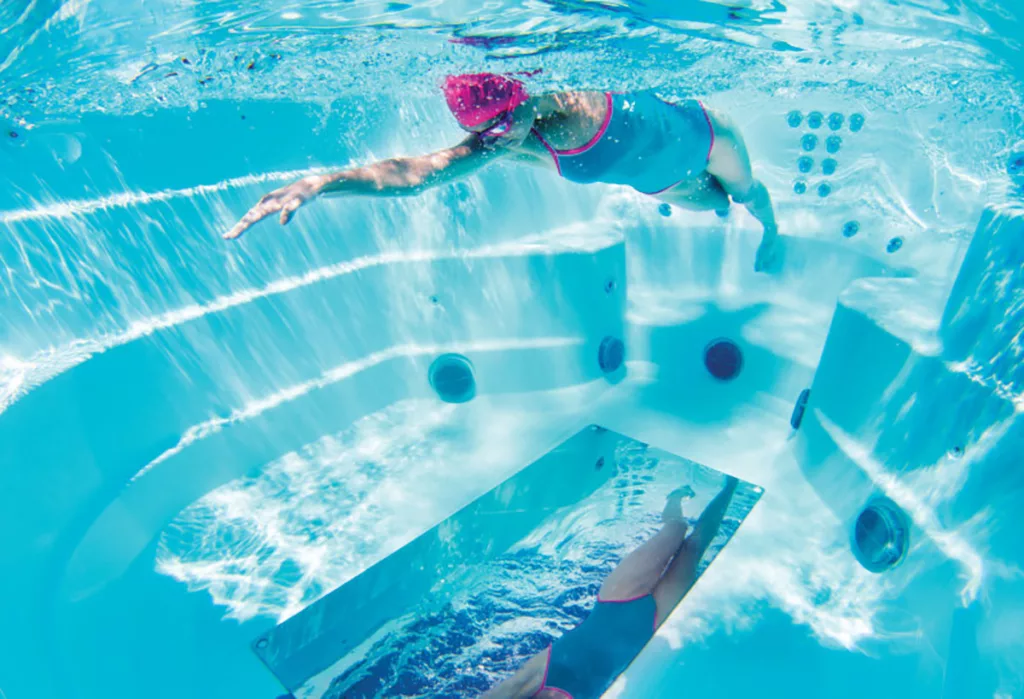 If you're interested in improving your swimming technique, adding stainless steel swim mirror to your swim spa can help with that! Studying your movements in the reflection of a mirror, taking notes on your form, and making needed adjustments can help ensure you're getting the most out of your swimming exercises.
Endless Pools Aquabike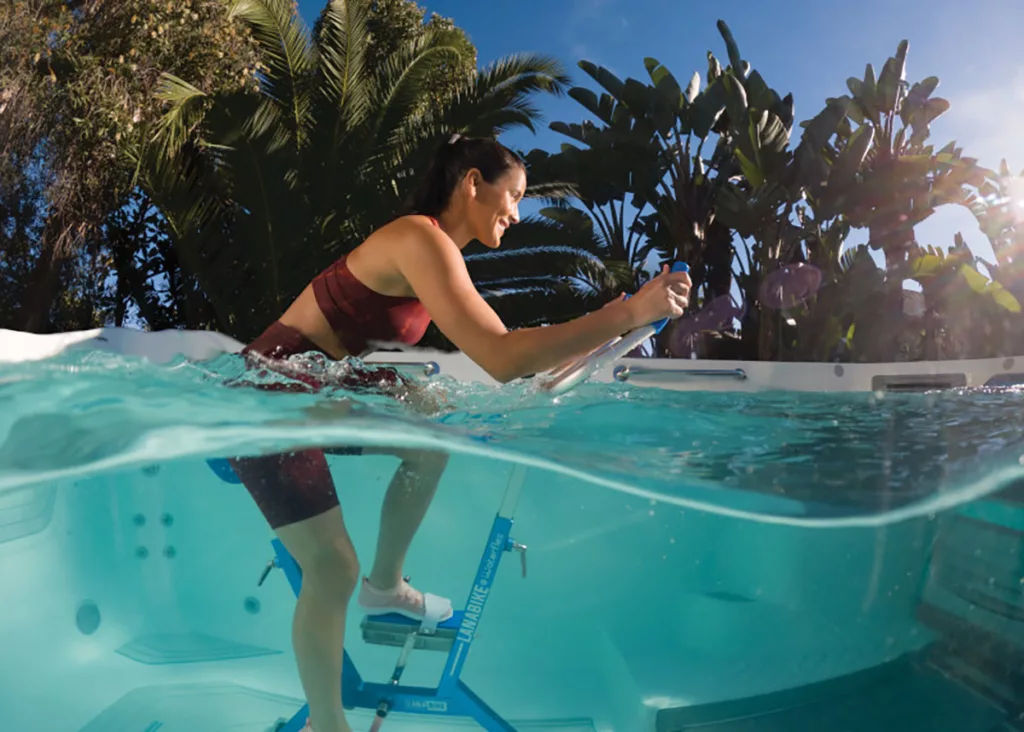 The Endless Pools Aquabike allows you to enjoy the benefits of a cycling workout in water. Aquatic biking can help improve balance, endurance, and circulation, thanks to the extra resistance that swim spa currents bring. Your swim spa will also give you soothing hydrotherapy benefits with every Aquabike session. Experience the best stationary bike workout of your life with the added comfort of adjustable water temperatures, and current levels for customized resistance while peddling.
Endless Pools® Rowing Kit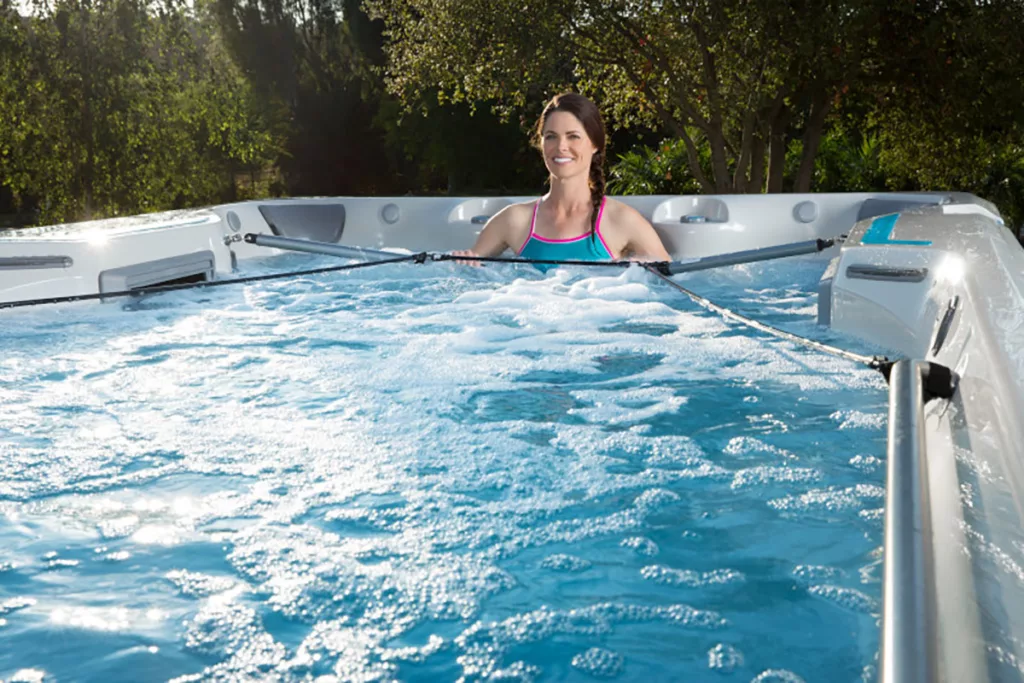 The Endless Pools® Rowing Kit lets you imitate the action of rowing a boat, which can give you an energizing and mood-boosting workout and strength training. Easy to attach and detach as needed, this exercise tool can help you increase strength, flexibility, and endurance. Underwater rowing workouts give you customizable resistance with your spa's water current settings, and with the kit's adjustable tension levels. This kit also promotes better heart health, and water immersion gives a relaxing cooling effect during each exercise.
Best Swim Spa Accessories for Safety
Adding additional safety features to your swim spa can make your spa more accessible and decrease the risk of potential accidents. Here are the best swim spa accessories for safety.
Swim Spa Cover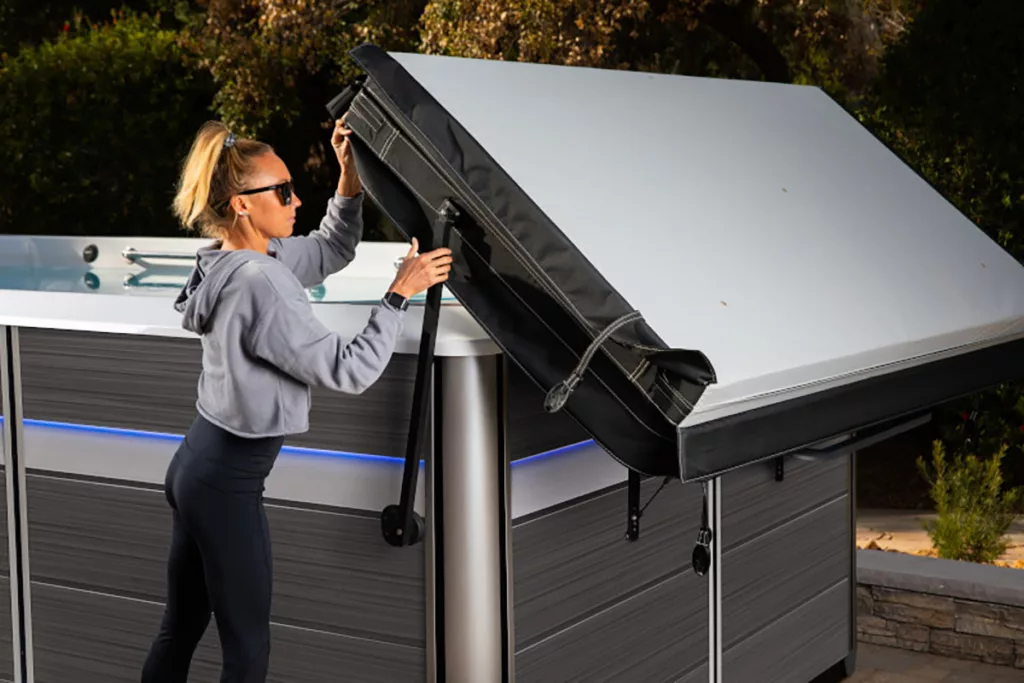 Whether your spa is installed in-ground, partially in-ground, or above ground, a swim spa cover is a great safety feature to invest in. A well-fitted swim spa cover adds a safety barrier over your spa to greatly reduce the risk of accidents. It can also ensure your spa water remains free of dirt and debris when it's not in use. Investing in a swim spa cover will help you maintain a consistent water temperature and reduce evaporation. So whenever you are ready to go for a swim, your swim spa will require less time and energy to heat up to your ideal temperature.
Swim Spa Accessibility Accessories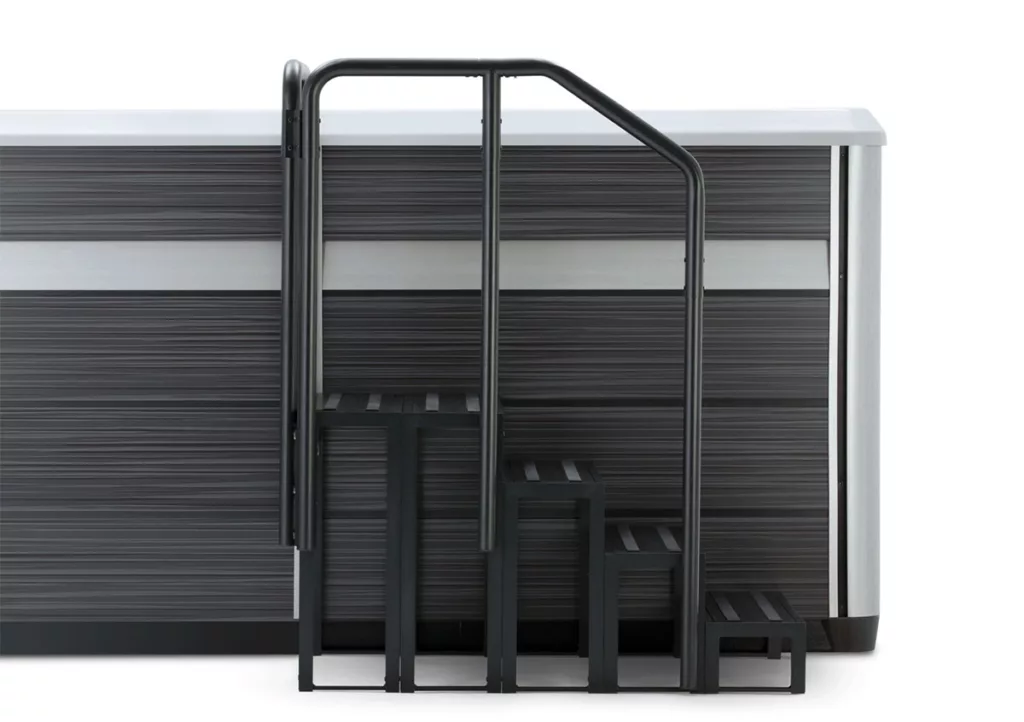 Adding accessibility accessories to your swim spa will ensure that it's properly equipped for safe, easy access. Here are a few accessibility accessories you can consider:
Interior swim spa steps or risers make it easier to access deeper pools
Exterior swim spa stairs are great for above-ground swim spas
Swim spa rails and grab bars support access and exercises
Discover the Endless Possibilities of a Swim Spa
Adding accessories to your swim spa couldn't be easier with the helpful and knowledgeable staff at Creative Energy. As the Bay Area's #1 Swim Spa dealer we're confident we can help you find the best swim spa and accessories for your home, lifestyle, and budget. You can even try one out before you buy with a Swim Spa test soak at any of our showrooms! The Creative Energy team will also provide full-service delivery and installation of your new swim spa and accessories!
Contact us online today or visit any of our Bay Area showrooms in Concord, San Rafael, or San Mateo to meet with one of our Swim Spa Experts!
Get Full Service Delivery and Installation from Creative Energy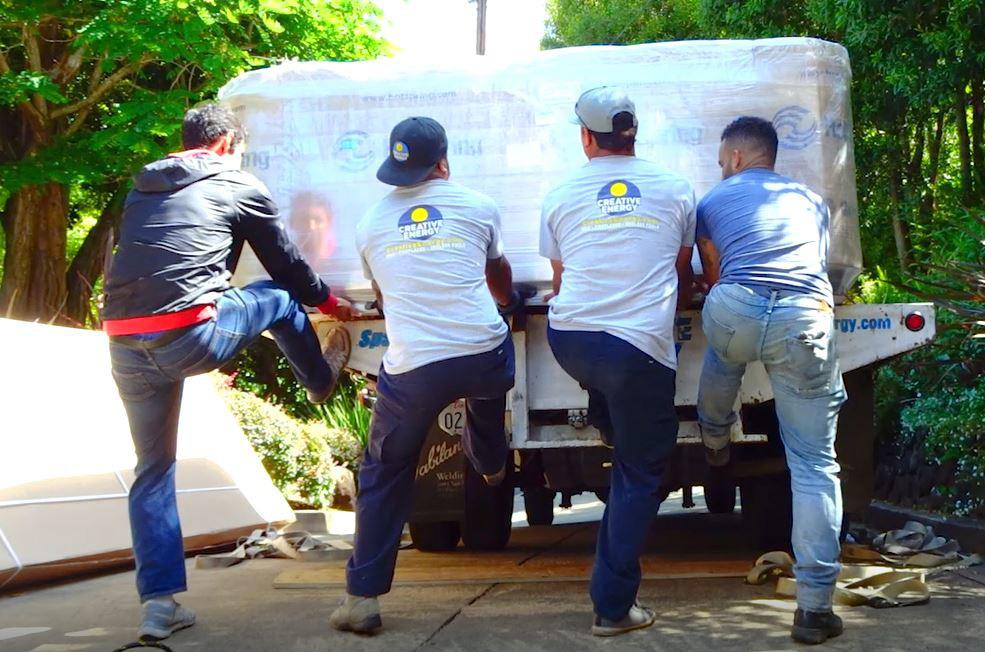 At Creative Energy, we provide white glove delivery and installation. Your spa will be fully installed and set-up, with no mess will be left behind.