How To Create the Ultimate Romantic Valentine's Day Experience at Home with Your HotSpring Spa
The holiday of love is right around the corner, and the pressure is on to come up with a special Valentine's date idea. Did we mention that this year comes with the added challenge of planning a romantic Valentine's Day at home? Trying to figure out how to make this romantic holiday extra special? Creative Energy is here to help. This year is the perfect time to plan a cozy Valentine's Day at home with your HotSpring Spa!
Read on for some unique ways you can plan a romantic Valentine's Day at home with the ultimate hot tub date night.
1. Set an Intimate Mood with HotSpring Spa Ambiance Lighting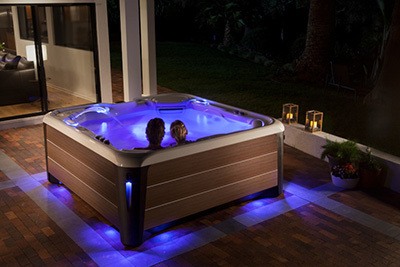 First, lighting is everything when it comes to truly setting a romantic mood at home on Valentine's Day. Transform your HotSprings Spa into the ultimate date night destination with intimate ambiance lighting. At Creative Energy, many of the HotSpring Spa hot tub models in the HotSpot Spa Collection, have personalizable LED lighting systems built right in.
In addition, these lights come in a large selection of different color options and light patterns to choose from. Create the perfect spa experience for you and your Valentine. Get ready to turn up the romance with custom spa lighting.
2. Create a Romantic Playlist with Your HotSpring Spa Wireless Stereo System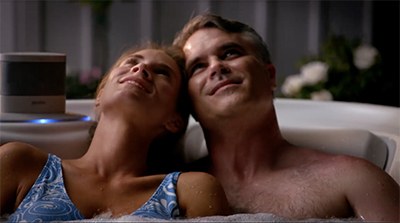 Next, set the tone for the night by creating a special playlist. Include your favorite love songs and music with sentimental meaning for you and your partner. Many home spas feature built-in wireless speakers, so you can stream your romantic Valentine's Day playlist all night.
Furthermore, you can also customize your hot tub experience by opting for a wireless Bluetooth® audio system. Contact one of our hot tub specialists to learn more about upgrading your spa with a bluetooth audio entertainment system.
3. Use Hot Tub Aromatherapy for a Truly Sensual Experience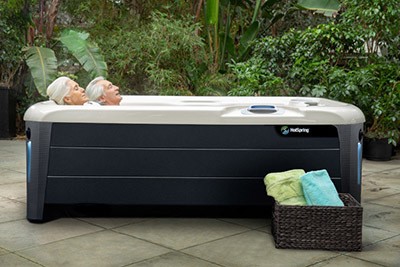 Appeal to all the senses. Try incorporating hot tub aromatherapy into your Valentine's Day spa date. Make sure your spa water is fresh and clean, so you and your partner can immerse yourselves even deeper into a romantic escape with soothing scents. It is important to use fragrant products that are specifically developed to be used safely in your hot tub.
The team at Creative Energy can glady suggest aromatherapy products that will work best for your spa.
4. Enjoy Ultimate Relaxation with The Spa Jetted Message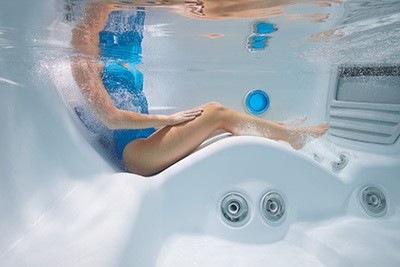 Lastly, although a sensual couple's massage may not be possible this year, with your HotSprings spa, you and yours can experience a relaxing massage at home. Sink in and unwind with restorative hydrotherapy massaging jets and create the ultimate luxurious experience. Many of our spa models are equipped with reclining lounge seats. Even more importantly, they come with targeted jets designed to melt away tension and promote maximum tranquility.
Read about Four HotSprings Hot Tubs Perfect for Hydrotherapy Massage that are available now at Creative Energy.
Creative Energy is Here to Help You Plan a Romantic Valentine's Day at Home With a HotSpring Spa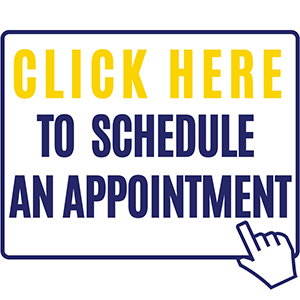 For over 40 years, Creative Energy has been the Bay Area's leading hot tub provider. Our team of hot tub experts is dedicated to helping you. We will help you find the perfect spa accessories at an affordable price. Learn more about personalizing your HotSprings Spa experience. Above all else, begin planning a romantic Valentine's Day date in the comfort of your own home.
Ready to find the best spa for your home and lifestyle? Want to learn more about customizing your hot tub experience? Contact Creative Energy online today. You can also schedule an appointment to meet with our spa specialist at one of our Bay Area showrooms in Concord, San Rafael, or San Mateo.