Create The Ultimate Backyard Oasis with These Swim Spa Landscaping Ideas
The spring season is upon us in the Bay Area, making it the perfect time of year to start any of those backyard renovations you've been dreaming about. Looking to transform your yard into your own personal oasis? An Endless Pools Swim Spa is the perfect place to start. Swim Spas are easy to install, compact enough for almost any size backyard, and provide endless enjoyment for the whole family. If you are looking to make the most of your outdoor space this year, there are a number of swim spa landscaping design ideas you can consider.
Here are four landscaping tips to maximize your swim spa experience all season long.
1. Landscaping Ideas to Maximize Privacy Around Your Swim Spa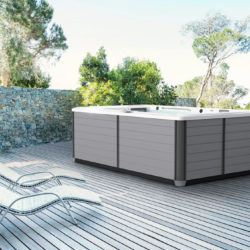 Creating your own private space is a necessity to truly enjoy your swim spa experience. Whether you're looking for peace and tranquility or a tough workout, you shouldn't have to share it with your neighbors.
Plant Privacy Shrubs
You can easily create your own "Secret" Garden with potted or in-ground trees. Surround your swim spa with plants that are tough to see through but are still easy on the eyes. Taller fencing, privacy screens, or vine trellis walls can also instantly create an exclusive space to enjoy your day. There are plenty of plant varieties that can be trained to grow vertically for a more colorful, natural look.
Install Attractive Drapery
Consider hanging drapes or sails in higher sightline areas. They can provide shade during the day and additional privacy around your swim spa. Outdoor drapes are a great spring décor option for your backyard. They can be easily moved, and come in a variety of shapes, colors, and sizes.
Whatever level of privacy you're looking for, it can be achieved with a quick trip to the hardware store and a few hours of yard work!
2. Lighting is Always a Bright Idea for a Swim Spa Oasis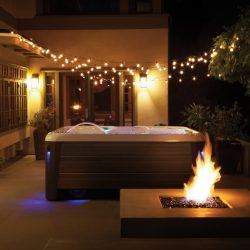 With attractive landscape lighting, you can instantly set the mood and create an inviting backdrop to your backyard retreat as dusk turns to night.
Fire Pits Warm the Mood
A fire feature can be enjoyed both day and night. Create an inviting gathering spot for you to relax while friends or family swim or exercise in your swim spa. Creative Energy offers a large selection of outdoor gas fire pits, fire tables, fire bowls, and urns that are perfect centerpieces next to a swim spa. Every one of our fire pits runs off natural gas or propane fuel for a cleaner, healthier, more eco-friendly burn.
String Lights for Your Patio and Walkways
Hanging crisscrossing strings lights instantly turns your patio into a magical space that provides plenty of evenly soft light without taking up space. String lights come in a variety of styles, colors, and even power sources including battery options to meet any enchanting space's need.
Line them along dark paths and walkways. Light the way to your swim spa and create a safe, easy-to-follow route that looks gorgeous in the dark!
3. A Stylish Automated Swim Spa Cover that Complements Your Landscaping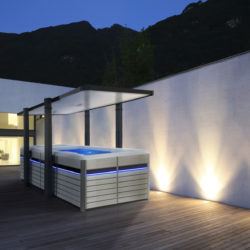 The Covana swim spa cover offers all-in-one solutions to protect and enhance your swim spa. When retracted, this automated cover provides excellent insulation. This in turn maintains a stable spa temperature and prevents unwanted access by children or animals.
With a simple turn of a key, the cover automatically opens and turns into a protective roof. This way you can continue enjoying your swim spa even if you suddenly get caught in a spring shower! The Covana swim spa cover looks great and offers the most accessible, efficient, and secure option for protecting your swim spa.
4. Turn Your Swim Spa Into a Backyard Feature
The beauty of an Endless Pool Swim Spa is how easily they can be installed in your backyard above ground. If you're looking for a bigger yard transformation this spring, consider giving your swim spa a more permanent home. Build a deck or install it partially or fully in the ground.
Designing a custom deck around your swim spa creates a unified outdoor space where you can relax, exercise, and enjoy family fun! Similarly, designing an in-ground swim spa layout molds it into a natural fixture in your backyard. Both options provide the benefit of easier access and a more unique, inviting setting that highlights your swim spa as an incredible backyard feature.
Check out our blog on different in-ground and deck installation options for your swim spa.
Create the Ultimate Backyard Oasis this Spring with a Swim Spa from Creative Energy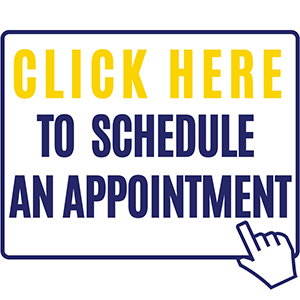 Looking for more tips on how to turn your yard into a personal oasis? Creative Energy is here to help! We look forward to helping you find the swim spa to suit your home and yard. We have plenty of options for any size, lifestyle, and budget!
Learn more by contacting our experts online today. Or, go ahead and visit our Creative Energy showrooms in San Rafael, San Mateo, and Concord! You can easily schedule one now!