Spa Accessories and Options to Make Your Hot Tub Even Better
What's better than having a hot tub in your backyard? Customizing it for lower maintenance, greater safety, and increased enjoyment! If you haven't purchased your hot tub yet, you'll find this guide very helpful as you choose options for your new center of relaxation and hydrotherapy.
In this article we'll suggest the best hot tub accessories and add-ons to personalize and improve the entertainment, maintenance, and safety of your spa!
Best Hot Tub Accessory for Added Entertainment
If you're torn between a relaxing soak in the hot tub, or continuing to listen to that awesome new artist on your stereo, a Bluetooth® audio system removes the need to choose.
Built-In Wireless Stereo System
What's more relaxing than a soak in your hot tub? Adding your favorite relaxing music. Or maybe you want to rock out while the jets smooth out your rock hard knots. With a Bluetooth® audio system, you can wirelessly link your compatible home entertainment system, from up to 150 feet away. Many Creative Energy spa models have the option for adding a built-in Bluetooth® wireless audio system.
Must-Have Spa Supplies for Easy Maintenance
No matter what model you own or want to purchase, to keep your water fresh, clear, and safe requires routine maintenance. Thankfully, with these spa supplies, you can make cleaning and maintaining your hot tub a lot easier.
FreshWater Salt System
With the FreshWater® Salt System, keeping your water fresh and clear will take so much less of your precious time. This innovative technology, available on all Highlife® Collection and Limelight® Collection hot tubs, uses salt to naturally keep your water fresh for up to a year, with fewer chemicals.
You simply swap out the disposable cartridge about three times per year. Better yet, your spa will remind you when to test the water and even advises you on what system adjustments for optimal use! So easy!
With a Salt System, you'll also save on water, because you'll only need to drain your tub about once a year. The convenience and ease of this system has made it one of Creative Energy's best selling hot tub accessories.
FreshWater Ozone System
The FreshWater® Ozone system makes maintenance easier and reduces the amount of chemicals required to keep your hot tub water fresh and clean. This revolutionary system releases ozone and silver ions into the spa's water, neutralizing contaminants on contact. The Ozone Generator delivers the ozone, while the Mineral Spa Sanitizer releases silver ions.
Maintenance is simple: Replace the Sanitizer cartridge every four months, add the MPS non-chlorine, PH neutral oxidizer after every use, and add chlorine weekly. In addition to sanitizing your water, this system can also deliver soothing scents to add aromatherapy to your therapeutic soak.
Hydraulic Spa Cover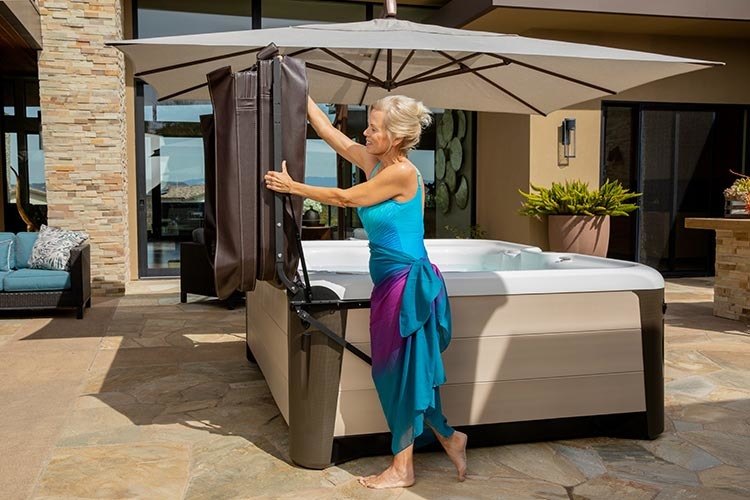 There's no denying the need to keep your hot tub covered, to keep the debris out and the heat in. Lifting it and replacing it, however, can be cumbersome. If you're headed to your backyard with sore muscles or an injury that needs a therapeutic soak, lifting a heavy cover may be the last thing you want to do.
With a hydraulic spa cover lifter, you can easily and nearly effortlessly remove and replace your hot tub cover. The team at Creative Energy can help you find the correct lifting system for your model. This essential accessory will make your hot tub more accessible and guarantee a good seal to protect it between uses.
Best Hot Tub Accessories for Safety
When it comes to your family, and entertaining guests, ensuring their safety while using your backyard spa is important. These hot tub accessories will help prevent people from slipping or falling as they get in and out.
Hot Spring Everwood® Step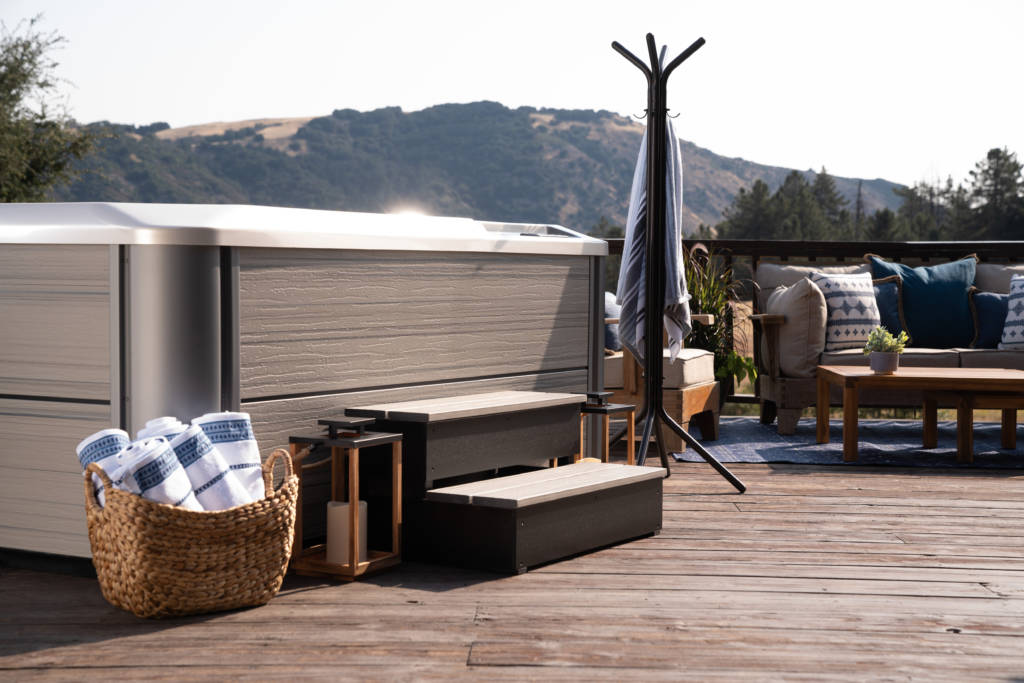 The Hot Spring Everwood® Step, made from rigid polymers, holds up during any weather and cleans easily. This step comes in a variety of colors, and embossed wood grain, that match the Everwood® cabinets and provide a textured surface to prevent slipping wet feet.
Hot Spring Spa Side Handrail
Adding a handrail for added safety will give you and your guests extra peace of mind while enjoying a soak. Installation is a breeze with this handrail! It fits neatly under the cabinet, allowing its weight to provide a safe and sturdy assist for getting in and out of your tub.
The arm swivels over the water for easy ingress and egress. A battery-powered LED light further boosts the convenience and safety for after-dark soaks.
Customize Your Hot Tub with the Best Add-Ons from Creative Energy
Adding options and accessories to your hot tub couldn't be easier, with the helpful, knowledgeable staff at Creative Energy. We can help you find all the add-ons and accessories to help make your backyard hot tub that much more enjoyable and worry-free.
If a therapeutic or relaxing soak in the backyard is still just a dream, you can find the perfect spa to make that dream reality amid the wide selection of Hot Spring® spas. Our helpful showroom staff can also help you personalize it to suit your needs for the ultimate in relaxation and carefree maintenance.
Contact us today or visit one of our San Francisco Bay Area showrooms in San Rafael, San Mateo, and Concord to learn more about the many hot tub accessories available. You are going to love the added benefits they will bring to your backyard.