An Eco-Friendly Solution to Keeping Your Hot Tub Clean And Sanitized
What if you could have all the benefits of a personal hot tub, without the harsh chemicals and exhausting maintenance they can require to keep clean? If you have ever worried about the amount of upkeep or unfavorable chemicals a personal spa requires, the FreshWater® Salt System could be the answer to your concerns!
How The FreshWater Salt System Works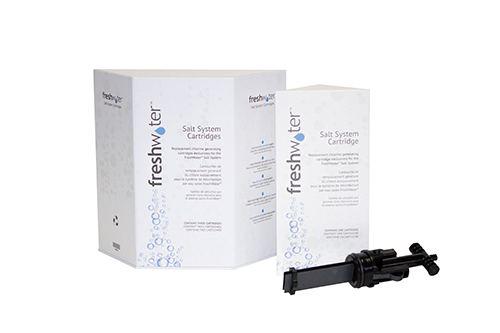 The miracle of the FreshWater Salt System lies in powerful oxidizers that keep your spa water clean and clear, naturally! The FreshWater® Salt System uses salt to create chlorine that is then gently released into your hot tub water through a small disposable cartridge. This keeps your tub sanitized without leaving any harsh odors or uncomfortable chemical residue on your skin.
This advanced system can save you time, money, and natural resources! The salt cartridges require no maintenance and can last for up to four months in your FreshWater Salt System. This means you can experience clean and clear spa water for up to a full year with only three cartridge changes. During this time you will naturally conserve water by reducing the number of times you need to drain and fill your tub for maintenance and cleaning throughout the year.
Make Your Hot Tub More Eco-Friendly with the FreshWater Salt System
The need for the hot tub industry to provide more eco-friendly solutions is exactly what inspired the creation of the FreshWater Salt System. Installing a saltwater sanitation system that naturally produces chlorine from salt reduces the amount of chemicals and chlorine you need to manually add to your hot tub.
Additionally, with this innovative system, you do not need to drain and fill your hot tub of water for cleaning throughout the year. This conserves precious resources while also exposing you and your environment to fewer chemicals.
Keep Your Hot Tub Water Clean and Clear Naturally
To ensure it runs efficiently and safely, your new hot tub will require routine cleaning and maintenance. With proper care, your spa can run without difficulty for years. This innovative system takes the guesswork out of measuring and maintaining chemical levels that keep your hot tub clean and safe.
By introducing little amounts of salt to your spa water, the system naturally generates chlorine and keeps your spa water clean and clear for up to a full year with fewer chemicals. It's no surprise this is one of our best selling hot tub accessories. When you equip your spa with the easy-to-use cleaning system, you can spend more time relaxing and less time worrying about keeping your water clean and sanitized.
Hot Tubs that are Compatible with the FreshWater Salt System at Creative Energy
Creative Energy has over a dozen hot tub models that are compatible with the FreshWater Salt System. Our entire Hot Springs Highlife® Collection can be purchased with the system. It is also available for all of our Limelight® Collection spas! Contact one of our hot tub experts for a free consultation and quote today.
Contact Creative Energy to Learn How You Can Get a FREE FreshWater Salt System
Creative Energy has been providing Bay Area customers with the best selling spas and hot tub accessories for over 40 years. Stop by one of our San Francisco Bay Area showrooms in San Rafael, San Mateo, and Concord.