The Best Fireplaces for Homes and Condominiums Without Chimneys
Once upon a time, if you wanted to add a fireplace to your home, you needed a mason, because you needed a chimney. If you've been wishing you had a fireplace but dismissed the thought because you don't have a chimney, it's time to give that thought serious consideration, because, guess what?
You can install a gas fireplace, even if you don't have a chimney!
When you hear about all the many benefits of a gas fireplace, you'll be ready to browse designs and schedule your installation.
Direct-Vent Gas Fireplaces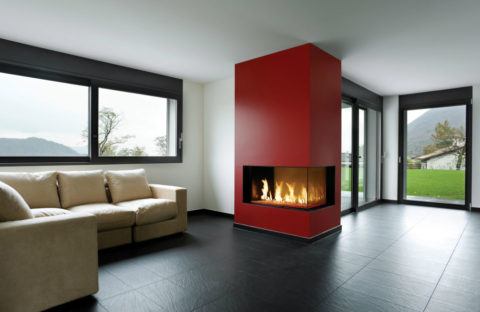 Direct-vent gas fireplaces don't require a traditional chimney, but instead use a fully sealed venting system to vent out the combustion gas, while simultaneously pulling in air from outside to facilitate the combustion. This sealed venting system keeps harmful gases, like carbon monoxide, out of your home while your room is efficiently heated and you enjoy the cozy ambiance of a fireplace.
A traditional fireplace, on the other hand, pulls in air from the room and directs the smoke and other gaseous byproducts out through the chimney. Since this is an open system, some of the air comes from the chimney and some of the smoke enters the room.
Choosing a gas fireplace for your home gives you the best of both worlds. You have all the benefits of a wood fireplace, with a cleaner burn and less maintenance. They also look incredibly lifelike. The realistic ceramic logs and embers in gas fireplaces offer the look and feel of a traditional wood-burning fireplace. With no need for a chimney, the design options are endless and the space requirements even shrink!
Benefits of Chimneyless Fireplaces
Now that you know you can have a fireplace without a chimney, the news gets even better when you explore all of the many benefits of owning a gas fireplace.
Can Go in Any Room of Your Home
With no need for a chimney, these fireplaces can go in any room of your house. Think about watching a fire from a bubble bath, or enjoying a cozy fire in the kitchen or bedroom.
No More Sourcing, Chopping, or Stacking Wood
So many chores go right out the door when your fireplace doesn't need wood! And there's no wood pile!
No Need for Matches or Kindling
Everybody has a trick for lighting a fire in a wood fireplace. With a chimneyless fireplace, you don't need any tricks, matches, lighters, or kindling. Your fire is at the touch of a button!
Efficient Heating
With gas-burning fireplaces, you full have full control over fuel use and the heat is not disappearing up a chimney, but efficiently radiates into your living area. You can easily adjust the amount of gas used, and turn it off completely with the flip of a switch.
Eco-Friendly
With a gas fireplace, no sparks, embers, smoke, or fumes are released into the environment. Natural gas burns more efficiently than wood, with fewer fumes and almost zero carbon monoxide.
Nearly Maintenance Free
A gas fireplace requires minimal maintenance and very little upkeep between uses. You won't need to worry about shoveling out ashes or other wood debris. Your gas insert will create less mess and require much less cleaning to remain immaculate.
Continues to Work When There's No Electricity
Bay Area residents are no strangers to planned power outages. With a gas fireplace, you can continue to enjoy your fireplace, and the heat and light it provides, even when the electricity has been shut off.
Design the Fireplace of Your Dreams with Creative Energy
All that's left now is finding and purchasing the gas fireplace of your dreams. At Creative Energy, we make designing the perfect fireplace for your home easy with our Fireplace Builder, which allows you to see how the various models will look in your room.
To get all your questions answered by our friendly, expert fireplace specialists, stop by one of our three Bay Area showrooms, in San Rafael, San Mateo, or Concord, or contact us online for a free in-home consultation. Your warm, cozy nights by the fire await!