5 Benefits of Buying Your Hot Tub from a Local Retailer
Everyone loves a bargain. And everyone has been taken in by a good deal that turned out not to be as advertised. Traveling spa shows, hot tub blowouts, hot tub tradeshows, etc., prey on your desire for a bargain and push you into a sale by convincing you such a bargain will not last long.
But is it really a bargain? On closer examination, your purchase from one of these pop-up spa dealers may come with unforeseen downsides and not a little buyer's remorse.
In contrast, buying locally affords many advantages, and years of happy, therapeutic hot tub hydrotherapy. In this article, you'll learn some of the primary benefits of buying a hot tub from a local retailer.  
Local Spa Dealers Build Relationships
When you visit a local spa dealer, the sales associate is motivated to help you find the perfect spa for your needs, rather than pushing you into the one that will give them the highest commission. They are not compelled to make you decide on the spot. They know you can come back at any time, and they want to develop a positive, ongoing relationship for the life of your spa.
A reputable spa dealer will be able to provide you with all the parts, services, and supplies that you need, and answer any questions that may arise.
Things you can expect from a local hot tub salesperson:  
Integrity
Transparency
Solid Reputation
Follow-up
Local Hot Tub Stores Care about Product Quality 
Quality matters—to you, and to the dealer who won't be pulling up stakes in a day or two. When you visit a local retailer, they will be well versed in their entire selection of hot tub models and can give you information, time to review it, and answer your questions—truthfully.
That's way better than not getting to do proper research and brand comparison with a pushy salesperson in your face. Since they don't need to follow through, the traveling salespeople tend to be less concerned about the quality of the products they sell. They just want to seal the deal and move on to the next one.  
When shopping locally, if you have an issue with the quality of the hot tub you purchased, you can return to the same dealer, who will sort it out, address any issues, and contact the manufacturer on your behalf. You won't find that sort of follow-up at a tradeshow.
Local Spa Dealers Provide Follow-up and Better Ongoing Service
To ensure your spa remains working at optimal efficiency, routine hot tub inspections are essential. During an inspection, a professional technician will be able to thoroughly examine all the external and internal components of your spa and test all of your controls and equipment.  
Your service representative will also be available to help you find hot tub cleaning supplies, replacement filters, water care tools, and even compatible accessories.
Trying to accomplish this without a trusted, local spa dealer can be trying. Your experience may include missing information, difficulty in obtaining parts, and a rotating list of technicians from various companies who don't specialize in your brand of hot tub and don't know your spa's service history.  
Partnering with a local dealer will ensure continuity of care for your spa, so can enjoy the many benefits of daily hot tub soaks for years to come. If you have questions about replacing your hot tub filter, cleaning your spa, repairs, or need help troubleshooting your hot tub chemicals, they're available and motivated to help.
Local Hot Tub Retailers Take Hot Tub Delivery and Installation Seriously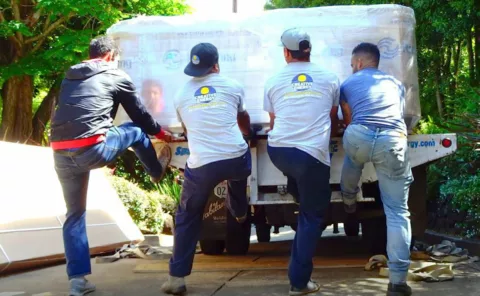 It takes time, planning, and preparation to ensure safe delivery of your hot tub and proper installation. Is your site prepared? Do you have the appropriate electrical outputs ready for action? Is your backyard or designated area easily accessible?
If the answer to any of these questions is "no," then your bargain has just become a huge headache. Traveling shows are typically only in town for a weekend, so they must deliver your spa immediately or hire a third-party vendor. Most of these companies will simply have your spa dropped off in your driveway, leaving you to figure out the rest.
At Creative Energy, our team is here to assist you through every step of the hot tub delivery and installation process. Our technicians will even help you determine the best spot to put your spa and provide you with a detailed delivery plan. Come delivery day, our technicians will provide white glove installation, and ensure your hot tub and any accessories are fully installed and operating perfectly.
Local Spa Retailers Help You Support Your Local Economy 
Last, but not least, shopping locally, for anything, supports the local economy. Your dollars spent locally on bigger ticket items make an even greater impact.  
Creative Energy is Your Local Hot Tub Dealer in the Bay Area
Creative Energy has been the Bay Area's hot tub and swim spa dealer for over 45 years. We cultivate customer relationships built on trust and expertise. Our team collectively has hundreds of years of experience selling and servicing our products. We have even been voted "Best Spa/Hot Tub Store" in Marin County!
Browse our wide selection of Hot Spring Spas available at our San Rafael, San Mateo, and Concord showrooms, or stop by to speak with one of our hot tub experts and find the spa of your dreams today.