If you've been thinking about getting a hot tub, and wondering about water care, maintenance, and health benefits, this is the article for you. Whether you are more interested in the health benefits, ease of water care, or cost of maintenance, nothing can compare to the benefits of saltwater hot tubs. The natural properties of saltwater in a saltwater hot tub enhance the existing health benefits of hot tub hydrotherapy and make water care and maintenance easier than ever.
What is the Advantage of a Saltwater Hot Tub?
Saltwater makes hot tubs even more therapeutic, because there are fewer chemicals, the water is softer and feels more luxurious, and the water is also even more buoyant. Read on to learn more about the benefits of hydrotherapy in a saltwater hot tub and how easy cleaning and maintenance is with a saltwater spa.
1. Saltwater Hot Tubs Provide Even Better Tension and Pain Relief
Hot tubbing is great for warming up before a workout, winding down from a stressful day, and working the knots out of tense muscles. The warm water, buoyancy, and massage that form the essential elements of hydrotherapy can be enjoyed in your own backyard hot tub hydrotherapy experience.
Most people have at least occasional joint pain, whether it's just from tension, overuse, or something more chronic. Hot Tub hydrotherapy can help ease the pain of arthritis, fibromyalgia, and many other types of joint pain. When added to a physical therapy routine, these warm water treatments have also proven to be a great aid in joint injury recovery.
Saltwater hot tub hydrotherapy takes the experience a step further, due to the water being more buoyant than traditionally chlorinated water. This takes a greater load off your muscles, and many find a sense of peace and relaxation from the additional buoyancy as well. Between the reduction in gravity and relaxation, painful muscle tension can ease even more in a saltwater hot tub.
2. Saltwater Hot Tubs Have Fewer Chemicals
With a saltwater spa system, you can soak in warm water with fewer chemicals that can be harsh on your skin and hair. Especially if you're sensitive to chlorine. The natural chlorine produced by the salt system, combined with the softening properties of the salt, makes the water feel silkier. Many hot tub owners find that the spa water in a saltwater spa smell less chemically and is less drying and irritating to their skin and eyes as well. In fact, some compare it to bathing in mineral spring water!
3. Saltwater Hot Tubs Simplify Water Care
With a saltwater system, like the FreshWater Salt System, water care is a breeze! These efficient systems require much less chemicals and upkeep to keep the water clean, clear, and sanitized. You simply set the system level on the control panel and follow the instructions to maintain your water when necessary. These unique systems use titanium cartridges to create chlorine from salt, efficiently sanitizing the water in your hot tub. The FreshWater disposable salt cartridges are super easy to replace, and you only need to do it three times per year. So you can spend more time enjoying your therapeutic soaks, and less time worrying about water care.
4. Saltwater Hot Tubs Provide Excellent ROI
With a saltwater hot tub, you need fewer chemicals and less effort to keep your spa water clean and sanitized. Saveing you both time and money in the long run, and quickly paying for the initial investment in the system itself. With a saltwater system, you only need to drain your spa water once per year. So you will also save on the chemicals required to sanitize and balance the water after a refill and save on water! In addition to the financial savings, you're doing your part for Mother Earth with fewer chemicals and reduced water use.
Find the Best Saltwater Hot Tub for Your Home at Creative Energy
Creative Energy has been the leading hot tub dealer in the Bay Area for more than 45 years. We are proud to carry the best-selling hot tub brand in the world, Hot Spring Spas. We invite you to visit any of our showrooms in San Rafael, San Mateo, or Concord to explore the new models and learn more about the saltwater hot tubs. You can even call ahead to schedule a private hot tub test soak.
We're here to help before, during, and after your purchase. Stop by to browse our models or contact us today to get a free backyard consultation.
Get Full Service Delivery and Installation from Creative Energy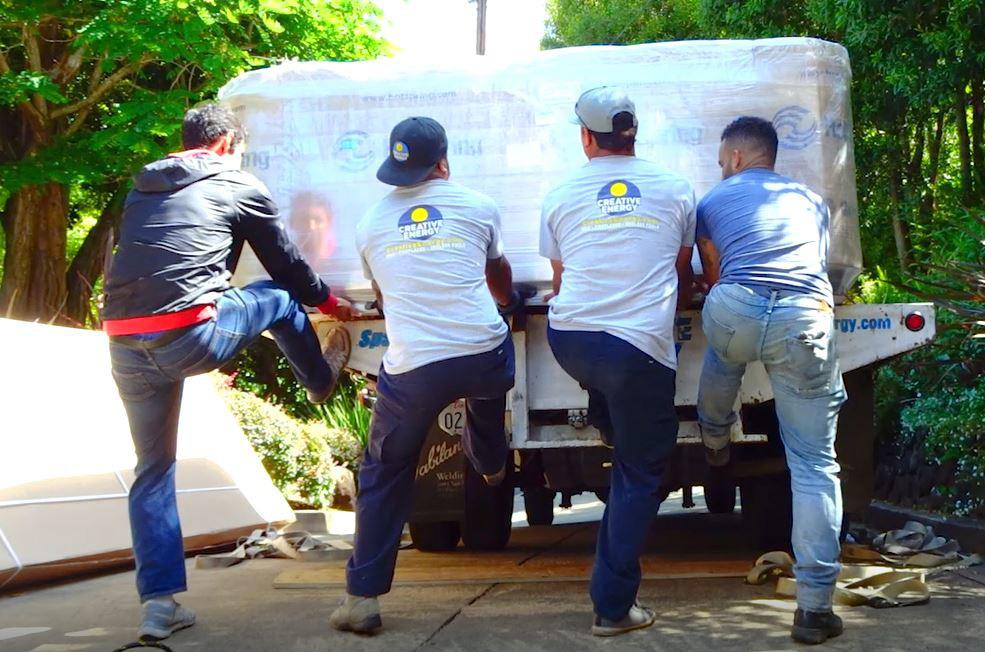 At Creative Energy, we provide white glove delivery and installation. Your spa will be fully installed and set-up, with no mess will be left behind.