Is a fireplace insert better than a fireplace?
There's nothing more comforting and cozy than a nice warm fire in the fireplace in the winter. Or is there? How about a nice fire in the fireplace insert, that makes that experience worry-free and easy?
In this article, you'll learn why many people are updating their homes with fireplace inserts and how they differ from traditional fireplaces.
What is a Fireplace Insert?
A fireplace insert is a metal appliance that is installed inside existing fireplace masonry. Their airtight design makes them safe and incredibly efficient, especially when compared to fireplaces. Unlike a traditional fireplace, inserts can use a variety of fuels, including:
An added benefit of gas and pellet inserts is that they require no matches or kindling to infinite. You can simply switch them on with the touch of a button on the unit or remote control.
Fireplace Insert Installation Before and After:
6 Benefits of a Fireplace Inserts
Whether converting an existing fireplace with an insert or adding a fireplace insert during construction or a remodel, the benefits compared to a traditional, wood-burning fireplace are many.
1. Safety
Comparing an insert to a traditional, wood-burning fireplace, inserts, even wood-burning, and pellet ones, are safer because they are more closed and burn more efficiently. The closed system prevents harmful smoke from entering your room, which could lead to dangerous levels of carbon monoxide. Additionally, the design of inserts ensures no sparks or embers can escape, so the risk of an accidental fire is greatly reduced.
Traditional wood-burning fireplaces create creosote, which can cause fires and damage your flue, if not cleaned regularly. Wood-burning and pellet-burning inserts create a more controlled, slow burn, and do not produce nearly as many harmful emissions or creosote. Similarly, gas inserts burn cleanly and efficiently with few emissions.
2. Convenience
Especially with a gas insert, starting a fire is a breeze – Just push a button. No more sourcing, chopping, or stacking wood. Even if you opt for a wood-burning insert, because it burns much more efficiently, you won't have to closely tend it or feed it as often.
3. Greater choice of fuels
Choosing an insert begins with choosing what type of fuel you want to use; gas, pellet, or wood. With a traditional fireplace, you only have one option. If you are in California and prefer sticking with wood, fireplace inserts are not affected by the "no burn" days because they burn so efficiently.
4. Savings on fuel
No matter what type of insert you choose, you won't require nearly as much fuel as you did for your traditional wood burner. Fireplace inserts heat rooms much more efficiently, so spaces get warmer faster and with much less fuel. And that's money in the bank.
5. Beauty
Inserts come in a variety of designs, to fit any home, lifestyle, and decor. In fact, at Creative Energy, you can use our Firebuilder App to see how different models will look in your home.
6. Ease of maintenance
With an insert, soot and ash are not deposited all over the face and hearth of your fireplace, greatly reducing the amount of time, energy, and money needed for routine cleaning. With a natural gas insert, the glass doors are all you will need to clean, which only requires a paper towel and warm water.
Additional benefits of a natural gas insert
Though inserts are also available for wood and pellets, natural gas is by far the most efficient and clean burning, making it the greenest and usually the most economical choice.
When it comes to easy starting and cleaning, gas inserts can't be beaten. Your cozy fireplace experience is available at the touch of a button. You won't get dirty or frustrated at lighting a fire ever again. Gas inserts are also very nearly zero maintenance. Wipe the doors down and you're good to go between annual safety inspections.
Learn more about the specific benefits to a gas insert.
Types of Fireplace Inserts
The design options with inserts are endless, whether you're starting from scratch or converting an existing fireplace. Here is just one example of three types of inserts to get you started.
Natural Gas Fireplace Insert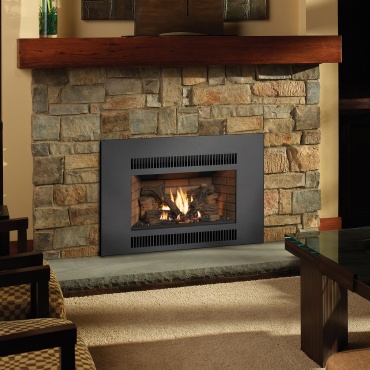 The Avalon Radiant Plus Gas Fireplace Insert, with its standing pilot, starts up easily and requires no power to run or operate, making it a reliable heat source for any home — even during power outages! This reasonably priced insert delivers optimum radiant and natural convection heat for a space of up to 1,650 square feet.
Wood Fireplace Insert
The Large Flush Hybrid-Fyre Wood Insert is the cleanest burning large wood fireplace insert in the world! It produces a mere 0.58 grams of emissions per hour, while testing at over 80% efficiency – 20% more than a typical wood insert. With this insert, you can enjoy up to 12 hours of burning before refueling and heat up to 2,500 square feet, and standard concealed fans help circulate the warmth evenly throughout your home.
Pellet Fireplace Insert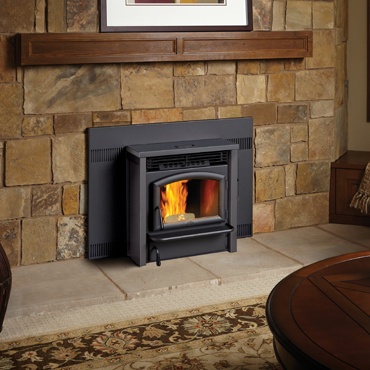 The new, EPA-certified AGP™ pellet insert can be used with all grades of pellets (AGP). Burning multiple grades of pellets is an environmentally sound way to heat your home because the pellets are made from all-natural wood by-products. The AGP pellet insert, which only produces .98 grams of emissions per hour, requires very low maintenance and comes with an easy removal ash pan. Its quick fuel disconnect simplifies the little cleaning that needs to be done on the unit.
Peruse the Creative Energy fireplace page and sort by fuel and type to see many more variations and options. You can also see before and after photos of Creative Energy insert installations.
Design a fireplace insert option to suit your room
It's now obvious that inserts make everything about that cozy fire better. More efficient, more economical, safer, and easier to use and clean. Now the fun part can begin. What kind is right for you?
If you're ready to make the switch to a fireplace insert, whether gas, wood, or pellet, use our Fireplace Builder to design your own dream fireplace insert! If you have questions about the process, contact our team at Creative Energy for a free in-home consultation today.