Summer is here! As we transition from spring and start to savor the warmer weather, many of us turn our attention to the outdoors. You might start seriously planning a summer vacation, camping trip, or how to maximize the outdoor oasis closest to you: Your backyard.
One of the hottest backyard trends is the elegant and contemporary fire pit.  A Fire pit is a pre-made container designed to contain fire for entertaining, warmth, and enjoyment. Many of us have come in contact with a whole variety of fire pits- from the metal ring at your local campground all the way to a one-of-a-kind statement piece at your favorite local winery. There are a large variety of shapes, sizes, and fuel sources that need to be taken into account when deciding on which fire pit is right for you and your needs.
The team at Creative Energy has put together a quick guide to help you understand the options available to you and hopefully set the trail ablaze towards your next fire pit.
Fire Pit Styles:
Creative Energy carries the most contemporary styles of fire pits:
Fire Urns
Fire bowls
Fire pits
Fire tables
Fire Urns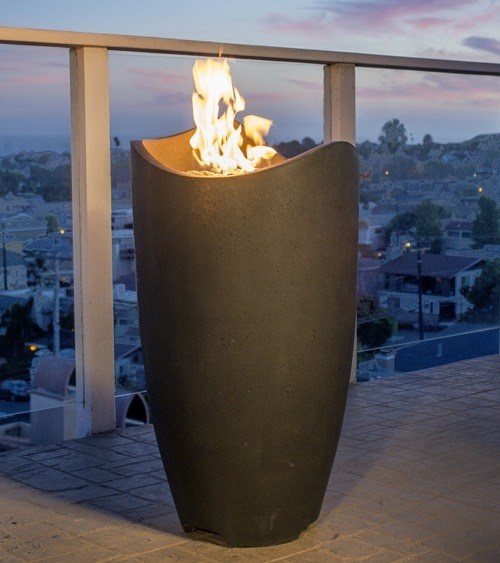 This style of fire pit is contained within an urn or similar vase.  It is wonderful for adding an elegant accent and flair to your backyard or patio.  These popular pieces vary from a Grecian or Roman urn look and feel to a more modern stainless steel "nest" that sits on a pedestal.
Fire Urns are popular for lighting walkways, paths, or adding an overall grandeur to your backyard space.
Fuel Sources Available:
Propane
Natural Gas
Fire Bowls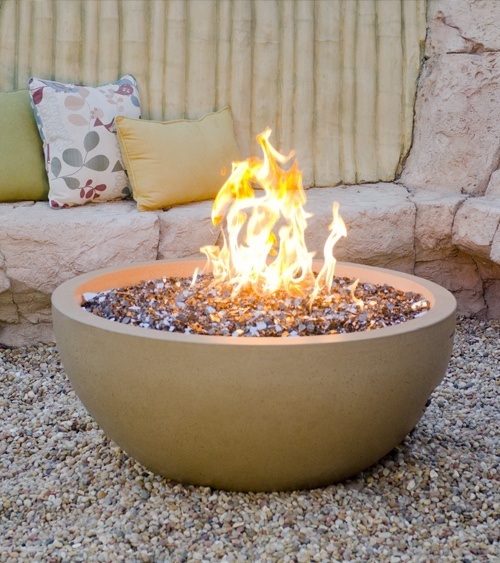 Fire bowls are a personal favorite of ours.  These simple, ultramodern fire pits are a versatile option for your backyard decorating needs. This style of fire pit is exactly as the name sounds, a large, shallow bowl that can either be displayed directly on the ground or on top of a pedestal.
Fire bowls are popular for a patio style display piece: Many enjoy setting up their lawn furniture surrounding their fire bowl for a chic centerpiece, or a poolside accent.
Fire bowls can be customized with fire glass, lava rock, ceramic log sets and more. Almost any color combination can be achieved to produce the most unique fire feature possible.
Fuel Sources Available:
Propane
Natural Gas
Fire Tables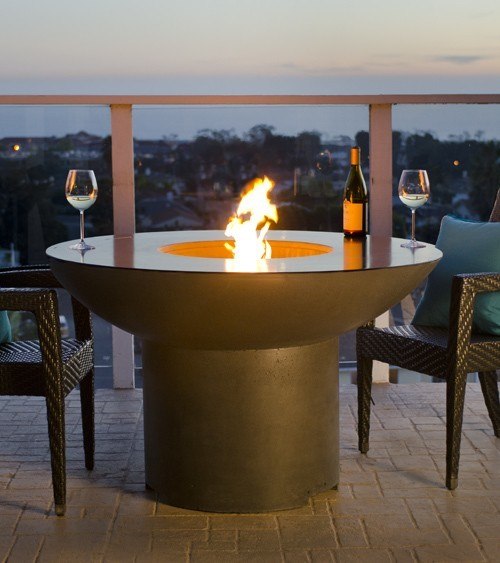 Fire tables are the ultimate backyard entertaining option for fire pits. These fire pits serve a dual purpose: in addition to being a classic fire pit they are also a table. They allow for a comfortable and formal meal setting perfect for hosting your next backyard party or fireside date for two.
Fire tables come in all shapes including square, rectangular, circular, or octagonal. They vary from countertops with artisan glass, to reclaimed oak wood, to smooth concrete, or black lava rock.
Fuel Sources Available:
Propane
Natural Gas
Fire Pits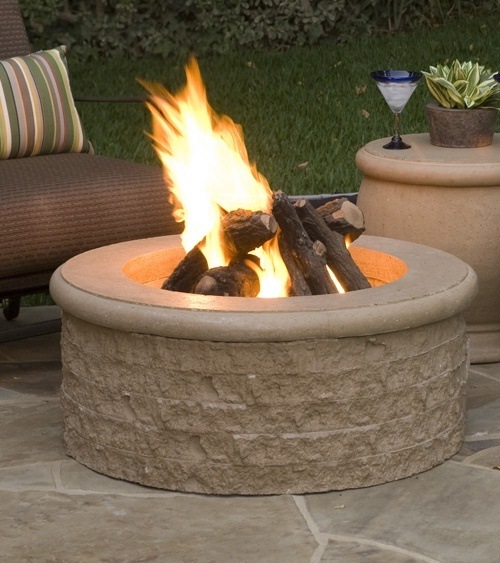 And finally we have the classic fire pit.  These fire pits are the classic cylindrical outdoor fire pit style, but with a new artistic design.  These fire pits come in a variety of styles: from a feature smooth concrete exterior, to a chiseled concrete exterior, to the Contractor's Model Fire Pit which can be customized and designed any way you see fit.
Similar to fire bowls, fire pits are most popular for entertaining and gathering around the fire.
Fuel Sources Available:
Propane
Natural Gas