Have you been wanting to try cold water therapy for yourself but don't know where to start? You're in luck! With cold plunge tubs, leveling up your wellness routine has never been simpler— you can experience the power of cold plunge therapy right in your own home. This guide dives into everything you need to know about cold plunge tubs, including what they are, how they work, and the therapeutic benefits they can provide.
What Is a Cold Plunge Tub?
A cold plunge tub is a self-contained ice bath system designed to maintain a consistently cold water temperature for therapeutic purposes. Arctic Plunge Cold Plunge Tubs provide unmatched water purity, temperature control, and functionality. Manufactured from top-tier materials, these plunge tubs use state-of-the-art insulation technology to retain 79 gallons of water at the ideal ice bath temperature without the formation of ice or frost.
Arctic Plunge Cold Plunge Tub Details and Measurements:
This incredibly easy to use system features built-in ozone and filtration for crystal clear water and sanitation with less upkeep required. Engineered from stainless steel, Cold Plunge Tubs are also naturally bacteria-resistant and easy to clean. Better yet, with its compact design, energy efficient features, and simple installation that requires no special plumbing tools, Cold Plunge Tubs are the perfect addition to any home.
Cold Plunge Therapy (Cryotherapy)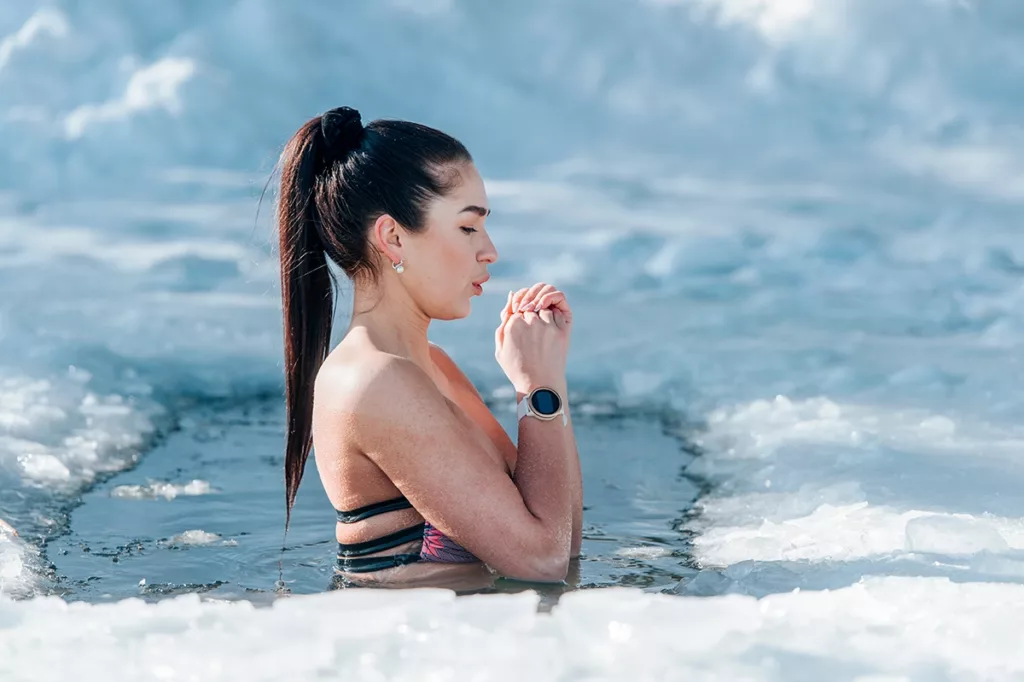 This isn't just an ice bath – cold plunge tubs offer a rejuvenating journey for both your body and your mind. You can transform your entire wellness routine in as little as one minute with cold plunge therapy. The process of ice-cold water immersion for therapeutic purposes is called cryotherapy and has been practiced around the world for thousands of years.
Cryotherapy involves immersing yourself in cold water for short periods of time, reducing your core temperature, and altering your blood flow throughout your body. This can naturally stimulate your production of white blood cells (leukocytes) which are essential to a strong immune system. Cryotherapy also kick starts your lymphatic system, causing it to circulate fluid through your lymph nodes and detox your system. Starting with the ancient Greeks and Romans, cold water therapy was once endorsed by philosophers and gladiators, and thanks to its unique advantages, it's still being talked about centuries later.
Health benefits of cold plunge therapy:
Reduces Muscle Soreness
Boosts Recovery Time
Decreases Inflammation
Improves Circulation
Fights Stress, Anxiety and Depression
Stimulates Resting Metabolism
Enhances Sleep Quality
Promotes Healthy Hair and Skin
Supports Lymphatic System
Dive Deep into Wellness with the Best Cold Plunge Tub for Your Needs
Cold water therapy has so many desirable benefits that are made accessible with cold plunge tubs. With an Arctic Plunge Cold Plunge Tub, you can experience an ice-cold immersion in a clean, relaxing environment that makes it easy to incorporate cold water therapy into your daily wellness routine.
If you're interested in a cold plunge tub of your own, contact our team today, or visit any of our Bay Area Showrooms in Concord, San Rafael, or San Mateo to get more information.
Ready to Take the Plunge?
---
"*" indicates required fields