Interior Design Tips on Decorating Your Fireplace Mantel for this Holiday Season
During the holiday season, there is no doubt that your fireplace is the heart of your home. Nothing feels more reminiscent of holiday splendor than spending a chilly fall evening gathered around the fireplace with friends or family. That's why fall is the perfect time of year to put a little extra consideration into decorating your fireplace mantel.
Read on for some interior design tips on how to decorate your fireplace mantel this holiday season.
1. Start by Choosing a Color Scheme
In some way or another, we all have emotional responses to certain colors. So it is possible that you can change the entire feel of a room with your mantel display! What colors come to mind when you think about the mood you want to create with your mantel decor?
You can easily give your mantel a dreamy snow-covered look by incorporating lots of whites, silvers, and delicate blues. Or create a warm and rustic fall farmhouse feel with bright orange and red tones, contrasted with deep browns. Consider using splashes of deep jewel tones like emerald green, or navy blue for a luxurious vintage vibe.
Whatever color scheme you choose, have fun with it! Find a color scheme you love and gathering around the fire this season will be even more enjoyable. That's the best part of decorating your fireplace mantel for the holidays.
2. Add Movement by Incorporating Textures
Your next step in creating a jaw-dropping mantel display this holiday is to find decorations! Now that you have your color scheme nailed down, you probably have a few pieces you know you want to use already, but make sure to add textures. The goal of adding texture is to accentuate the beauty of your fireplace mantel by creating a natural movement for the eye to follow.
Items like plush pillows and throws add a welcoming homey feel. But their soft textures can make them easy for your eye to move over. For contrast, sprinkle in a rough texture like burlap, bushy florals, or hardwoods. This adds depth and will draw attention to certain areas.
3. Create a Focal Point With Layers
Now that you have your color scheme figured out and a few decorations to use in your holiday display, the next big question is how to actually decorate your mantel! The key to any good holiday display is to create a focal point and use your decor to draw the eye to it. To do that requires layering. There are three main layers to focus on when accessorizing your fireplace:
Focal Layer
Just like your fireplace is the focal point of the room, when you decorate your mantel you will want to choose a festive decoration to be your focal point of the display. Position a large decorative wreath, menorah, or any beautiful art piece as the tallest point of your display. This will create a triangular layout that ensures your focal feature is center stage while the remainder of your mantel decor is visually balanced.
Balancing Layer
To create a display that easily guides the eye towards your focal feature, you will need to make sure your mantel display is well balanced. To maintain this triangular layout, decor in your balancing layer needs to be shorter than your focal layer. This disperses the visual weight evenly and gives your eyes a natural guide to view your full mantel display.
Filler Layer
Your filler decor will be smaller items like ornaments, tea light candles, or other festive trinkets. They should all be shorter than your balancing layer. This accentuates the movement of your display and break up any harsh horizontal lines. Depending on your personal decorating style, your filler layer can be optional. If you prefer a more minimalistic aesthetic, you can skip this step entirely.
You don't want your festive decor to compete with your fireplace mantel but rather accentuate its beauty. Layering with various heights, colors, and textures will help your eye to smoothly take in the full display while complimenting the rest of the room.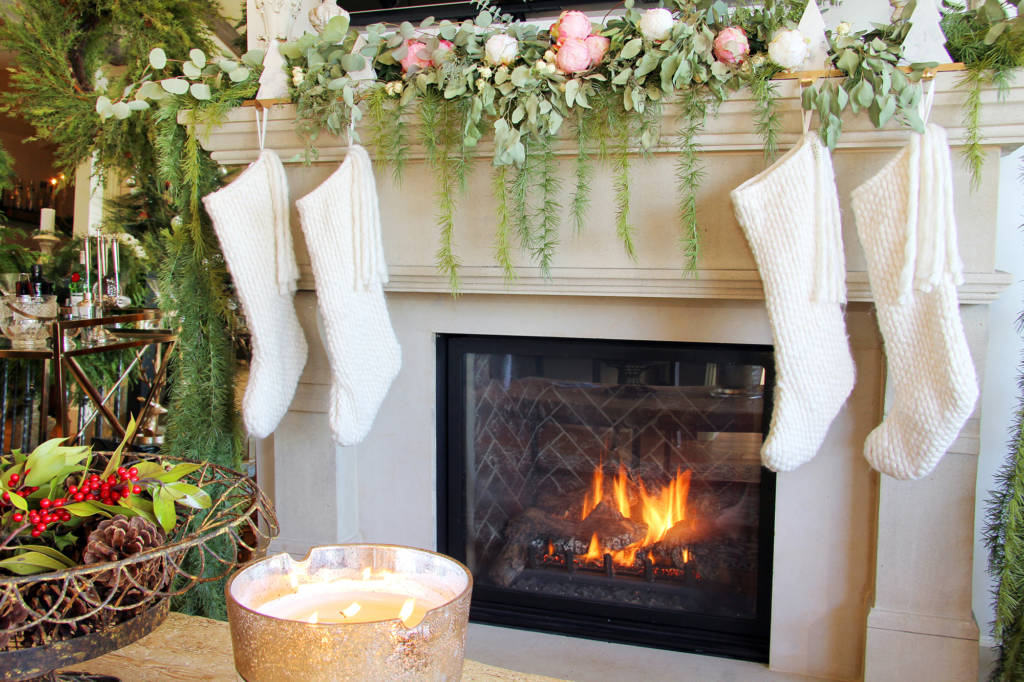 Contact Creative Energy to Get Your Fireplace Mantel Ready for the Holiday Season
For over 45 years, Creative Energy has been the Bay Area's leading provider for gas and wood, fireplaces, and inserts. Our team is dedicated to helping you find the perfect fireplace for your home, lifestyle, and budget. We also offer professional fireplace installations, repair, and inspections throughout Marin, San Mateo, Alameda, Contra Costa, San Francisco, and everywhere else in between!
If you are ready to find the perfect fire feature for your home peruse all our fireplaces, stoves, and inserts online today! We also invite you to meet with our fireplace specialist at one of our Bay Area showrooms in Concord, San Rafael, or San Mateo.