Get The Most Out Your Hot Tub with These Custom Features and Accessories
When searching for your perfect hot tub, there are a number of specifications you're probably looking out for. Details like size, shape, color, and seating configuration are all important to determine the best spa to add to your backyard. But when investing in a spa, you will want to ensure it not only enhances your outdoor living space, but also is tailored to your specific needs and lifestyle. Whether by adding more convenience, functionality, or relaxation, there are a number of standard and custom hot tub features you should keep an eye out for.
If you want to get the most out of your new hot tub, this guide is for you! Read on to learn about some of our favorite hot tub features and must-have accessories to customize your spa!
1. Enjoy the Perfect Playlist for Any Occasion with a Wireless Stereo System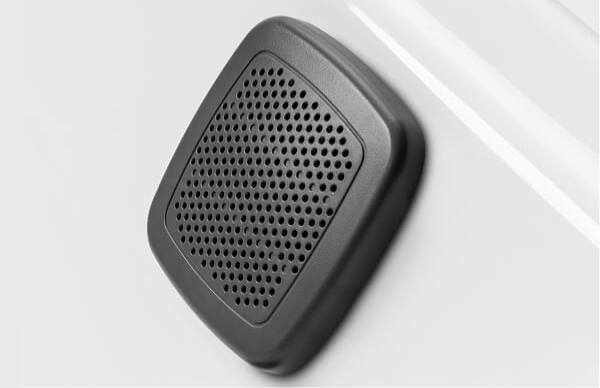 Customizing your spa with a wireless stereo system has never been easier. Many of our hot tubs at Creative Energy have the option to include built-in stereo speakers. If you choose to opt for a music-ready spa, you can further customize your system with the addition of a wireless Bluetooth® audio system.
This wireless feature will allow you to connect your hot tub to your home entertainment system or any other devices up to 150 feet away. Upgrade to a wireless audio entertainment system for a personalized spa experience every time.
2. Add Ambience to Every Soak with Hot Tub LED Lights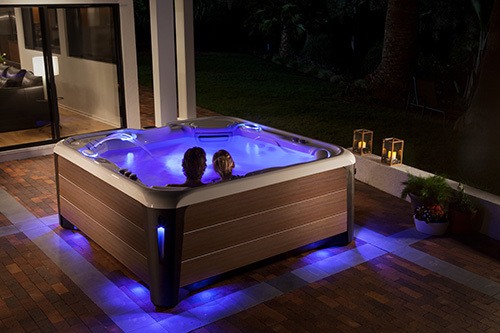 Take your spa experience to the next level and transform your water into a kaleidoscope with colorful effects. At Creative Energy, multi-colored LED lighting systems come as a standard feature on many of our hot tub models.
You can select from a colorful wheel of jewel-bright tones to create a repeating pattern of different colors, or choose a hue that suits your mood best. The playful rainbow effect might be great for entertaining friends and family, while a single shade might help you relax during solo soaks. Make sure to talk to one of our team members about all the different ways you can customize your spa lighting for the ultimate personalized experience.
3. Take Relaxation to the Next Level with a Hot Tub Waterfall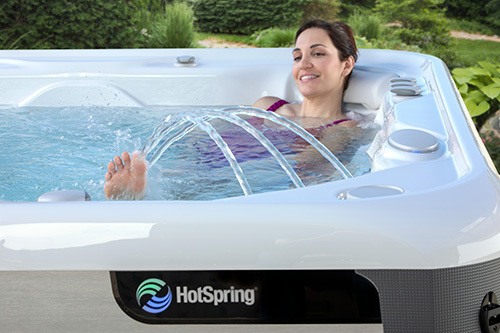 Enjoy pure relaxation and tranquility with the sound of cascading water from a hot tub waterfall. This feature can create the ultimate hydrotherapy experience by adding to the overall enjoyment of your soak. With a hot tub waterfall, you can sit back and relax every muscle in your neck and upper back with less direct pressure than a standard hot tub jet.
Ask a member of the Creative Energy team about our hot tub models that come equipped with additional water features.
4. Spend Less Time Cleaning Your Hot Tub with a Freshwater Salt System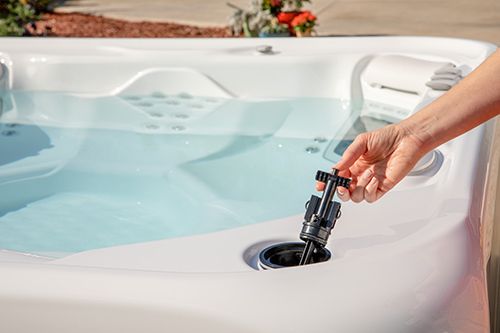 To ensure it runs efficiently and safely, your hot tub will require routine cleaning and maintenance. If you have ever worried about the amount of upkeep a personal spa requires, the FreshWater® Salt System could be the answer to your concerns! 
This innovative system can keep your spa water clean and sanitized for up to a full year with fewer chemicals. The FreshWater® Salt System uses salt to create chlorine that will naturally keep your tub fresh.
When you equip your spa with the easy-to-use cleaning system, you can spend more time relaxing and less time worrying about keeping your water clean. It's no surprise this is one of our best selling hot tub accessories.
5. Eliminate Any Heavy Lifting with a Hydraulic Hot Tub Cover Lifter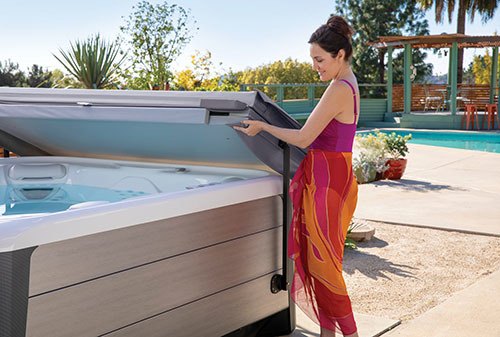 A quality hot tub cover helps ensure the longevity of your spa by keeping unwanted debris out and the warmth of the water consistent. While covers are essential to maintaining your hot tub, they can sometimes be heavy or hard to lift on your own.
With a hydraulic spa cover lifter, you can experience smooth, effortless assistance while opening or covering your tub. A proper lifting accessory is guaranteed to make your hot tub more accessible, and will help ensure your spa remains properly sealed when not in use. Our team at Creative Energy can help you find a lift assist system that is easy to install and the perfect fit for your spa.
Create the Hot Tub Experience of Your Dreams with Custom Features from Creative Energy
If you are looking to transform your backyard into your personal oasis, Creative Energy is here to help! To learn more about how to customize your hot tub experience, contact our experts online today. Our San Francisco Bay Area showrooms in San Rafael, San Mateo, and Concord are open for social distancing approved appointments. Schedule yours now!