A Simple Change – A Big Transformation
A gas fireplace insert may seem like a somewhat inconsequential change to a home. However, once installed, that gas insert may transform how your home looks, feels, and stays warm.
Beauty
Today's gas fireplace inserts are more beautiful and more realistic than ever before.
Gas inserts can fit into any décor from clean and modern to elegant and classic. They feature large viewing areas and customizable designs, including choices from realistically-molded decorative wood to stone or even glass.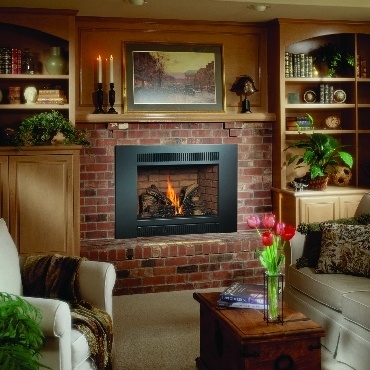 Convenience
Perhaps the most noticeable change will be just how easy it is to have a nice fire.
With a gas insert, starting a fire is as simple as flipping a switch. You get real flames without the hassle of solid fuel sources. You'll no longer need pellets, firewood, or balled up newspaper to get a fire going.
Environmentally-Friendly
While the crackling and popping of a wood-burning fire is certainly a magical thing to have in your living room, the pollution isn't so magical in the air.
For decades, scientific studies have shown time and again that serious health effects come with too many people burning wood in their fireplaces. As noted on sparetheair.org, these health concerns include "asthma symptoms, decreased lung function, increased hospital admissions, and even premature death."
What's the best way to avoid contributing to this problem? Use a clean-burning gas fireplace insert! Gas inserts burn cleanly and efficiently using natural gas. Switching to a gas insert is even recommended by the Spare the Air program.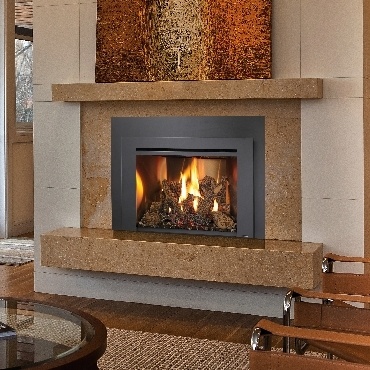 Efficiency
Efficiency is the name of the game when you want to heat your home (and not set your wallet on fire).
While non-vented gas inserts are the most efficient (up to 99% of heat is used to warm the home), California law prohibits their installation due to safety concerns.
Vented gas inserts are specifically designed to be maximally efficient, utilizing a system known as direct vent. This system pulls in fresh air from the outside to fuel the fire, directs combustion fumes back outside, and circulates room air all at the same time.
The result is anywhere up to 85% heat efficiency, making inserts a great way to heat your home. Older fireplaces can be extremely inefficient, even all the way down to 15%.
Gas Fireplace Inserts at Creative Energy
Beautiful, efficient gas inserts are available from Creative Energy in a variety of styles.
If you're interested in a gas insert for your home, check out some of our available models! If you're not sure what size insert your home needs, just drop us a line.
Creative Energy has showrooms in San Rafael, San Mateo, and Concord where you can get a feeling for how an insert will look in your home. Our knowledgeable staff can help you choose the best option for your home—stop by today!