Jetsetter LX Product Information
515 lbs. dry | 3,125 lbs. filled

---
Jetsetter LX Documents
The Jetsetter LX hot tub from Hot Spring is designed for those looking for a luxury hot tub experience in a small package. This 3-person hot tub is packed with the features of a larger spa but compact for small patios, yards and decks. Between the 3 seats, this model has a total of 30 powerful jets including 1 Moto-Massage DX, 2 SoothingStream jets, and 22 directional precision jets. With exceptional features and a small footprint, the Jetsetter combines the best of both worlds for a luxurious but intimate experience.
Hot Spring hot tubs like the Jetsetter include innovative features like easy water care and a comprehensive Energy Smart system. Keep your water clean with less effort thanks to their Freshwater Salt System and 100% no-bypass filtration system. Plus, their proprietary design traps heat more effectively so temperatures stay high while your energy bill stays low.
Features:
Legendary Hot Spring Massage: Comfort Control system, SmartJet system, patented Moto-Massage DX moving jets, and precision jets create an unparalleled hydrotherapy experience from neck to feet.
Easy Water Care: A 100% no-bypass filtration system and tri-X filters provide a more effective filtration area, filter significantly more water and do it continuously.
Super Energy Efficient: Layers of high-density polyurethane foam insulation, titanium heater, low-energy pump, pump shroud and tight-fitting cover offer the very best in energy-saving design with a comprehensive Energy Smart system. So, your hot tub stays hot, and your energy bill stays low.
Visually Stunning: Hot Spring hot tubs like the Jetsetter LX feature comfortable, sculpted seating, stylish design details, 5 cabinet finishes and a variety of shell colors to create a look that matches your décor and furniture. 
Jetsetter LX Features
12 Directional Precision Jets
These jets soothe your back, neck and calves with adjustable nozzles for a customizable massage right where you need it.
Watch Video
2 Rotary Hydromassage Jets
The Rotary Hydromassage jet performs like the fingers of a professional masseuse, with rotating nozzles that soothe your back, neck, calves and wrists Powerful not punishing, these jets have a directional nozzle with a flow-enhancing design for maximum performance. The interchangeable dual-port rotary nozzle creates a V-shaped pattern of water for a pulsating massage.
Watch Video
4 Hydro Stream® Jets
HydroStream jets soothe tired muscles with constant streams of flowing water that relieve tension and quickly soothe away tension.
Watch Video
Directional Hydromassage Jet
Featuring easy-to-adjust directional nozzles for maximum targeting performance these jets are designed to let you target specific areas of your body.
Watch Video
Jet Stream® Jet
Aching lower back pain needs the extra power of a JetStream jet. An invigorating, directional whirlpool jet far more powerful than a Hydromassage jet offering fast relief.
Watch Video
Moto Massage Dx Jet
Hot Spring Spas revolutionized spa the industry with this one-of-a-kind moving jet that cascades up and down your back.
Watch Video
Luminescence® 4 Zone Multi Color Lighting
When adding an outdoor spa to your home, one feature stands above the rest for setting a special mood at night - lighting. The best hot tubs for nighttime enjoyment include outdoor spa lights. The Luminescence® four-zone multi-color lighting system by Hot Spring lets you individually control each zone—underwater, bartop, pillows and water feature—to enjoy your favorite mix of colors. To really experience how special hot tub lighting can be—it's illuminating.
Watch Video
Sound System With Bluetooth® Wireless Technology
Whether you choose to stream music live, or have your own library of downloaded tunes, this entertainment system allows you to conveniently enjoy music from your Bluetooth® enabled device at the spa, using Bluetooth® wireless technology. Bluetooth Receiver/Amplifier Power (Max): 4 x 30 W (4 Ohms) Range: 30 ft. (9 m) from the front of the spa Accessories: Subwoofer, Wireless In-Home Dock Features: EQ Tuning: Bass, Treble, Balance; Subwoofer Volume; Play/Pause; Track Forward/Backward
FreshWater Salt System
Available on all Highlife® and Limelight® Collection spas, this easy-to-use salt water system eliminates the worry of keeping spa water clean, clear and sanitized for a full year. With just a little salt in your spa water, the system generates chlorine automatically so you'll spend less time measuring and adding chemicals. This unique system makes spa ownership easier than ever by removing the guesswork and hassle of water care maintenance.
No Fault® 6000w/230v Heater
Silent Flo® 5000 Circulation Pump
In a Hot Spring® spa, the SilentFlo 5000® circulation pump works continuously, filtering the spa's water for 24 hours a day. It's totally automatic, so there's no need to program long cleaning and heating cycles as in other spas. Nor do you have the wear and tear, energy drain or noise of a large jet pump running during those cycles. Operating silently and efficiently, your Hot Spring spa is always hot, clean and ready to enjoy.
Wavemaster® 9000 Jet Pump
One-speed, 2.5 HP Continuous Duty, 5.2 HP Breakdown Torque
View Jetsetter LX Styles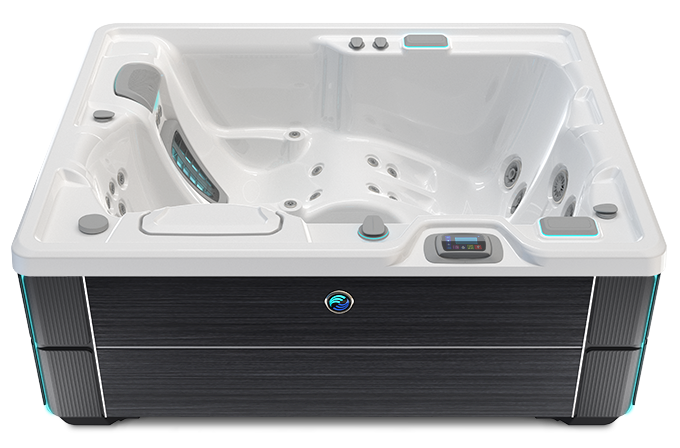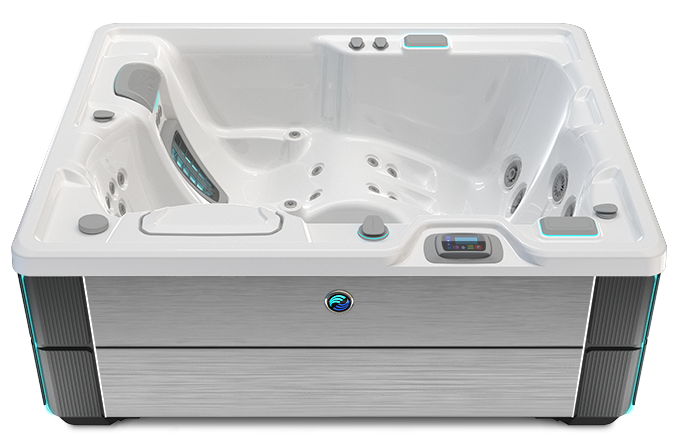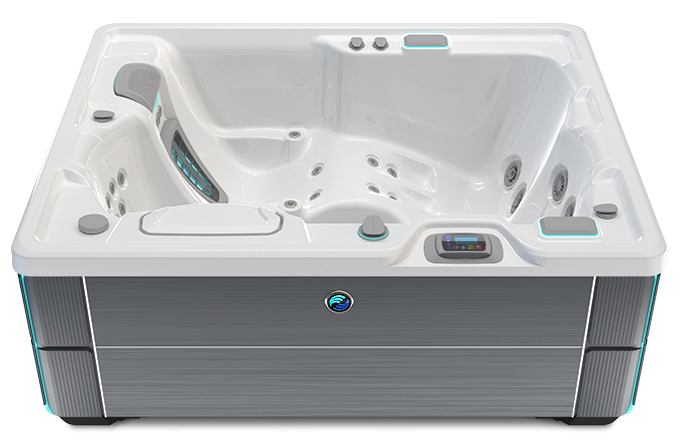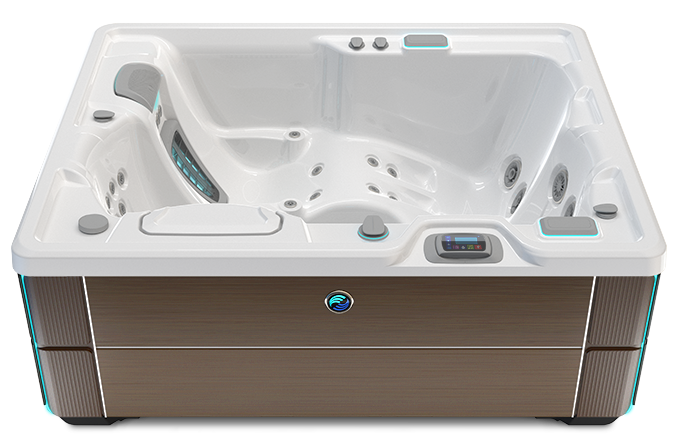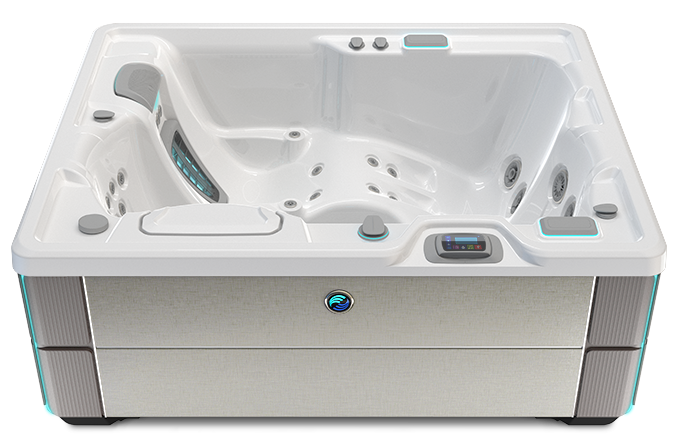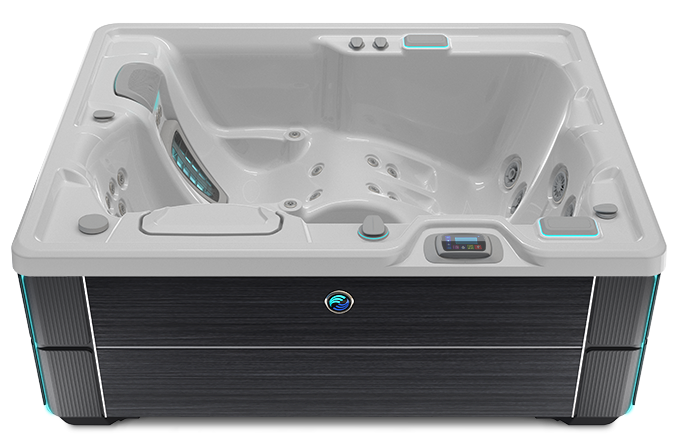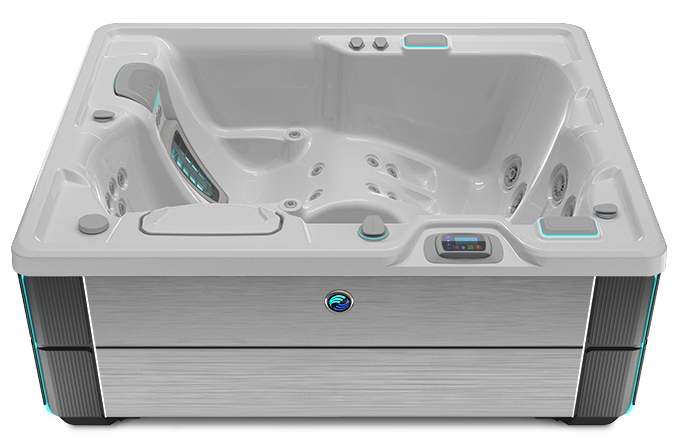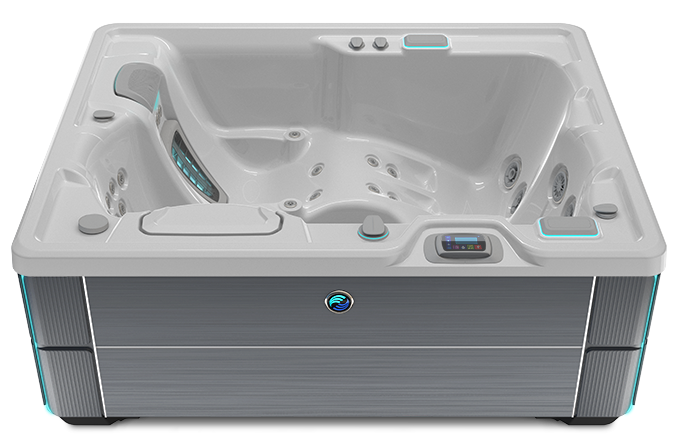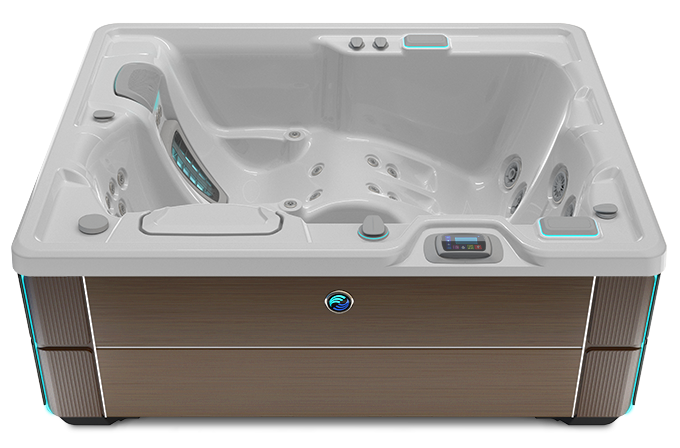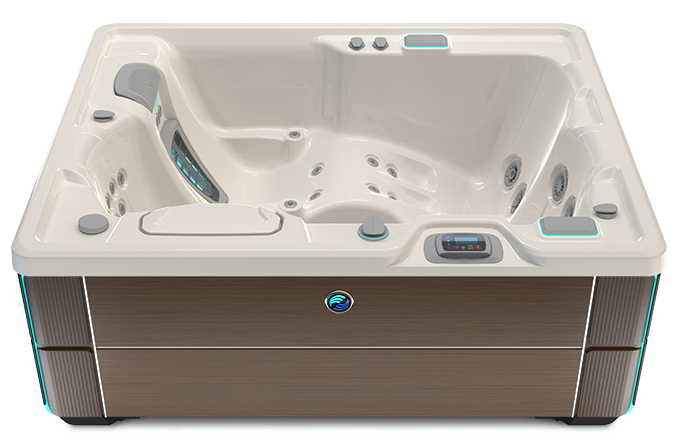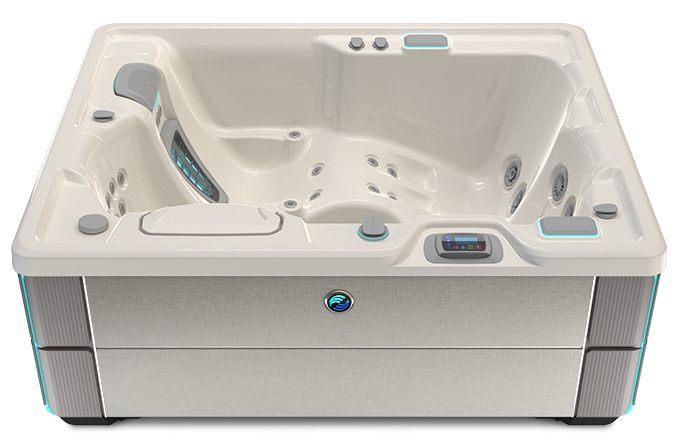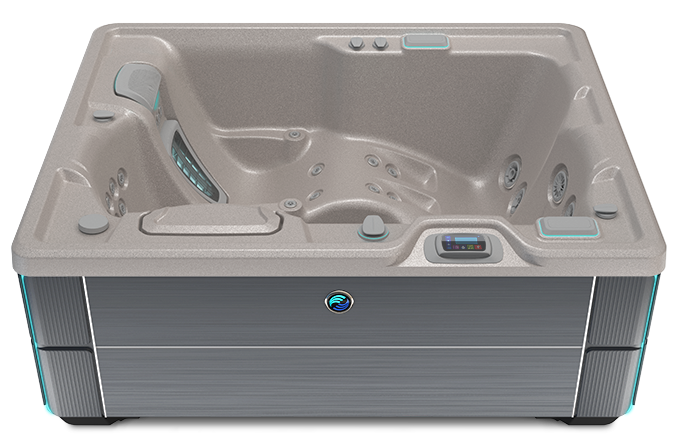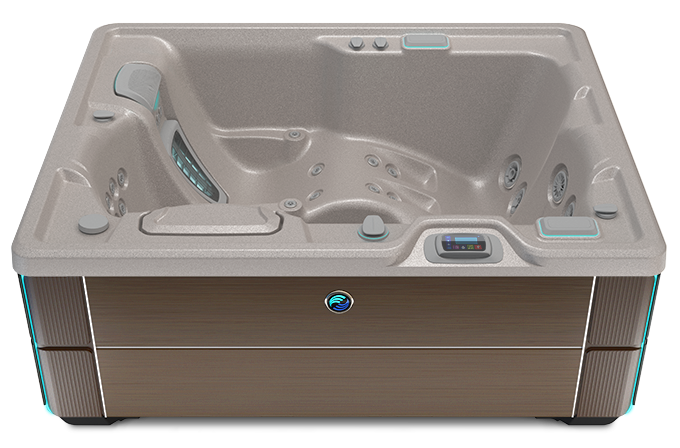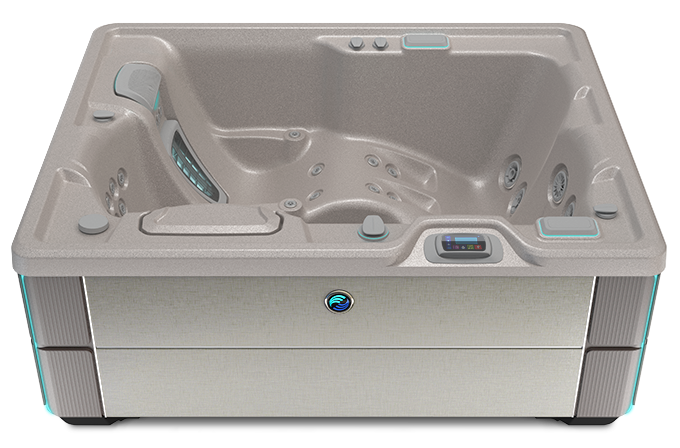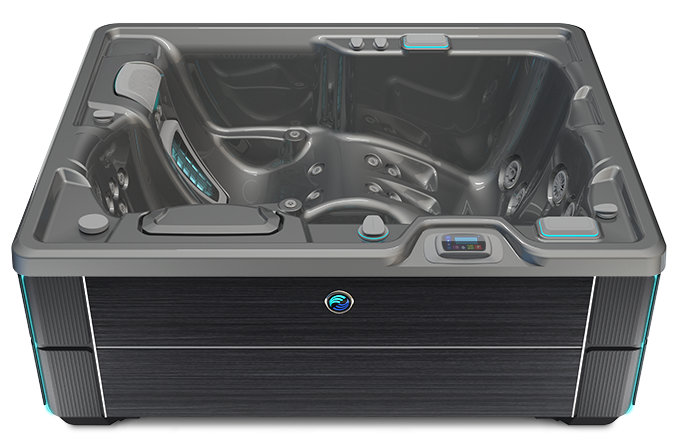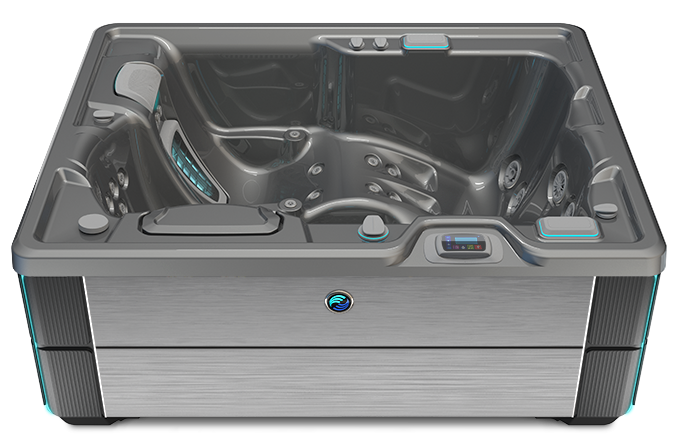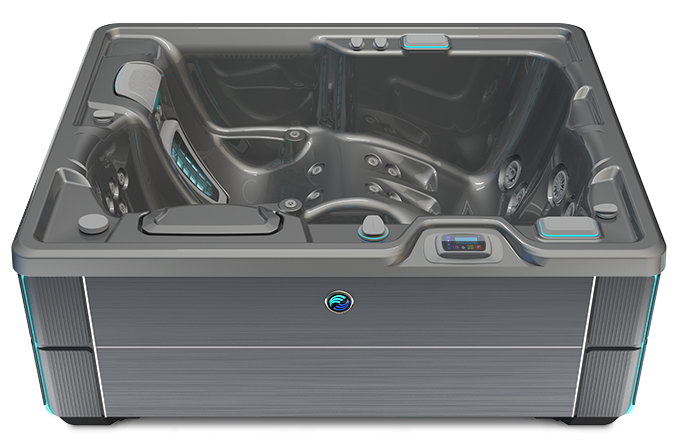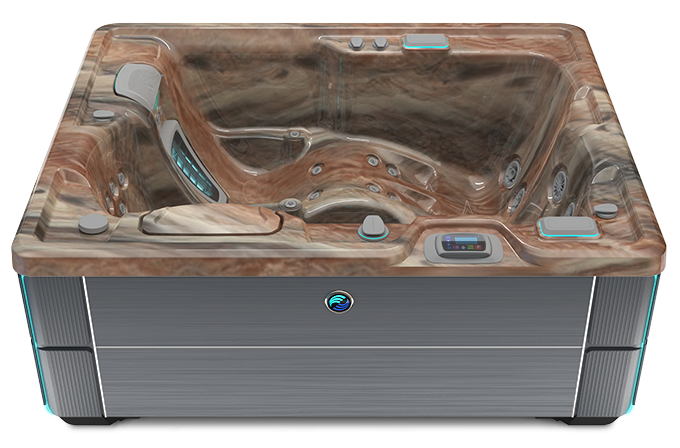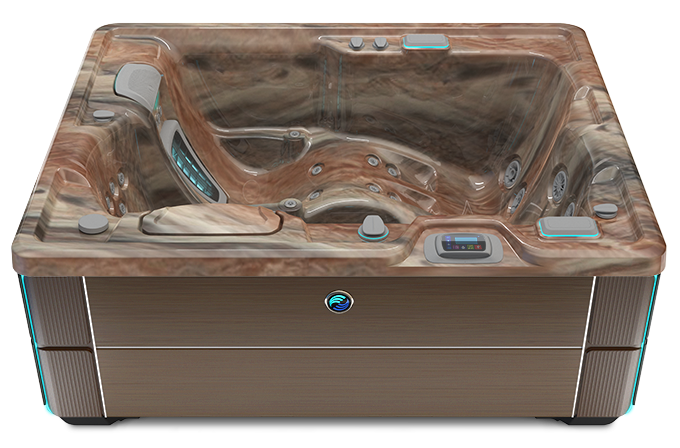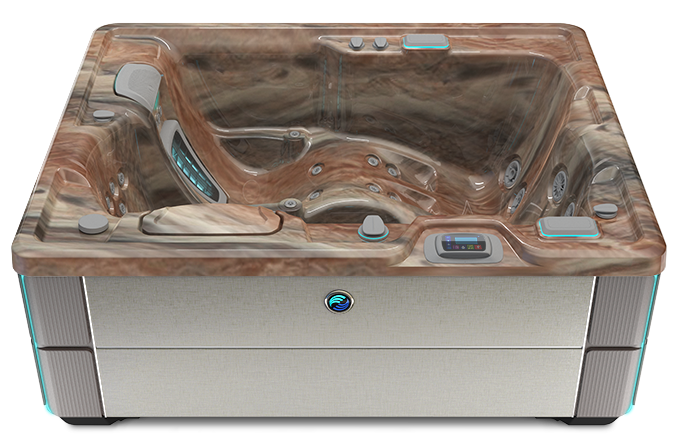 Accessories
Everwood Polymer Steps
Made from rigid polymers, this heavy-duty, wear-resistant step makes it easy to step in and out of your spa. Designed to match the Everwood cabinet, this step features rich colors and a natural wood appearance.
Covers & Lifters
Covercradle 2®
Similar in design to the CoverCradle, this lifter uses a single pneumatic gas spring and allows for smooth operation. Requires 24" clearance.
Watch Video
Covercradle®
Dual pneumatic gas springs in the arms of this lifter make cover removal a breeze. This top-of-the-line CoverCradle system features a low-profile design and ultra-smooth gliding mechanism. Requires 24" clearance. INCLUDED W/ THE GLEAM
Watch Video
Hot Spring 3.5" To 2.5" Tapered Insulated Vinyl Cover (2 Lb. Density)
Hot Spring Spas pioneered the first rigid, vinyl hot tub cover, creating a higher standard for energy efficiency. The exclusive "shoe" in the cover hinge creates a tight seal that locks in heat. The 2.0 lb. foam core density increases the ability to retain heat. Only a Hot Spring® spa cover is designed specifically for your Hot Spring spa. When it comes time for a replacement, never settle for an imitation. DURABLE DESIGN Hot Spring covers are outfitted with exclusive, sturdy brackets for strong support and easy installation of our exclusive cover lifters. Each cover is made with double-stitched vinyl for a durable hinge and extra strong padded handles for long lasting performance. There are 24 internal stress points reinforced in each spa cover, including aluminum reinforcement for maximum strength and minimum weight. Available in Slate, Chocolate, Caramel, and Evergreen.
Lift 'n Glide®
It's easy to remove your cover with this economical cover lifter. Requires 14" clearance.
Watch Video
Up Rite Hot Tub Cover Lifter
This system lifts the cover up over the spa bar top. It is ideal for limited clearance applications such as decks and gazebos. Requires only 7" clearance.
Watch Video