Great customer service!

Bonnee gave us great discounts on a replacement hot tub cover, sent the emailed invoice immediately, and was fun to talk with, to boot!  Great customer service!

Eric H., Oakland
she then went the extra mile

Just bought a new hot tub; delivered on time and with 4 really nice polite guys; once I got
It filled And plugged in, I had a few "user error" issues which Bonnee Young, saleswoman at the store, promptly answered and got my small mistakes fixed and she then went the extra mile and sent me links to some videos to watch for further instructions. This is the 3rd spa I have bought from Creative Energy, and the products and service are all 5-star!

Cecily D., Mill Valley
We are very satisfied customers

This company really stands by their products and their customers. We're on our 2nd Hot Springs hot tub from Creative Energy in San Rafael. The first one lasted for 16 years, the 2nd is going on 7 years and just had its' first pump go out. Great tubs, good service and repair staff. We are very satisfied customers

AD T., Berkeley
Amazing customer service

Amazing customer service and overall knowledgeability. Cole helped us every step of the way with the Bay Area Air Quality Management District fireplace insert program (not easy, but well worth it!) Without the help of Creative Energy we couldn't have navigated through the highly complex process. Thank you Cole!

Owen C, Los Angeles
The whole process was fantastic

We came to Creative Energy to start learning and pre-shopping for hot tubs. Our experience with Tiffany, Jason and Bonnee made us feel so comfortable and informed that we found what we wanted and won't be shopping anywhere else! Everyone is knowledgeable, friendly and helps you find what is right for YOU. The whole process was fantastic from the moment we walked in the door until we signed on the dotted line.

Shannon V., Novato
They are an excellent company

Yes, I have dealt with Creative Energy for over 15 years
Bonnee (the office manager) is 5 stars all the way.
She's very knowledgeable, and easy to talk too.
They are an excellent company

Bob D., Mill Valley
This hands on personal service was greatly appreciated.

We purchased a home in the East Bay which has a spa.  After 6mos the spa was not operational.  After contacting Taleena, the Creative Energy service director ,the service technician, Joe, arrived promptly as scheduled and quickly diagnosed the problem.  As we are new to spa ownership, Joe took the time to explain the basic operation of the spa and instructed me on how to operate the computer (jets, lights, clean cycle),  manually adjust the jets, and treat the water with the appropriate chemicals.  This hands on personal service was greatly appreciated.

C. L, Danville
We will continue to use Creative Energy for our hot tub.

When we bought our house 11 years ago, there was a decrepit, dirty hot tub in the back yard.  We wanted a hot tub, but not that one.  We visited their showroom in Dublin (it had a different name back then)  to shop and asked about removing the old one.  To our astonishment, we were told that, since it was one of theirs, if we bought a new one, we would get a credit for replacing the old one.  So instead of an additional fee for removal, we got a credit toward the new hot tub.

Ever since then we have only had the new spa serviced irregularly.  But always by Creative Energy.  Their service office has had problems in the past with the scheduling of their technicians.  But their service technicians have always been more than capable.  Their polite, prompt, and know what they were doing.  The best was the most recent – Dave Kirley.  He had come out to inspect the hot tub, which we knew had problems.  The fee agreed up front.  He explained the problems, charged us additional only for the parts and was done working super fast.

We will continue to use Creative Energy for our hot tub.

Ken L, San Ramon
We had a great experience with Creative Energy service

We had a great experience with Creative Energy service, Dave Kirley was our tech and he was very nice, experienced and knowledgable. We have an older hot tub and for the most part we've had no issues, but as with all old things, there is a need for updating and minor repairs.

When I called to schedule an appointment they were able to get someone out the next day. Dave called when he was on his way, arrived on time and diagnosed the problem in minutes and told me what needed to be fixed, why it happened, the cost to fix and how to prevent it from happening again. He finished in a little over an hour and re-explained the cost and repairs made.

Danielle S, Menlo Park
I would recommend anyone to go here to purchase a spa and buy their supplies.

My husband and I went in today to get some advice for a used hot tub we acquired recently.  Pete was sooooo nice.  He was very informative and gave us great advice for getting started so we can be using our Hot Springs Spa very soon.  I would recommend anyone to go here to purchase a spa and buy their supplies.  They have a beautiful set up with a variety of sizes, shapes and prices.  Hot Springs Spas are the best product out there.

Rose S, San Mateo
We are very impressed, and will be customers for a very long time.

We actually bought a Hot Spring spa elsewhere, but were more or less dumped out in the cold in terms of follow-up service of any kind.  The San Mateo guys took us under their wing, and even came out to the house to give us a refresher on how to do our chemical treatments correctly (since the original place had given us completely wrong information).  We are very impressed, and will be customers for a very long time.

Jody F, Napa
very knowledgeable and helpful with any info I need.

my first impression of this business is very well decorated and very welcoming inside the showroom.  I really like that they have 2 or 3 different tubs in the private rooms for customer to try if they want.  There are nice selections there, and the Sales Manager, John, was very knowledgeable and helpful with any info I need.  He was not pushy like any other sales people and he didn't try to sell me the most expensive item, but try to understand my need and budget.  He explained really well and made me feel very confident with Hot Spring products, he even came to the house for demo after I bought the spa.  I personally love Vanguard, it has multiple jets for my sore back and my ankles with a reasonable price.  I have a very positive experience overall, great service and products, I would definitely pick Hot Spring spa over any other brands,  and not only that, I would definitely recommending anyone to speak to John in Creative Energy.  You will enjoy the spa and service as much as I do.

Ally W, San Fransisco
We are done. Installed in – 30 minutes.

Hot tub a go go!  We are done. Installed in – 30 minutes.  Joey came out and as always – showed us the ropes in a way anyone can understand.  He took the time to address our questions and more important we called the day before and he came out at 7am on his way to an 8am in the city.  I don't think this guy really knows now to say no.  I went in today asking for some supplies and they never over sell.  I wanted extra stuff on hand and they tried to talk me out of it.  I really can not say more about them!  Go buy something and stop reading my reviews.

Stephen P, San Bruno
The service dept. did a great job.

I needed a new cover for my spa.  They had one made, great price, perfect fit.  Much less expensive than a few other places I checked.  I then had them work on my spa.  The service dept. did a great job.  Others complained that they did not get a call back.  This has never been a problem for me, they always call and keep me up dated.  The monthly service is reasonable and results in a problem free spa.   Nice guys, family owned local business with good service and reasonable rates.

David C, Burlingame
That is amazing service

We have wanted a hot tub for as long as I can remember. We knew we couldn't afford a new one, but would look for a refurbished one.We finally started putting our feelers out. We stopped by the Creative Energy showroom in San Mateo. John greeted us and let us look around. They did not have any used ones that were right for us.

We let John know that we could not afford anything in their showroom. His attitude did not change. He treated us like we were going to buy a 12,000 tub! He followed through a few days later to let us know he was keeping his eyes out for a used one for us.

We ended up finding one, on Craigslist. We told John, so he wouldn't keep looking for us. He emailed us the owner's manual, for the used Vanguard tub we bought, not even from them! That is amazing service. We will buy all of our chemical's from them , and when we need to update our tub, we will definitely get it through them. They are top notch.

Keri V, San Fransisco
I'm picky on my positive ratings but these guys earned theirs.

I've come to this store to purchase the supplies I need for my hot tub. I was referred there by my family. and I am not disappointed with the service or pricing. I buy chemicals that are the variety I want at affordable prices, the filters or pool vacs I need and I usually find the items in stock or will be in with their next order, and find that it is when I return. This shop has a convenient location with very knowledgeable staff that is ready to help you. I have not waited but once and they were with people consulting their purchase of tubs from the selection in the showroom, it is a nice showroom. I was greeted and more than one rep assured I would be assisted shortly, and I was. I'm picky on my positive ratings but these guys earned theirs.

Jennifer H, San Fransisco
Friendly, Knowledgeable

Just a quick review about the excellent customer and repair service.  We had Dave Kirley show up "on time" and repair our spa "same day."  Friendly, knowledgeable and didn't even mind when our dog came by to say hello.

Lupita A, Pacifica
All service people that come into someone's home should be this nice.

We have had a Vangard spa for about 3 years now and it's been great. At first we bought a smaller 2 person spa but it seemed too small so Creative Energy exchanged it, no problem. It was no easy task getting the larger tub into our yard, but the guys were great. We recently needed a circuit breaker board replaced and Dave Kirley came out and did the job. He was such a nice guy! Super friendly, told us what was wrong, fixed it and it was a really reasonable cost. All service people that come into someone's home should be this nice. Thanks again, Candace

Candace H, Half Moon Bay
Quickly responded to multiple service requests

Having a hot tub can be expensive but at least Creative Energy has quickly responded to multiple service requests on a short turn around of time.  Jaime J. came out the other day to fix the circulation pump in less than a half hour.

Linda B, San Fransisco
The staff at Creative Energy were far more knowledgeable about their spas

In our search for a replacement spa, we had narrowed things down to Hot Springs and Sundance.  The staff at Creative Energy were far more knowledgeable about their spas and how they functioned than the Sundance vendor.  The company in general was more focused on how to keep the costs of owning a spa manageable.  We got good information and service onsite, the delivery (which was tricky, requiring a crane to lift the spa over our house) went well and the follow up visit by Scott to familiarize us with the chemicals and maintenance was very helpful.  We'd also like to give credit to John for his patience with our many questions.

David P, Pacifica
Great customer service from Creative Energy from start to finish.

I bought two beautiful gas fires last year which have been wonderful.  When I tried them earlier this month in anticipation of cooler weather, neither would fire up!! I immediately called Creative Energy and their service department had a technician over within a couple of days.  Apparently the control system had been updated by the manufacturer and so I needed two new systems installed.  David Kirley, the technician, was very knowledgable and respectful.  He even petted my dog!  The parts were ordered and installed as soon as they came in.  Hey Presto, my lovely fires work again. Great customer service from Creative Energy from start to finish.

Elizabeth S , Belmont
Outstanding customer service.

Outstanding customer service.  Dave, the head technician is a quality guy who's very knowledgeable and a top shelf person.
Everything is good about this company.

Bill B, Redwood City
I'm very satisfied with the product and service.

I always have back problem so finally decided to install a hot tub at home, but I wasn't sure what type of tub I should get.  John was very helpful and patience.  He helped me a lot on picking the right tub for me.  This place has great hot tub selections.  I'm very satisfied with the product and service.

Rachel L, San Mateo
Dealing with warranty and customer service issues can be very frustrating but these guys are such a relief!

Great sales people and even better service. We inherited a spa when we purchased our house 9 years ago and are currently having an issue with our beautiful two-year old replacement spa – come of the lights went out but there's something else we are dealing with.  However, we do not expect anything other than a continued positive experience based upon Valerie's responsiveness and great attitude (she's an example of who consumers want to be dealing with) and the very responsive service department!  Dealing with warranty and customer service issues can be very frustrating but these guys are such a relief!

Clair K, Foster City
What a great customer experience!

What a great customer experience!

The folks there are super nice and don't give you the hard sell.  Go down the block to the other store and they will use every sales tool in the book to extract a $500 deposit from you. Creative Energy just answers your questions and gives you the info you need. The Hot Springs spas are great, look as good as a giant tub can, and seem to be excellent quality.

Their service dept isn't quite as great as the retail store, but so far on my new spa purchase they have gone above and beyond to make it work, even when my electrician couldn't figure it out.

Mark P, San Fransisco
Creative Energy really should give you a raise!

The heater in our Hot Springs spa died after 7 years of virtually flawless performance.
I left a message for Creative Energy over the weekend, the Service Department called Monday morning and dispatched Dave Kirley on Tuesday.

Dave arrived right on time, diagnosed the problem and before I knew it, had the repairs completed and we are back in "hot water" by evening!

Dave did such a great job, that later that day I called Creative Energy to sign up for their regular cleaning and maintenance service, so our spa will always be clean, serviced and ready for another comforting soak.

Our Hot Springs "Grandee" hot tub is the 2nd one we have purchased from Creative Energy and if we move again, we will undoubtedly call them for a 3rd.

Thanks, Dave for such a great job, your professional technical support is greatly appreciated. Creative Energy really should give you a raise!

G. P, Orinda
I cannot say enough good things about Creative Energy

Over the years, we have purchased two spas from Creative Energy in San Mateo.  I cannot say enough good things about Creative Energy in San Mateo and John Kasten.  The service is beyond outstanding.  We've owned our current spa for over 10 years now.  Last April, we had the pump replaced and today we had to have service come out to fix the front control panel.  The repair people said the pump needed replacing and the panel needed replacing and quoted us $500 plus for the total repair.  I was very upset because we just had the pump replaced!  I called the owner and was complaining bitterly.  He said, let me do some research.  He got back to me and said that the pump should not have needed replacing since it was just done so he was not going to charge us for it.  I couldn't believe it!  How refreshing it is to find a place that stands by their work.  We are only being charged for the panel replacement which is what we were quoted for today's work.  It's refreshing to find a business with that much integrity these days.  Thank you Creative Energy and thank you Mr. Kasten.

Roxanne F., Millbrae
I have had an Avalon Gas insert for a few years and love it; saves gas

I have had an Avalon Gas insert for a few? years and love it; saves gas, heats the cold downstairs living room instead of running the whole house heater…. Get one!

I got an email for a "check up" so called and next day Dave K came and checked, cleaned, installed new batteries, and adjusted the unit for a more "natural look."

Easy and good "peace of mind" for 140.

Do it!

Bill A, San Mateo
The selection is excellent and customer service superior.

Just ordered our new Hot Springs Spa!  Pete Yungen, was fantastic.  My husband put in the order.  After reviewing the paperwork, I realized  the color, he chose, was not what we had decided on.  Ugggg.  I contacted Pete and he was able to correct our issue and was extrememly accomidating to our circumstances.  I would highly recommend Creative Energy Hot Springs Spas, the show room, and the selection is excellent and customer service superior.

Maureen F, Millbrae
Creative Energy is a top-notch group.

We've used a wood stove to heat our Eichler home since the Energy Crush era of the 70s. In 2013 we decided to make the leap forward in this technology and purchased a lovely new wood stove insert. We did a lot of comparison shopping and found the best deal at Creative Energy in San Rafael. We pummeled the staff with lots of questions over a couple of weeks, and they were always very patient and informative. When we made the purchase, they removed and disposed of our ancient wood stove and installed the new one. The contractor installed a nice tall smokestack in our chimney and it REALLY improved the draft of our stove. We LOVE it! We can get the stove roaring in just a few minutes, and when the electric fan kicks in, our home is quickly nice and toasty. Creative Energy is a top-notch group. We heartily recommend them!

L. M, San Rafael
What an amazing team

What an amazing team.  I didn't even end up buying a hot tub here, as it wouldn't fit getting through to my back yard, but the effort and care that Scott put into helping me on this discovery were so applaudable, that I had to leave a 5 star review.  Buying a hot tub takes a lot of consideration and work, and he was honest and thorough in walking through all the pros and cons of their products compared to others.  From my initial visit with my children in tow, to an in-tub experience test (yes, you can come with a swim suit and test drive the tubs), and two visits to my home after changing my mind about models, he was always conscientious to take everything into consideration, from how the tub would be used, to how it would look and fit in the yard.  I wish I had been able to buy a hot tub here.  After all the models I tested the Shiatsu massage feature was the one that left me dreaming of their tubs.

Anya A., San Fransisco
We like the product but we loved even more working with Bonnee.

We are very happy with the excellent service we received from Bonnee Young at Creative Energy. She helped us every step Of the way. This is our second hot tub that we have purchased from Creative Energy. We like the product but we loved even more working with Bonnee.

Jan G., San Anselmo
Just go talk to Cole.

Creative Energy was the greatest place to purchase my spa.  I met Cole when I walked in and he was cordial and friendly.  He answered all my questions with the utmost professionalism.  He went out of his way to accommodate my wife and kids who were with me as well.  We made our decision quickly and Cole worked out all the details for delivery.  It was a piece of cake.  After delivery and install, Cole followed up with me to make sure everything was satisfactory and he has done that a few times since.  I highly recommend Creative Energy.  Just go talk to Cole.

Jeffrey K, Mill Valley
I truly value the way you treated me throughout this buying experience!

Buying a Hot tub is no joke. There are so many factors: Price, efficiency, jets, size, delivery, warranty, etc…

I shopped around for a hot tub for about 6 months and visited about half a dozen places. I met John Kasten back in Feb 2014 before finally buying a tub in Dec 2014. I automatically appreciated the fact that John wasn't a pushy salesman. I like that John laid out the facts and didn't attempt to bad mouth the competition.

John made a stop by my house, twice, and scoped out the backyard and deck just to offer his advice (before I even decided to buy a tub from him just to be helpful). Before buying a tub I recommend trying the tub at the dealer and seeing if you like the jets, the size, seating position, etc…

I ended up buying the Jetsetter NXT. Since buying the tub John has always been available for questions and ready to help. Since buying the tub, John has checked in with me via call, text or email about half dozen times, to make sure the tub is running well and to see if I have any questions.

I gotta admit.. I am truly impressed! I thought after buying a tub, I will be forgotten about. John definitely cares and bends over backwards to make sure his customers are receiving the best service and are enjoying the product they purchased. I am super glad I bought my tub from this location.

Buying a tub isn't cheap, but oh so worth it! I've used my tub almost every single day since Dec. Make sure you take your time shopping around, ask a lot of questions and don't go cheap on the tub. It's not worth it. It's something you're going to have a very long time, so do it right the first time. Compared to other tubs, Creative energy tubs maybe on the pricier side, but so worth it with the quality tub you receive.

Thank you so much Creative Energy.. I truly value the way you treated me throughout this buying experience!

Abi B, San Jose
an outstanding spa cleaning service with Wilber

We just had an outstanding spa cleaning service with Wilber, the Creative Energy technician that services our spa…

On this visit, in particular, Wilber was watchful for our dog.  He saw our energetic puppy and moved our spa stairs away from our spa about 5′, so our dog would not jump into the spa.  However, it turned out our dog had a lot of energy that day and got a running start, used long jump form, and leapt into the pool on his watch.  He didn't hesitate to go into the spa to get our dog out.  That was a very unselfish act, as I'm sure he didn't intend to be wet for the rest of his spa cleanings that day.  We appreciate his thoughtful attention to our dog as well as cleaning our spa.

Thank you to Creative Energy for sending Wilber to our home!

Tom C, Menlo Park
Very pleased with professionalism and personality.

Very dependable and knowledgable. Dave K. serviced (ok replaced) the panel on our dated hottub which was turning itself on and off. Had great advice on upkeep, what's important , and equally,  what's not so critical to maintain the tub and water quality. Very pleased with professionalism and personality.

Brian S, San Fransisco
Can't ask for more. Very satisfied.

Purchased spa in 2005, replaced the cover once two years ago.   Today was my first repair.  Called San Rafael store yesterday, service tech arrived today, called me with an estimate before doing the work, then did the repairs.  Sure it wasn't cheap but quality and service never are.  I found everyone to be professional and timely.  Can't ask for more.  Very satisfied.

Ron L, Novato
We are loving the new spa.

Wanted to send out a good review for my excellent experience thus far. We were impressed by the knowledge of the various spas by Alex when we walked in. The purchase, delivery and tutorial (thanks Scott) were all professional and smooth. The various email communications in setting up delivery, random questions etc were also handled smoothly. I see some of the negative comments here are about the service which we have not had to deal with yet, but given how nice and professional all have been thus far do not foresee a problem. We are loving the new spa.

Bill E, San Rafael
Will not hesitate to recommend you to my friends

Bought a gas fireplace, could not ask for a more helpful and informative sales force. Scott Campbell went above and beyond helping us out from beginning to end. Will not hesitate to recommend you to my friends. Thank you very much!

Michael K, Novato
Just amazingly good customer service

I have owned our home 13 years. The previous owner installed a hot springs hot tub from creative energy. The heat was not working properly. I called and Yvette  was wonderful. Took the time to explain to me about heat reset button since it is an older unit.  Sent me start up directions by email. No sale. No Money.  Just amazingly good customer service. After reset heater worked only with jets on. Bonnie was amazing as well. Thorough, helpful, informative and friendly.   Pghly recommend on service in San Rafael.  Thanks!!!!

Judy H, San Rafael
So far, our experience with Creative Energy has been extremely positive.

So far, our experience with Creative Energy has been extremely positive.  We purchased our hot tub in March 2014 after shopping around locally and online.  Chris B was attentive to our needs and worked really hard to get us the best possible deal.  The delivery was earlier than expected, and the installation team went above and beyond to get our old hot tub out of the way and get the new one in.  Post sale follow-up was excellent, including a personal visit that answered all my questions.  Finally, we love the tub- after looking at the competition's products carefully, the quality and features came out on top for the price.

Craig T, Woodacre
Great people, great product, great service.

Great people, great product, great service.  Loving my new Hot Spring Envoy.  Wow.  I was missing out for many years.  Thanks Cole Spilman for the hands on guidance.

Dan T, Kentfield
Great work Creative Energy, -5 stars!

We recently purchased a spa from Creative Energy in San Rafael.  We found that the San Rafael showroom offered a variety of spas and had no problem finding one that suited our needs.  The staff was extremely helpful, professional and pleasant to work with.  They were not pushy and did not make us feel like we had to make a purchase.

Cole who I believe is a sales manager helped us along the entire process from purchase, to requirements concerning the installation to final delivery.  I called and emailed several times with questions, -Creative Energy always got back to us in a timely manner.  The service staff was extremely accommodating with our schedules even after I had to change our delivery time twice.

I really have no complaints and would recommend this company to anyone looking to purchase a spa.  We love our new spa and are happy to have Creative Energy help us with any questions in the future.

—
As a side note, I had originally thought about getting a spa from Costco (as I see spas advertised in their ads).  After calling Costco I learned that they basically drop the spa at your driveway, from there they take no responsibility and don't offer any help in what is needed to set up the spa.  For this reason we decided to initially go with a company that specialized in spas and have not regretted that decision at all.

Great work Creative Energy, -5 stars!

Eric F, Novato
Highly recommend this company, their team and their products

Worked with Bonnee and team over at Creative Energy on our TX model over the past year, and had a wonderful experience!  Their products are top-notch, and their guidance through the installation process was invaluable.  We live in a condo community, and their team even helped work through the paperwork for HOA approval.  Highly recommend this company, their team and their products.

Kurt S, San Rafael
Friendly and knowledgeable

We recently bought a home in Petaluma and undertook extensive absentee renovation while we were still living in Florida.  One thing we needed were gas fireplaces.  We contacted a few places, but just did not get the kind of information or assistance we needed.  I ended up speaking to Bonnee at Creative Energy on the phone and she made the process incredibly easy.  She explained the benefits of each unit and got us great prices.  Once she had the order, Bonnee stayed on top of the installation and made sure everything was done right.
Once in town, we decided to get a spa as well so we turned to Creative Energy again.  On our first visit to check out the spas, we met with Cole and Tiffany.  They were extremely helpful, encouraging us to try out every spa in their large showroom.  We spent a couple of hours reviewing the pros and cons of each.  On our second visit, we got to work with Bonnee who made putting a deal together so very easy.  Again, she stayed on top of the process until the spa was installed and functioning.  The sales staff at Creative are friendly and knowledgeable. They are there for you long after the order is taken and make sure that the entire process goes smoothly.  Highly recommended.

Martin R, Petaluma
They did a great job setting it up.

My husband and I just bought a hot tub after wanting one for many years. My husband did a lot of research on the various hot tub companies throughout the Bay Area. The best reviews consistently came back to the Hot Springs tub which Creative Energy sells. We have so far dealt with the owner John, his son Dave, Larry the sales person, Bonnie, and Crystal.
It was Larry we met when we first entered their showroom and who sold us our Jetsetter hot tub and he was wonderful to deal with.  He is knowledgeable, with a calm demeanor, no sales pressure and we appreciate that. We tend to like low-key sales people the best. The owner himself, John, visited our house to do an inspection of the area where the hot tub would be installed. Very impressive indeed!

Once we bought our tub, it was delivered on the memorial day weekend. Although there were delays with the delivery, it came the day it was supposed to come and the installers were not rushed, and were apologetic for being so late in the day. They did a great job setting it up. We were able to use it that evening. We love this Jetsetter tub!

Next – after using the tub every day twice a day for a week we noticed the water started to get cloudy and we couldn't fix it with instructions in the manual or online. We ended up going to creative energy in San Rafael which is right around the corner from our house almost and Crystal was there. She was reassuring that this could be fixed easily and gave us some tips but also told us that Bonnie would call us as soon as she got back to the showroom. Sure enough-Bonnie did call and while she was talking us through the troubleshooting and  procedures on the phone, she asked us if we just wanted her to come over to our house to work through it with us because we live fairly close. We jumped on that idea and 15 minutes later they were at our house and in our backyard-they walked us through all the procedures we needed to know to clean the filters, what settings to use, what additives to add and when etc. Bonnie also brought over her own troubleshooting instructions and FAQs that she made up herself for her customers! Very useful and understandable. Crystal actually came with her and the two of them were just awesome! It was a really hot day and it was the end of the day on a Saturday but they never made us feel rushed or like we were imposing on them at the end of the workday. We really appreciated that type of customer service!
They even brought over the products we needed. When they left, my husband and I were no longer frustrated by the cloudy water in our brand-new hot tub and have enjoyed it every day since that time.
We are very impressed with the quality and workmanship that goes into these hot spring hot tub's. We are heavy users-meaning we use it two to three times per day, so it was very important that we had a well-made tub that would hopefully last for as long as we needed it to last!

And so –  A big Thank You to:
Bonnie, Crystal, Larry, John, Dave, Brandon, and Alex!
Jeff & MaryAnne Pollack

MaryAnne P, San Rafael
I always have great experiences here.

I always have great experiences here. They are very helpful and honest. And they carry good brands of spas, and provide excellent service. Highly recommended!

Richard T, San Fransisco
We will have a long and happy relationship

I first started looking at fireplace inserts many months before I actually bought one as I was waiting for the Air Board to finalize their grant process for rebates.  I was vey impressed with a particular staff person (Cole Spilman) at Creative Energy who I happened to overhear talking with other people in the showroom.  When he was finished, he also answered questions I had and later emailed me a quote.  When the Air Board issued their rebate rules (and thankfully our County has them as well), I once again contacted Cole who always responded to my requests and provided valuable resources and contacts for chimney cleaning (I chose Erich Rodden – Fireside Chimney Services?)  as well as electrical needs (I chose Steve Johnson of Millennium Electric).   Both companies were excellent.  I am still learning how to use the wonderful remote on my recently installed fireplace insert but all indications tell me we will have a long and happy relationship – and I expect the same will hold true for Creative Energy as well!

Gina P, Novato
The product is not just great…it's awesome!

The product is not just great…it's awesome!  Notably better than all the other high end spas we checked out.  In some ways a superior product should be a guarantee that that service that goes with it will be the same but that is not always the case.  However, the service at Creative Energy has been amazing. We had some troubles around our delivery and both Cole and Dave went out of their way to take care of every detail.  Cole is the go to guy on the floor and he is not only easy to work with but complete with every detail.

Steve M, Novato
We have been clients of Creative Energy for many years.

We have been clients of Creative Energy for many years. Over the last few years we have come to know Cole, and we are so happy we have. A few months ago we purchased a brand new Jetsetter from Cole (to replace our older model), and we must say we couldn't be happier with the product (it's easily the best spa on the market in this size category), but we also feel compelled to say how happy we are with the cutomer service we received from Cole over the few months in which we decided to make the purchase up until when the spa was delivered. He truly was fantastic: he made himself available whenever we had questions, answered them as well as he could — and if he didn't know the answers to our questions, he found out the answers. Overall Cole was just incredibly easy and fun to deal with. We are loyal customers of Creatice Energy, and dealing with Cole has solidified that relationship. I cannot recommend a dealer higher and cannot recommend a salesperson higher than Cole. Fantastic experience!

Pete G, Novato
Extremely Helpful

I bought a gas fireplace 4 years ago. We have had some problems with it but David Kasten, The owner of Creative Energy has been extremely helpful in resolving the problems. While working with him we have gotten the issues fixed and I love my now working fireplace.

Jan L, San Rafael
Creative Energy was by far the best fit for us.

So many choices in Marin for hot tubs, it was hard to know where to begin. We actually checked out all 4 hot tub stores, and Creative Energy was by far the best fit for us. Very low pressure, highly informative Cole Spilman walked us thru our choices. We were even able to test them out in the back area where the tubs are ready to go in a private room. Cole was very down to earth and we instantly connected him. Since getting the spa we had a little issue with an exterior scratch which he has been happy to help us fix. I would definitely recommend Creative Energy not only their high quality product with beautiful contemporary aesthetic, but also for the sales team who are knowledgeable, responsive and low pressure in their sales tactics.

Joy W, San Fransisco
He knows the business

Cole Spilman has a gift for his talents in providing great customer service !
My spa is excellent !  He knows the business and always comes up with a solution to fit every customers need.

Steve J, San Rafael
I am thoroughly enjoying the beauty and heat

In December 2016, I was having an issue with my pellet stove so I decided to stop by the San Rafael store to look at gas fireplaces.  When I arrived, I asked for Bonnie and found out she was not available.  I was a little hesitant to talk with someone else since I really enjoyed working with Bonnee in the past.  That is when I met Cole Spilman. Wow! What a wonderful person!  Cole was so easy to work with, very courteous, reliable and helpful.  It took me several visits to figure out exactly what I wanted.  Cole was patient with all my questions and multiple visits to the store. With the help of Cole, I was able to find a contractor to install the gas line and electrical work.  Cole guided me through the entire process and was such a pleasure to work with.

The installation of my gas fireplace was completed a couple of weeks ago and I am thoroughly enjoying the beauty and heat from it!

K M, Novato
Friendly and very sweet!

I bought 2 gas inserts, fire pit,  and a hot tub-a minor fortune, but it got me through this wet cold winter. Creative Energy was great. I worked with Cole who was patient, friendly and very sweet! I wouldn't go anywhere else. I was just in a panic because the fire place wasn't going on, and Cole walked me through the battery change. Thank you COLE!

Check out the review on Yelp

Eve B, San Rafael
I would recommend Creative Energy and their team of professionals to anyone

We recently bought a gas insert for our fireplace from Creative Energy and have to say their product and services are top notch. The sales rep who worked with us, Cole Spilman, was extremely helpful in helping us find the best model for our needs and tastes at a great price.

The entire installation process which included an on site inspection by an experienced technician to insure the job would be done right the first time made the whole project flow smoothly from beginning to end.

Cole worked with us to coordinate the timing and installation with the preparations we needed to do like running a gas line and an electrical outlet went without a hitch.

In the end we got a beautiful efficient gas fireplace that helped cut the cost of our home heating bills. The remote unit that came with the fireplace is a great feature to have for convenience and multiple settings depending on our heating needs or just for the ambiance a warm glowing fireplace can offer on a chilly winter evening.

I would recommend Creative Energy and their team of professionals to anyone looking for a new fireplace or any of the products they offer including hot tubs.

Dan O, Napa
A great experience

Had a great experience here with Larry and the team. Knowledgeable, helpful, transparent about options and pricing. No surprises. Ended up getting the little HotSpot Tx 2 seater which fits great in corner of back yard and gets used almost every day. Came back today with a question and was reminded of the quality level of service these guys provided and was compelled to write a review. They have a sign on the wall "PRIDE" and I remember the P was for Passion and the I was for Integrity. Can vouch for those 2 being accurate representations of the business there.

David Adams, Pleasanton
Very polite and helpful

Just wanted to pass on that Sean at Creative Energy was very polite and helpful when I called for information in starting up and maintaining our Hotspring Jetsetter spa.

Every time I've been to creative Energy the customer attention and service was fantastic. My recent experience with Sean confirms that nothing has changed. Highly recommend them.
Alan

Alan Hyman, Pleasanton
I am very thankful to Creative Energy for their help

I recently bought a house and lucky enough for me there was a spa in the backyard. However, I did not know much about the upkeep and maintenance. So, I went to Creative Energy and was so happy to talk with Sean O'Rorke who did a fabulous job helping walk me through flushing out the system, cleaning the spa, maintenance and more. He also did not try to upsell me on any of the products I needed. Never charged me anything for all of his helpful tips, but I would advise anyone to go see them or meet with their sales people if you are interested in getting a spa. My spa is up and running and I am very thankful to Creative Energy for their help.

Zachary Lipman, Pleasanton
We eagerly await its arrival in a few weeks.

We are saying goodbye to our old Hot Spring Spa, which we have owned since 1987! We have used it continually over the past 29 years with little need of servicing. An impressive product!! But after nearly three decades of use, we decided we were due for a new model.
We recently purchased a new Hot Spring Spa from Creative Energy in Pleasanton. A very pleasant experience from beginning to end. The sales staff are extremely helpful and personable, in particular James Gleason who went the extra mile to provide us an awesome spa package within our price range. We purchased the Hot Spot SX, and are having it custom made for us. We eagerly await its arrival in a few weeks.

Debbie S., Pleasanton
What more could you ask for?

Above and beyond the call of duty. Was having a stupid problem with my one year old Hot Springs spa. NOT stupid because of the spa, but stupid because of ME! I was cleaning the spa controls and I guess touched the wrong button and all of a sudden all of the controls switched directions. I went and read the owners manual…no luck. Searched on line…no luck. Finally called the Pleasanton store and got Shawn (not the guy i bought the spa from…just a nice sales guy who answered the phone.) I explained the problem. He didn't know the solution either (made me feel better.) He said he "would research and get back to me." (Yeah, right….how often do they really follow-up with such an out-of-the-blue call???) BUT, a few hours later he did call back with the right answer!! Problem solved. All because a good guy took the time to do his work in a thorough, polite and timely manner. What more could you ask for?

Michael Piacentini, Pleasanton
They are very friendly and provide great advice

My Hot Springs hot tub has been fantastic. I purchased it from Creative Energy about 16 years ago and have had no problems.(Unlike my previous hot tub which was a nightmare!!) It cost a bit more than competing brands at the time but the performance and reliability have been well worth it. I maintain the tub myself and purchase all the chemicals from Creative Energy. They are very friendly and provide great advice. Highly recommend them.

Michael Palmer, Pleasanton
The only thing I ask myself is why did I wait so long to purchase it?

Sean, James and Sequoia are a fantastic team in Pleasanton. First of all the showroom ALWAYS looks amazing. Right now there is a new display of The Endless Pool model E500. It is amazing. It even comes with a treadmill inside and tons of jets in the back so you can relax after your water workout. You really should come and test it out. There are many other fabulous models (they are all fabulous) or if not in the market for a hot tub, there are some really nice fire places to choose from. Its that time of year when one would be really nice! I just want to say how much I love my Relay hot tub I purchased in June. Any questions I had were quickly addressed with a quick phone call or email. The only thing I ask myself is why did I wait so long to purchase it?

Lezlee Frederick, Pleasanton
The customer service and attention to detail have been outstanding

We have worked with Creative Energy and Sean O'Rorke on a couple of projects and the customer service and attention to detail have been outstanding. Sean has given us a good understanding of products we've installed and has been a pleasure to work with each time. We would confidently recommend this location to our friends and neighbors any time.

Grace Velasco, Pleasanton
They were extremely knowledgeable

These guys were great. They were extremely knowledgeable about their products. They helped me think through the pros and cons of the various options. They were not pushy. They were friendly and patient with me while I asked a lot of different questions and tried out the product. They made me feel welcome. I have never written an online line review before but wanted to recognize these guys as it was a great experience, especially for a guy like me that hates to shop for anything.

Aron Chazen, Pleasanton
Excellent Experience

Excellent experience. Sean was extremely professional throughout the entire process and made sure I got the spa that matched well with my needs. Never felt oversold and the customer support has been outstanding. I've been having some recurring issues with the spa itself which bring down my overall enthusiasm about the purchase. That being said, Customer Support has been wonderful – friendly and very responsive. I haven't had to come out of pocket on anything to date and hoping these issues are cleared up shortly.

Jerry Payne, Pleasanton
Problem free and a joy to use

We purchased our Vista hot tub around 4 years ago. It has been problem free and a joy to use. The after sale support was very good also. I was always able to get Larry (he has since retired) on the phone to help me as I was learning the ins and outs of maintaining the spa. The showroom has new folks now and they great as well. Sean has recently helped me out of a "jam" when I lost a cap drain. Sequoia who works the front desk has been a joy to deal with too. Thanks and keep up the good work!

Bay Area Customer, Pleasanton
I had a great experience

I had a great experience of buying a 17 feet endless pool from creative energy Pleasanton. Sean is one of the best sales I ever seen, no push to sell their product, very patient and knowledgeable. The after sale service is the best, Sean is always available to answer any phone call question. This is a pretty mature and solid company, from sales to the delivery, everything is well organized. Strongly recommend.

Gang Huang, Pleasanton
Delivered on time and in a professional manner

They do what they say they will do. Salesperson (Larry) was very helpful, helped us pick the right one. Delivered on time and in a professional manner. I would highly recommend them to anyone shopping for a hot tub. KJ

KJ, San Mateo
Highly recommend them

The team at creative energy was extremely helpful thru our hot selection, buying and installation process. Highly recommend them. there was no pressure in the sales cycle, they just gave the best advice for our needs. they came to our house a few times to scope out the best way to install the hot tub and were very efficient with followups. they even came back to check on us to see how we were doing with spa and gave us tips on usage. Absolutely a pleasure working with the team at creative energy.

Bay Area Customer, San Mateo
These guys are legit

These guys are legit! They sold me a spa they thought I needed – not one they wanted to make extra money on. The crew was amazing!!! I don't normally post to these things, but Creative Energy deserves all business they get.

Bay Area Customer, San Mateo
Very pleased

I purchased a gas fire place insert. Very pleased with the service and with their recommended installer.

T Bloss, San Mateo
I am totally happy with Creative Energy and this is why….

We purchased our hot tub from Creative Energy in San Mateo almost 10 years ago and it's still one of the best purchases we've ever made. The tub is in use almost every night and aside from minimal maintenance we haven't had any major problems with it. Works like a charm. I can't tell you the relief from stress I get when I first sit in the tub. I can feel the stress and pains from the day just leave my body. It's the most wonderful sensation and I recommend it for everyone. I feel so lucky to have my hot tub and I'm glad I bought it from Creative Energy.

We recently returned to the store to pick up supplies and we were interested in the fireplace inserts as our wood burning fireplace was giving us trouble. We ended up buying one on the spot due mostly to their wonderfully helpful sales staff and their great selection of units in their showroom. We had all of them going full blast to do comparisons and boy that room heated up quickly. Here it is almost a month later and we are so in love with our new fireplace. We can turn it on with the push a button on the remote and instantly have a huge, warm fire in the living room. It's fantastic! I also love the temperature control on the remote. Just set it to the temperature that you want and it turns the fireplace on and off to maintain that temperature. Just fantastic!

I have to say I wasn't a big fan of gas fireplaces and wanted to keep my wood burning one but after seeing how easy they are to operate and how nice they look I was hooked. We got the one that has big roundish stones instead of the fake log and it looks fantastic! Very modern and sleek. WE LOVE IT!

UPDATE:

I am totally happy with Creative Energy and this is why…. i bought my hot tub from their San Mateo showroom 11 years ago and have used it almost every night since then. I have never had a bad experience dealing with their customer service and I've had them out to service minor repairs several times over the years. I also purchased a gas insert to replace my wood burning fireplace several years ago and have been using that a lot. The fireplace stopped working last week so I scheduled an appointment to have it serviced and got an appointment quickly scheduled. Then I thought I would try and combine that fireplace service with some minor things that were not working in the hot tub since they came from the same company. I didn't really expect that they would send one person to do both servicing as they are completely different equipment but they said Dave would be coming out and he is an expert.

I had a appointment scheduled for 9am last Friday and I was a little freaked out because I had a wedding to attend that day at 1pm and wasn't sure that both appliances would be fixed in time for me to leave for the wedding. Dave was so efficient and worked quickly and got me to the wedding on time. I couldn't believe he actually took the whole fireplace apart and (luckily for me I was still in the warranty time period for the fireplace so I didn't have to pay for the two parts he replaced) got it put back together in a couple of hours. This was still getting close to my cutoff time but he went to work on the hot tub and got that done in plenty of time for me to make the wedding.

I can't give enough props to Dave Kirley and his skill set. He is very knowledgeable in how these machines work and did a really superb job in fixing mine. Now I feel like I'm in a new hot tub even though it's 11 years old! And I can enjoy my fireplace again which is now working perfectly! Kudos to Dave and his team (the customer support people on the phone were very helpful and accommodated me in my last minute request to get both appliances serviced). I am very happy with Creative Energy and would recommend them to anybody interested in either a hot tub or fireplace fixture.

Tommy Grahn, San Mateo
Service from Creative Energy was nothing short of excellent.

My husband and I bought two gas fire inserts for our home. From start to finish, the service from Creative Energy was nothing short of excellent. The inserts are beautiful and sturdy and, best of all, made in America to the highest standards. The installer they recommended, Tim, was a real expert and took a lot of time and care making sure everything was up to code. We are very pleased with our new fires and look forward to a cozy warm house and lower utility bills! Thank you to the San Mateo Creative Energy team.

Elizabeth Susskind, San Mateo
I highly recommend this place if you are in the Bay Area and are looking at buying a hot tub!

Wonderful selection of hot tubs and superb service. Alex was really helpful in assisting us with chosing a tub that would fit our space and meet our needs. They came out to our house to make sure it would fit and even came out again to check on the tub when I had some questions. I highly recommend this place if you are in the Bay Area and are looking at buying a hot tub!

Bay Area Customer, San Rafael
I would recommend this to anyone..

We inherited a Hot Spring tub from my wife's parents, it's about 13 years old. They ended up buying a new one from these folks. As part of the package, they moved the old hot tub to our home, and then sent out a technician to do a test and see if it was working properly. Then a guy from the store came out and showed us how to properly take care of the tub and how to keep proper maintenance. I would recommend this to anyone..

Bay Area Customer, San Rafael
Friendly, businesslike, expert

David Kirley was our repairman from Creative Energy and he was excellent. Friendly, businesslike, expert – he took a look at our 14 year spa and told me what options I had to repair and maintain it in its "good condition for its age." We went into the spa this morning with its new jets, diverter, and ozonator – it's almost like new! Thank you David, you're the best!

Joan Cooper, San Rafael
Love my tub, and look forward to going in there every night.

Had our Hot Springs Envoy delivered on 8/21. I think Logistics is the hardest thing to deal with, but owner, John Kasten simplifies the process of the unknown. He came to the house, looking at the backyard location and seeing how/where the best place to set up the hot tub. And in addition to that, John recommended both concrete (Chico) and electrician (Lonnie) to get all the required prep work done. He also gave the reassurance that these two guys would deliver on their work and be able to handle our unique requirements of lifting the gate for delivery and finding the best/cheapest way to run the 220 line to the tub. And in the showroom, Bonnee Young was very patient and informative about the pluses and minuses about each tub as it compared to our needs. She was very low key and we appreciated the non tech hot tub info on swim trunk washing and the parenting side of knowing the kids would be without their electronics while in the tub. We ended up choosing the Envoy, which was one of the biggest units. Although there were several that were smaller and cheaper, we figured we get more family time in if there were more captain style chairs available to use at the same time. Delivery was an experience to watch, as the crew of 3 were able to move this massive tub into the backyard, over the deck and onto the concrete platform. Once delivered, I was informed by Customer Rep Scott Campbell that we would be able to use it right away even though he wouldn't be out to our house until the next day. He said we just needed some extra shock treatment to keep the water clear until he got there. Having never taken care of a spa or pool before, this was all foreign to me, but Scott has his care instructions that he's put together to make caring for the spa very easy. I think the best thing about buying local vs. thinking you can buy a spa from Costco, is the service side. To me it's the most important buying consideration. We have had an issue with the jets not functioning properly, and their service guy, David Kirley was at our house the next day. In addition to the products that you have to buy, think the biggest concern is PGE costs. Through almost 3 months of using this almost every day, the PGE bill looks like it is $50 higher each month. Assume the costs are way down because we are only running the electricity at night when the price is cheaper. Love my tub, and look forward to going in there every night. Jaime – Albany CA

Jaime , San Rafael
Great service and Value

Terrific service and prices!

Bay Area Customer, San Rafael
Fun buying experience

I bought a gas insert for my fireplace last fall and I love it. It totally changed the dynamic in my house. Before, only my dogs used my living room – they like to sleep on the couches. Now, the dogs and I are in there enjoying the beautiful fire. The sales person, Bonnee, is great and she made my buying experience fun.

Margery, San Rafael
Best purchase we have made in a long time!

Cole and everyone at Creative Energy is AMAZING. They went above and beyond helping us choose a spa for our backyard. They were key and so knowledgeable in the decision process. The free on-site visit was helpful too because it helped us narrow down where to place our spa in the backyard. And now we LOVE our spa! It is the best in the neighborhood – so comfortable and so many cool unique features. Cole and the team taught us how to use it and maintain it and continue to check in to make sure all is well. And everything is GREAT – we are really enjoying our new spa. Best purchase we have made in a long time!

Kate Hadd, San Rafael
Wonderful Employees at San Rafael Showroom

I want to thank you for having such wonderful employees in your San Rafael store.  I have been a long time customer since I purchased a pellet stove over 15 years ago.

In November 2015, when I was having issue with my pellet stove, I stopped by the San Rafael store.  Bonnee was busy with other customers, but somehow she managed to track me down and follow up through voicemail and email.  I did not ask her to contact me, so I was very impressed when she reached out to me.  At that point, I decided to service my pellet stove but in the back of my mind, I knew I want to convert to a gas fireplace sometime in the future.

Fast forward to December 2016, again I was having an issue with my pellet stove so I decided to stop by the San Rafael store to look at gas fireplaces.  When I arrived, I asked for Bonnie and found out she was not available.  I was a little hesitant to talk with someone else since I really enjoyed working with Bonnee in the past.  That is when I met Cole Spilman. Wow! What a wonderful person!  Cole was so easy to work with, very courteous, reliable and helpful.  It took me several visits to figure out exactly what I wanted.  Cole was patient with all my questions and multiple visits to the store. With the help of Cole, I was able to find a contractor to install the gas line and electrical work.  Cole guided me through the entire process and was such a pleasure to work with.

In addition to Bonnee and Cole, I would also like to recognize Jaime Jovel from your service department.  Jaime has been out to my house several times, has always been professional, reliable, and has gone above and beyond his required duties to ensure the job was done right.

The installation of my gas fireplace was completed a couple of weeks ago and I am thoroughly enjoying the beauty and heat from it!  Please express my gratitude to Bonnee, Cole and Jaime for their outstanding customer service.  I look forward to working with them again in the future.

Kathy Metcalfe, San Rafael
Another Happy Yelper!

My experience of purchasing a new hot tub was highlighted by a knowledgeable sales person Cole Spilman !  His individual & unique sales style makes visiting the showroom pleasant.
He gave me options to choose from & the pricing was very pleasing.  I am very happy with his follow up to the purchase & the amount of details he provides to make you a happy customer.
He represents Creative Energy well!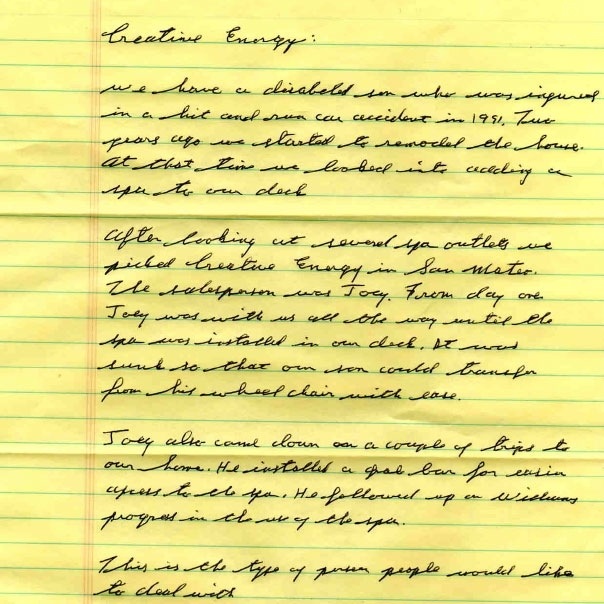 Special Needs Hot Tub Owner

We have a disabled son who was injured in a hit-and-run car accident in 1991.  Two years ago we started to remodel the house.  At this time we looked into adding a spa to our deck.

After looking at several spa outlets we picked Creative Energy in San Mateo.  The salesperson was Joey.  From day one Joey was with us all the way until the spa was installed in our deck.  It was sunk so that our son could transfer from his wheelchair with ease.

Joey also came down on a couple of trips to our home.  He installed a grab bar for easier access to the spa.  He followed up on William's progress in the use of the spa.  This is the type of person people would like to deal with.

Bill Lacey - Father, San Mateo, CA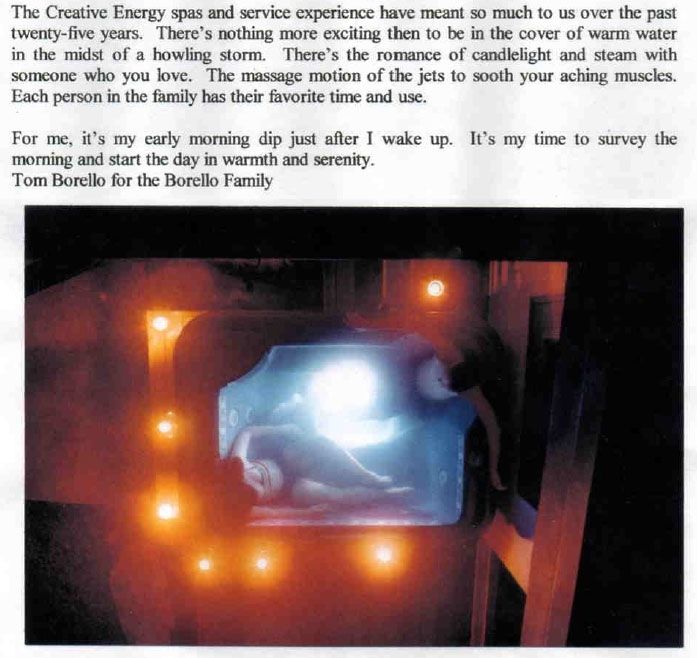 Enjoying 25 Years of Service

The Creative Energy spas and service experience have meant so much to us over the past twenty-five years.  There's nothing more exciting then to be in the cover of warm water in the midst of a howling storm.  There's the romance of the candlelight and steam with someone who you love.  The massage motion of the jets to sooth your aching muscles.  Each person in the family has their favorite time and use.

For me, it's my early morning dip just after I wake up.  It's my time to survey the morning and start the day in warmth and serenity.

Tom Borello, San Francisco Bay Area, CA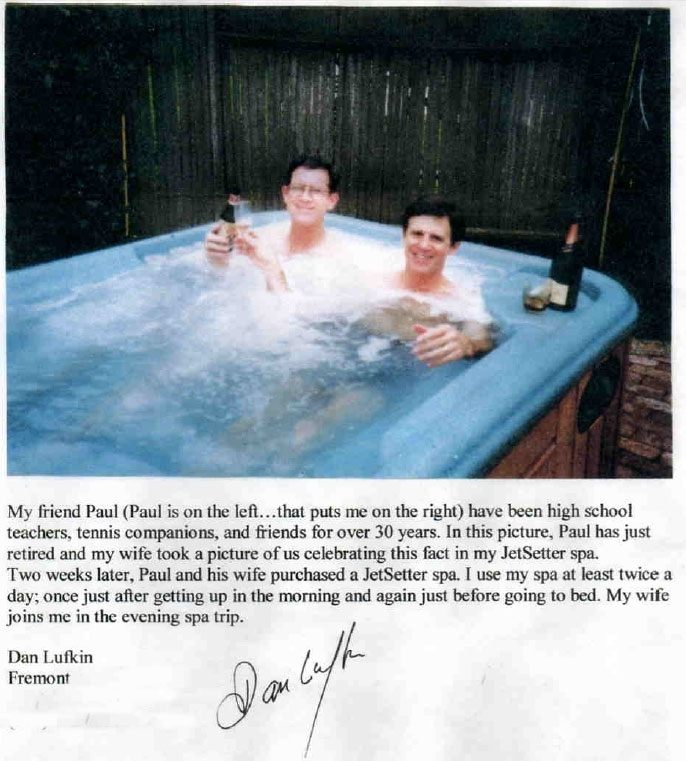 Hot Tub Twice a Day

My friend Paul (Paul is on the left… that puts me on the right) have been high school teachers, tennis companions, and friends for over 30 years.  In this picture, Paul has just retired and my wife took a picture of us celebrating this fact in my Jetsetter spa.

Two weeks later, Paul and his wife purchased a Jetsetter spa.  I use my spa at least twice a day; once just after getting up in the morning and again just before going to bed. My wife joins me in the evening spa trip.

Dan Lufkin, Fremont, CA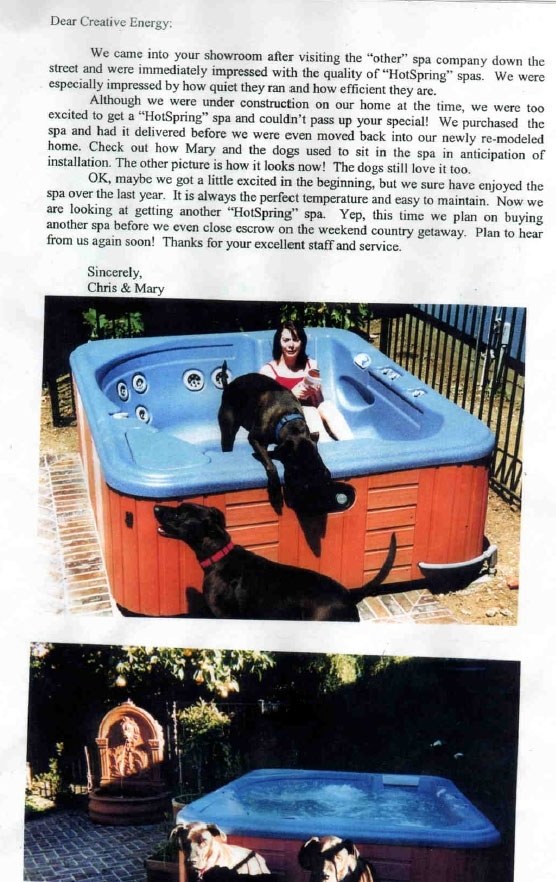 Cart Before the Horse

We came into your showroom after visiting the "other" spa company down the street and were immediately impressed with the quality of "Hot Spring" spas.  We were especially impressed by how quiet they ran and how efficient they are.

Although we were under construction on our home at the time, we were too excited to get a "Hot Spring" spa and couldn't pass up your special!  We purchased the spa and had it delivered before we were even moved back into our newly re-modeled home.  Check out how Mary and the dogs used to sit in the spa in anticipation of installation.  The other picture is how it looks now!  The dogs still love it too.

OK, maybe we got a little excited in the beginning, but we sure have enjoyed the spa over the last years.  It is always the perfect temperature easy to maintain.  Now we are looking at getting another "Hot Spring" spa.  Yep, this time we plan on buying another spa before we even close escrow on the weekend country getaway.  Plan to hear from us again soon! Thanks for your excellent staff and service.

Chris & Mary, San Francisco Bay Area, CA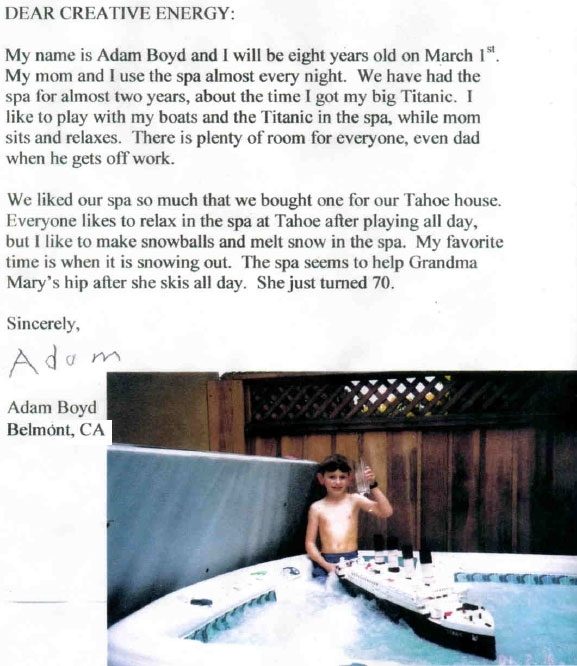 New Hot Tub, New Toys

My name is Adam Boyd and I will be eight years old on March 1st.  My mom and I use the spa almost every night.  We have had the spa for almost two years, about the time I got my big Titanic.  I like to play with my boats and the titanic in the spa, while mom sits and relaxes.  There is plenty of room for everyone, even dad when he gets off work.

We liked our spa so much that we bought one for our Tahoe house.  Everyone likes to relax in the spa at Tahoe after playing all day, but I like to make snowballs and melt snow in the spa.  My favorite time is when it is snowing out.  The spa seems to help Grandma Mary's hip after she skis all day.  She just turned 70.

Adam Boyd, Belmont, CA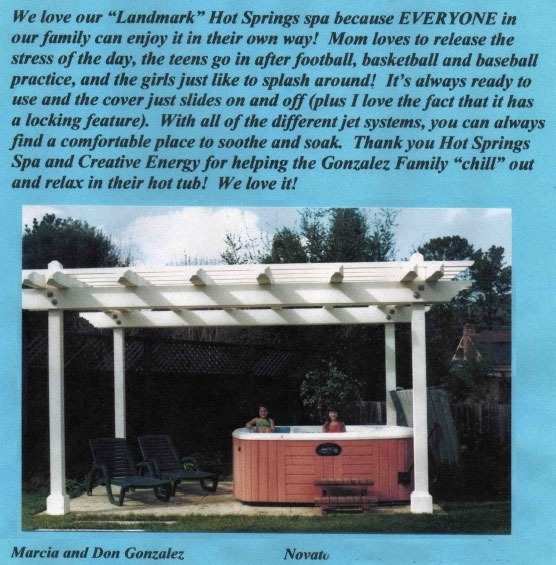 Something for Everyone

We love our "Landmark" Hot Springs spa because EVERYONE in our family can enjoy it in their own way!  Mom loves to release the stress of the day, the teens go in after football, basketball and baseball practice, and the girls just like to splash around!  It's always ready to use and the cover just slides on and off (plus I love the fact that it has locking feature).  With all of the different jet systems, you can always find a comfortable place to soothe and soak.  Thank you Hot Springs Spa and Creative Energy for helping the Gonzalez Family "chill" out and relax in their hot tub! We love it!

The Gonzalez Family, Novato, CA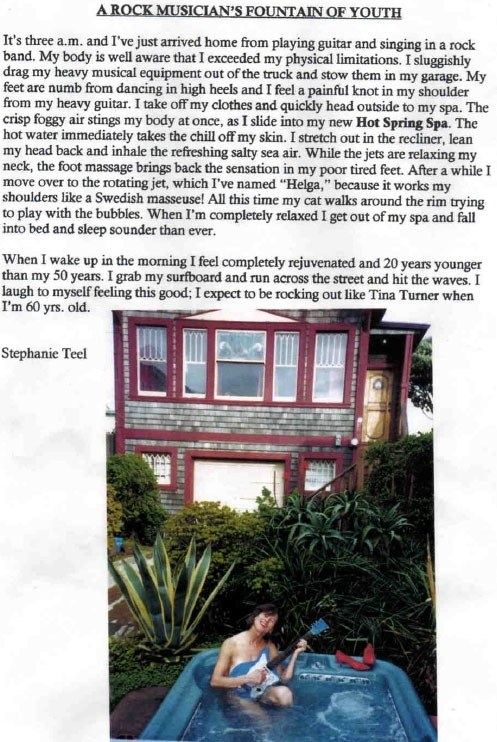 A Rock Musician's Fountain of Youth

It's three a.m. and I've just arrived home from playing guitar and singing in a rock band.  My body is well aware that I exceeded my physical limitations.  I sluggishly drag my heavy musical equipment out of the truck and stow them in my garage.  My feet are numb from dancing in high heels and I fell a painful knot in my shoulder from my heavy guitar.  I take off my clothes and quickly head outside to my spa.  The crisp foggy air stings my body at once, as I slide into my new Hot Spring Spa.  The hot water immediately takes the chill of my skin.  I stretch out in the recliner, lean my head back and inhale the refreshing salty sea air.  While the jets are relaxing my neck, the foot massage brings back the sensation in my poor tired feet. After a while I move over to the rotating jet, which I've named "Helga", because it works my shoulders like a Swedish masseuse!  All this time my cat walks around the rim trying to play with the bubbles.  When I'm completely relaxed I get out of my spa and fall into bed and sleep sounder than ever.

When I wake up in the morning I feel completely rejuvenated and 20 years younger than my 50 years.  I grab my surfboard and run across the street and hit the waves.  I laugh to myself feeling this good; I expect to be rocking out like Tina Turner when I'm 60 years old.

Stephanie, San Francisco Bay Area, CA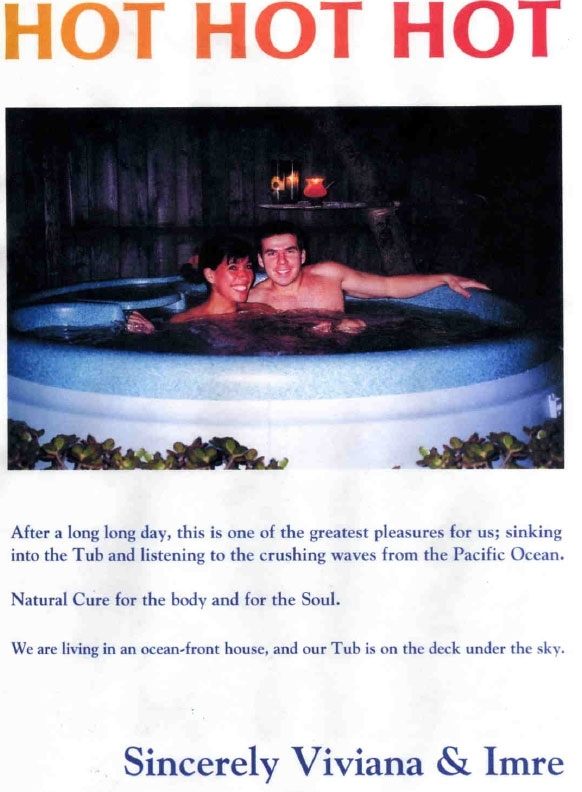 HOT HOT HOT

After a long long day, this is one of the greatest pleasures for us; sinking into the tub and listening to the crushing waves from the Pacific Ocean.

Natural cure for the body and for the soul.

We are living in an ocean-front house, and our tub is on the deck under the sky.

Viviana & Imre, Pacifica, CA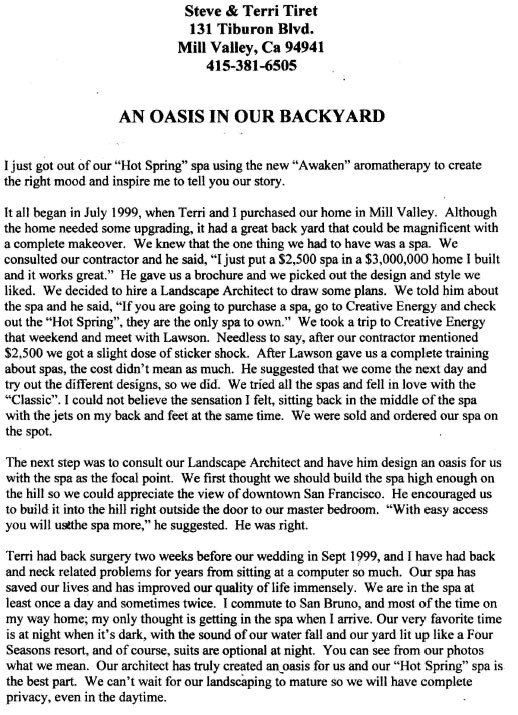 An Oasis in Our Backyard

I just got out of your "Hot Spring" spa using the new "Awaken" aromatherapy to create the right mood and inspire me to tell you our story.

It all began in July 1999, when Terri and I purchased our home in Mill Valley.  Although the home needed some upgrading, it had a great back yard that could be magnificent with a complete makeover.  We knew that the one thing we had to have was a spa.  We consulted our contractor and he said, "I just put a $2,500 spa in a $3,000,000 home I built and it works great."  He gave us a brochure and we picked out the design and style we liked.  We decided to hire a landscape architect to draw some plans.  We told him about the spa and he said, "If you are going to purchase a spa, go to Creative Energy and check out the "Hot Spring", they are the only spa to own."  We took a trip to Creative Energy that weekend and meet with Lawson.  Needless to say, after our contractor mentioned $2,500 we got a slight dose of sticker shock.  After Lawson gave us a complete training about spas, the cost didn't mean as much.  He suggested that we come the next day and try out the different designs, so we did.  We tried all the spas and fell in love with the "Classic".  I could not believe the sensation I felt, sitting back in the middle of the spa with the jets on my back and feet at the same time.  We were sold and ordered our spa on the spot.

The next step was to consult our landscape architect and have him design an oasis for us with the spa as the focal point.  We first thought we should build the spa high enough on the hill so we could appreciate the view of downtown San Francisco.  He encouraged us to build it into the hill right outside the door to our master bedroom.  "with easy access you will use the spa more" he suggested.  He was right.

Terri had back surgery two weeks before our wedding in Sept 1999, and I have had back and neck related problems for years from sitting at a computer so much.  Our spa has saved our lives and has improved our quality of life immensely.  We are in the spa at least once a day and sometimes twice.  I commute to San Bruno, and most of the time on my way home; my only thought is getting into the spa when I arrive.  Our very favorite time is at night when it's dark, with the sound of our water fall and our yard lit up like a Four Seasons resort, and of course, suit are optional at night… Our architect has truly created an oasis for us and our "Hot Spring" spa is the best part.  We can't wait for our landscaping to mature so we will have a complete privacy, even in the daytime.

Steve & Terri, Mill Valley, CA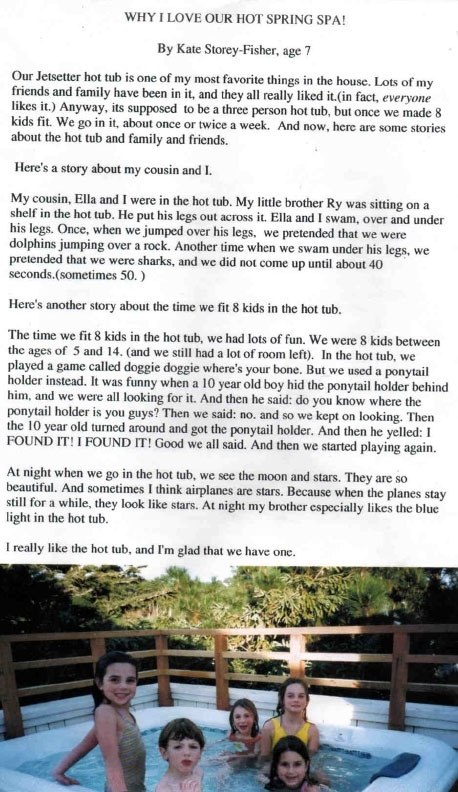 Why I Love Our Hot Spring Spa!

Our Jetsetter hot tub is one of my most favorite things in the house.  Lots of my friends and family have been in it, and they all really liked it. (in fact, everyone likes it.) Anyway, its supposed to be a three person hot tub, but once we made 8 kids fit.  We go in it, about once or twice a week.  And now, here are some stories about the hot tub and family friends.

Here's a story about my cousin and I.

My cousin, Ella and I were in the hot tub.  My little brother Ry was sitting on a shelf in the hot tub.  He put his legs out across it.  Ella and I swam, over and under his legs.  Once, when we jumped over his legs, we pretended that we were dolphins jumping over a rock.  Another time when we swam under his legs, we pretended that we were sharks, and we did not come up until about 40 seconds. (sometimes 50.)

Here's another story about the time we fit 8 kids in the hot tub.

The time we fit 8 kids in the hot tub, we had lots of fun.  We were 8 kids between the ages of 5 and 14.  (and we still had a lot of room left). In the hot tub, we played a game called doggie doggie where's your bone.  But we used a ponytail holder instead.  It was funny when a 10 year old boy hid the ponytail holder behind him, and we were all looking for it.  And the he said: do you know where the ponytail holder is you guys?  Then we said: no.  and so we kept on looking.  Then the 10 year old turned around and got the ponytail holder.  And the he yelled: I FOUND IT! I FOUND IT!  Good we all said. And then we started playing again.

At night when we go in the hot tub, we see the moon and the stars.  They are so beautiful. And sometimes I think airplanes are stars.  Because when the planes stay still for a while, they look like stars.  At night my brother especially likes the blue light in the hot tub.

I really like the hot tub, and I'm glad that we have one.

Kate, San Francisco Bay Area, CA

Personal Customer Service

In 1984 we purchased our first Creative Energy Spa.  We were the only ones in our crowd to have an always hot – always ready spa.  We should have been working on commission with all the spas we sold.

In 1998 we moved from Marin to Sonoma.  The new Creative Energy spa arrived and was installed in a grape arbor the previous owner had built.  It was a perfect fit.  Unfortunately, it wasn't until after everyone had departed that I noticed a portion of the electrical cord was resting under the spa.  Like all remodels and building projects we had had numerous problems and hassles.  It was Friday afternoon and I didn't have much faith in an easy quick resolution.  I called the office and explained the problem.  An hour later the Boss' wife and I were sipping wine while he jacked up the spa and readjusted the cord.  After a little more wine and conversation they drove into Sonoma for dinner.  It turned out to be a delightful afternoon.  I should have known that Creative Energy would have not only a great product, but also prompt personal service.

Alex, Sonoma, CA
New Location
(415) 472-7727
Come visit us at our New San Rafael Showroom.
Monday - Saturday: 10am - 6pm
Sunday: 11am - 5pm
---
---
We have moved to:
4100 Redwood Hwy

,


San Rafael

,

CA

94903



View This Location
(650) 574-7600
Come visit us at our San Mateo Showroom.
Monday - Saturday: 10am - 6pm
Sunday: 11am - 5pm
---
---
1917 S El Camino Real

,


San Mateo

,

CA

94403



View This Location
(925) 551-7100
Come visit us at our Pleasanton Showroom.
Monday - Saturday: 10am - 6pm
Sunday: 11am - 5pm
---
---
7116 Johnson Dr

,


Pleasanton

,

CA

94588


Located inside PatioWorld.
View This Location