What is SilkBalance® for Spas?

SilkBalance® is a unique revolutionary watercare system, automatically balancing and keeping water in its original pure state. It's an easy and simple method that gives you the assurance of the best possible water quality day after day. "Just Shake and Pour" a dose in once a week.
Each premixed bottle contains everything required to maintain your HotSpring Spa for 4 months.
Silkbalance for Spas® is a revolutionary patent pending hottub watercare formula.
SilkBalance for Spas® is a worry free, odourless, easy to use, pre-formulated and mixed spa/Hottub water care method, suitable for only hottubs with quality filtration systems, such as HotSpring® spas.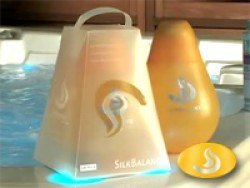 Our one bottle method automatically balances water pH, alkalinity and calcium hardness levels so you don't have to.
It helps remove excess minerals and metals that can be problematic and it keeps your spa water in great condition with just one dose per week.
SilkBalance for Spas® uses completely unique technology called BDT© or BioFilm Dispersion Technology© to inhibit dangerous slime build up in the plumbing of your spa/Hottub, this makes it easy for us to keep the water in your spa clean and fresh. This exciting natural approach gives you wonderfully pure and clean water, with no smell and no worry.
See what they say about SilkBalance!


"I've been using the Silk weekly ever since. My skin continues to be way better, and I need way less moisturizing and cortisone creams. I'm afraid I've become a true believer."
What does SilkBalance® for Spas Do?
When you treat your hottub water with SilkBalance® the product immediately begins to adjust the water's properties of pH , alkalinity and calcium hardness to a sustainable level*. The main function of this revolutionary formula is to eliminate the tiresome, bi-daily requirement of testing and adjusting various water conditions, such as pH and alkalinity.
SilkBalance® works by thinning the "skin" or surface tension of the water so Biofilm will not be able to settle anywhere reducing the need for high levels of sanitizer. The walls of your hottub as well as inside the piping will be "Biofilm" free allowing you to use a simpler and easy once a week program as directed. SilkBalance uses mineral salts also to provide a soft silky feel to the water and eliminate the dry, itchy feel of traditional treatment methods.
Wouldn't you love to know your hottub leaves your skin the softest its ever been?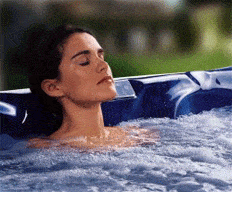 Enjoy your hot tub experience with soft feeling skin. The water is always clean and fresh, no drying chemical effects.
SilkBalance for Spas® makes it easy, giving a soft luxurious feel to your hottub water.You will notice for yourself that the water feels different; it feels softer to the touch. You will also notice that your skin feels softer when you come out of the hottub, no more itching or dry skin.
SilkBalance for Spas® has been dermatologically tested.
Using SilkBalance® will make your skin feel soft and smooth.
SilkBalance for Spas® is perfect for use if your suffer from psoriasis or eczema as it will not irritate sensitive skin.
Just Shake and Pour, that's it!
Our formula is premixed and that means there is no need to constantly test and measure pH , Alkalinity or Calcium hardness. In most regions the water meets our minimum needs, SilkBalance® does the rest. Most spas require only 4 Oz once a week.
SilkBalance® preserves the state of fresh spa water, to help keep it fresh and clean
CALL or TEXTour convenient bay area locations!